Repowering London: How solar gardens at Overground stations are challenging Big Energy
The big six energy companies will only survive decentralisation and decarbonisation by embracing community energy schemes. We meet the third sector investors helping them on their way
Hazel Sheffield
Monday 03 July 2017 15:58 Comments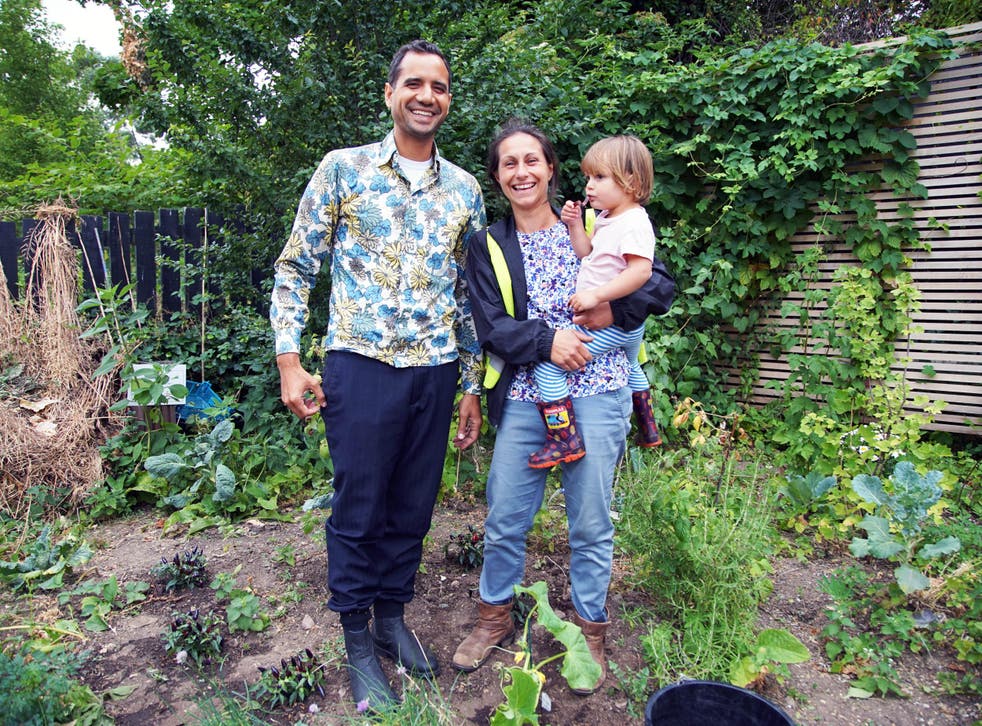 One cloudy Tuesday around lunchtime, a large group of men and women gather on the platform at Brondesbury Park Overground station in London. Then, in what must be alarming to anyone watching from the other side of the tracks, one by one they hitch up their trouser legs, roll up their sleeves, and sink their hands into the soil of a large raised flower bed.
Floretta Zogolovitch, aged two and a half, dances around the hands in the soil as her mother Patti Zogolovitch hands out shrubs for people to plant. The older Zogolovitch has been helping out at the Brondesbury Park Energy Garden since January when she met Agamemnon Otero, one of the founders of not-for-profit cooperative Repowering London, at a community fair. "I was trying to set up a community garden at a school, so I thought it would be good research to get involved," Zogolovitch says.
Zogolovitch has taken home Russian kale, raspberries and redcurrants from the garden. But more than the produce, it's the relationships she has built in the community that she treasures. "When we're out here gardening, people just pick a few weeds out," she says. "It's nice to see people taking part and admiring the garden."
Repowering London plans to create 40 energy gardens on the Overground network by October this year. The gardens will grow food and flowers, host bees and birds and clean the air on the platforms, where particulate matter from breaking trains is hazardous for humans to breathe.
The next step is to raise money to instal solar panels on the roof of an overpass at Highbury & Islington station. The panels will generate money from the feed-in tariff that energy suppliers pay to those putting energy into the system. The plan is to distribute the tariff revenue across the Energy Garden group to fund a volunteer coordinator at each station. TfL did not respond to requests for comment.
Otero got the idea for the Energy Gardens from previous community growing projects called the Edible Bus Stop and the Edible Overground. Over time his plans changed from creating gardens to distribute community-grown vegetables, to collecting rainwater and finally to generating energy.
"We've had a clear message from residents that vegetables don't get them excited. Young men are keen to grow hops for beer and young women like biodiversity, bees, hedgehogs, birds and air quality," he says, ushering the group onto the next passing Overground train. People shake the soil from their suits as they board.
At Caledonian Road & Barnsbury station, the group alights to see beehives have been installed by a living wall of leafy ferns. Otero says the features provide a "wow" factor to get people excited in the community.
Afsheen Kabir Rashid, co-founder of Repowering London, says they then work with local groups to secure grant funding and set the energy gardens up: "Once solar panels have been installed it generates an income stream that goes towards maintaining the system and making sure there's a fund for the community to continue its work."
That's where this group of amateur gardeners comes in. They are all charity executives invited by Colin Baines, a campaign manager at the Friends Provident Foundation. He planned the visit to community energy schemes as part of Community Energy Fortnight, an initiative Baines himself started two years ago when he worked for the Co-operative Group.
Executives have come from charities and foundations of all sizes, from Big Society Capital, a fund launched by the Government in 2012, to Esmée Fairbairn, one of the largest independent grantmaking foundations in England. Baines hopes some will back small, place-based energy schemes that empower communities like Energy Garden, which is offering a 4 per cent return on investments.
"Utility companies are losing market share – that model isn't going to last long," Baines says as we head over to see the next scheme at Homerton. "We want to call on them to develop new business models to work with community energy and households."
Energy UK, which represents the big six energy providers in the UK, only capitulated to a pro-green energy agenda in 2016 after years of being regarded as a defender of fossil fuels. Lawrence Slade, the chief executive of Energy UK, has since said the UK should move away from big central power stations to a more decentralised system of energy.
However, under the Conservatives, government policy has become less supportive of such schemes. The installation of new solar panels plummeted after George Osborne, then Chancellor, cut subsidies by 65 per cent at the end of 2015. But the third sector has stepped up. The Friends Provident Foundation has funded a community energy asset bank, helped put together a plan for Wales to transition to renewables and invested in a wind co-op in Swansea. (Full disclosure: it has also funded my own project on local economies.)
Baines says the Friends Provident Foundation has embarked on a three-stage strategy to support what he calls "the three d's": decarbonisation, decentralisation and democratisation. First, it is supporting fledgling community energy projects and emerging thinking with grants. When these projects grow it is investing in them directly with share offers or bonds. At the same time, it is applying pressure from the top by buying shares in utility companies and calling for new business models that embrace community energy.
That kind of pressure is necessary because all too often community schemes are thought of as competition. Before Repowering London had set itself up as an energy supplier, it was being forced to feed solar energy to the big six suppliers at wholesale prices of 5.1p only to have to buy it back at the retail price of 17p, with the big supplier pocketing the difference.
In Homerton, Otero leads the group of charity executives to the roof of Banister House, the first community-owned energy enterprise in Hackney. Repowering London trained 30 young people through internships and another six through work experience in the installation and maintenance of the panels. Downstairs, co-directors Wilhelmina Stewart and Ann Canaii prepare a lunch of curried goat and rice and peas for the investors.
Stewart says the environmental benefits are only half the story."[The process] was breathtaking because it was showing respect to the young people and giving them a voice," she says. "I felt that was reciprocated because the young men, after they were listened to and given the opportunity to present themselves, produced everything Banister House has got."
Register for free to continue reading
Registration is a free and easy way to support our truly independent journalism
By registering, you will also enjoy limited access to Premium articles, exclusive newsletters, commenting, and virtual events with our leading journalists
Already have an account? sign in
Join our new commenting forum
Join thought-provoking conversations, follow other Independent readers and see their replies