Seedrs announces launch of secondary market to help boost investment for start-ups
Seedrs hopes the move will make equity crowdfunding a more attractive option for investors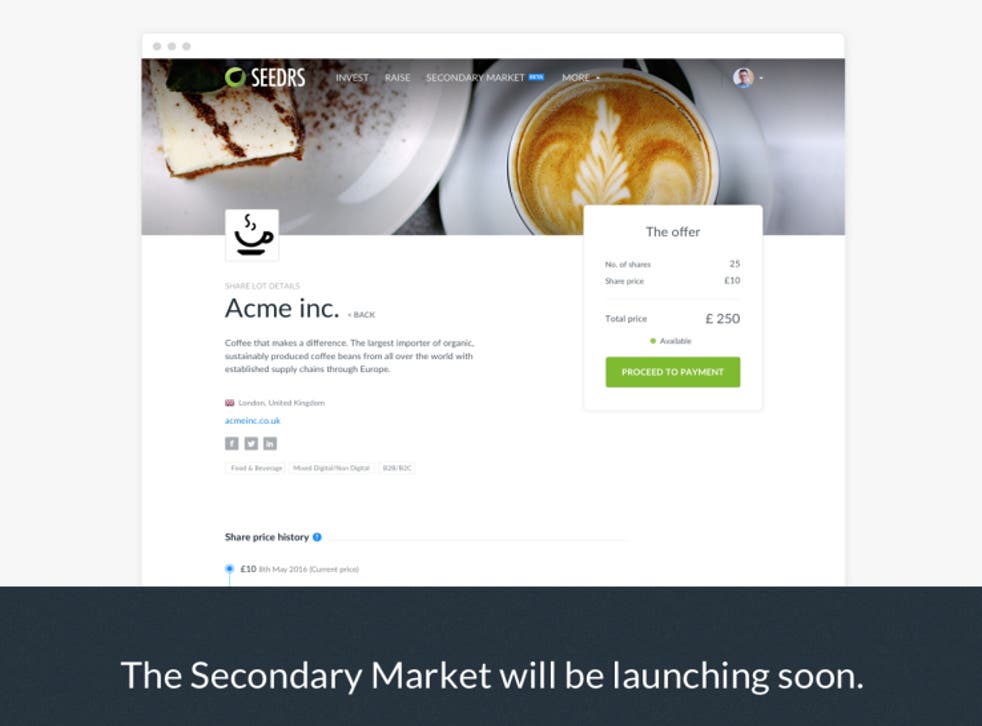 The equity crowdfunding platform Seedrs is to launch a secondary market early this summer in a bid to improve liquidity for its investors and encourage more individuals to pour cash into early-stage companies.
The secondary market will allow current backers of a Seedrs company either to sell their shares to other investors or increase their current stake. A beta launch is scheduled as early as next month.
Startups funded through Seedrs, in common with most unlisted companies, had previously tended to remain illiquid for some time, with investors unable to realise early returns. But Seedrs hopes the move will make equity crowdfunding a more attractive option for investors, and therefore also make it easier for early-stage companies to secure funding via the platform.
A secondary market will offer Seedrs investors the chance to buy and sell securities they already own, much like institutional investors do on regulated benchmark stock indexes, like the FTSE 100 in the UK, the DAX in Germany and France's CAC.
To begin with, only current investors in a Seedrs company will be allowed to buy shares on the secondary market.
Trading on Seedrs' secondary market will happen for a one-week window every month, starting on the first Tuesday of each month, which Seedrs calls "Trading Tuesdays". Shares will trade on a "fair value" determined by Seedrs EY-backed valuation policy. Seedrs said that it may expand the timing, pricing and buyer eligibility following the initial trial period.
The company decided to trial its secondary market after seeing strong demand from investors who had been posting offers to buy or sell shares on its post-investment pages.
Jeff Lynn, co-founder of Seedrs, said the development was "incredibly exciting".
"With the prospect of secondary sales now available, we expect more investors are likely to want to back the great businesses we work with," said Mr Lynn.
Unlike many other crowdfunding platforms, Seedrs, which launched in 2012, has a nominee-based approach to investment, which means that rather than individual investors being legal shareholders of a company, Seedrs itself represents them as a so-called nominee shareholder.
Seedrs says that this saves investors the "bureaucratic hassle" of holding shares but also means that there is a coordinated effort to monitor and enforce shareholder rights.
"Without this kind of coordinated effort, minority shareholders can easily fall prey to abusive actions by directors and the majority shareholders," Seedrs says on its website.
In 2016, over £85m was invested through Seedrs from 45,000 investments - £20m more than 2015 – and the company was the most active investor in unlisted high growth companies in the UK from January 2016 to February 2017, according to research agency Beauhurst.
Join our new commenting forum
Join thought-provoking conversations, follow other Independent readers and see their replies