Bios Urn: the startup that lets you grow a tree from human ashes
Startups are beginning to modernise the UK death industry, which is worth £1.7bn a year and is growing fast
Hazel Sheffield
Wednesday 26 July 2017 07:33 Comments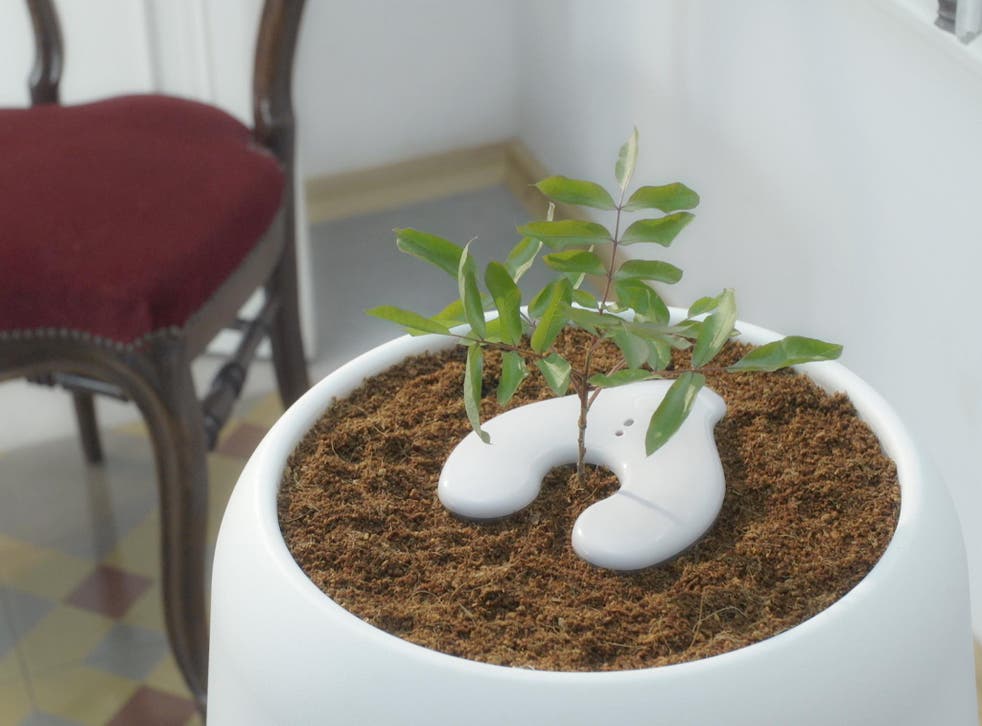 Jay Junker's father has blossomed into a beautiful oak tree on the side of a mountain in Vermont. As oak trees go, this one is still in its infancy. But Junker has a vision of spending more time with it – and his father – as it grows. He says: "In a few years, I'll be able to hang my hammock out there and just swing in the breeze with my dad by my side and watching over me."
Junker buried his father in a Bios Urn, a biodegradable urn designed to grow trees from ashes. Since 2012, brothers Roger and Gerard Moliné have sold 100,000 Bios Urns to people looking to turn the ashes of loved ones or pets into trees all over the world from their head office in Barcelona, Spain.
The urn arrives in the post as a cardboard tube made of two separate cones, one for holding ashes and another containing a soil mix and the seed of choice, whether that is a maple, oak, pine or any other tree or bush. The buyer then decants the ashes into the bottom cone and buries the two parts together. That's easy for people like Junker, who has 200 acres of family-owned land in Vermont. He dreams of one day planting all his family and pets in the same field so he can always spend time with them.
Many people don't have any land to return family members to after death. So the Moliné brothers have been working on a digital plant pot for the urn, which allows families to keep the plant near them and monitor its progress using an app.
The Bios Incube, advertised as "the world's first incubator for the afterlife", was funded by a successful Kickstarter campaign, raising €73,671 (£65,890) in March 2016. The 356 backers each get a tree planted in their honour (ashes not included). More than 50 of them contributed €350 or more to get an early bird Bios Incube at a special price (they retail from €450).
I catch Roger Moliné just as the first Incubes are about to ship. "When we launched, we didn't have any business plan or any business analysis about where it would sell," he says. "We were just a couple of designers who had an idea to see if you could replace a cemetery with a forest."
Roger is younger than Gerard by 15 years. It was the elder brother who first came up with the idea for the Bios Urn. It grew from a moment in his childhood, when he was planting vegetables with his grandmother in the countryside near their family home in La Seu d'Urgell in the Catalan Pyrenees.
They found a dead bird on the ground and without thinking too much about it, his grandmother dug a small hole for the bird and buried it with a handful of seeds. The idea of planting bodies with seeds, a symbol of life, took root in Gerard Moliné's mind. It was only when he was studying to be a product designer in 1997 that he sketched out plans for a receptacle that could bring the idea to life.
The first prototype was planted in a garden in Barcelona in 2002. But it wasn't until the younger brother graduated in 2012 that the pair decided to go into business producing urns and selling them for €145. The family owns the patent. So while there are other urns made of clay or salt that also break down into organic matter, they are the only maker of a biodegradable urn that grows into a tree.
It turned out that the biggest market for the urn was in the US. In 2015, Roger travelled to meet some of the families who had bought the first Bios Urns in 2013. It was the first time he came face to face with the families that shared the brothers' dream of replacing cemeteries with forests. All of them had come across the Bios Urn online and, two years on, were growing plants from the ashes of a loved one.
He met Isabelle Bolla, a young woman living in California who bought a Bios Urn after her sister passed away from stage 4 breast cancer in 2014. Bolla told the designers: "It made me feel relieved that I had found something which was so closely aligned with our own beliefs and wishes for my sister."
She chose to grow a Pinon Pine because of its nice smell and because her sister loved the tree: "The Bios Urn is more than just an urn. It's a catalyst for life and growth."
The Moliné brothers are keen to distance themselves from the death industry. "We design our products for the customer not the industry," Moliné says. "A lot of companies take advantage of people when they are dealing with the death of a loved one. A lot of products suffer from price inflation." The lower price point for the Bios Urn has helped attract buyers who felt like it was cheap enough to try, even though they had not heard of the product or the company before.
Death is big business. In the UK alone it is worth £1.7bn every year, according to analysts IBISworld. It is growing fast. The Co-operative Group reported a 9.9 per cent rise in funeral sales in 2016 and announced plans to open a further 2000 parlours over the next three years.
It is also a conservative industry, dominated by small, family-run firms. Most people still arrange the funerals of their loved ones in person, with a funeral director. But startups are beginning to modernise the process.
There are now platforms like Willing in the US that allow people to plan what to do with their estate using a will and other legal documents online. Another online service, called Parting, helps customers compare pricing of funeral homes by location, but it has found it tricky to get funeral homes to open up to startups.
Moliné says the Bios Urn is different because it provides life after death for families once the funeral is over. They have never taken any external investment. The company now has 12 full time employees and is planning a rapid expansion if the Bios Incube takes off. It already has distributors in Northern America and channels in Europe and is looking to start selling the product in Asia.
The Molinés' grandmother never lived to see the urn she accidentally inspired – which may be a good thing. "She was really Catholic," Moliné says. "She wouldn't approve of the idea of scattering ashes in the mountains, let alone using the urn!"
Register for free to continue reading
Registration is a free and easy way to support our truly independent journalism
By registering, you will also enjoy limited access to Premium articles, exclusive newsletters, commenting, and virtual events with our leading journalists
Already have an account? sign in
Join our new commenting forum
Join thought-provoking conversations, follow other Independent readers and see their replies