StoryTerrace: the memoir-writing service turning a million lives into books
Founder Rutger Bruining says new technology enables storytelling at scale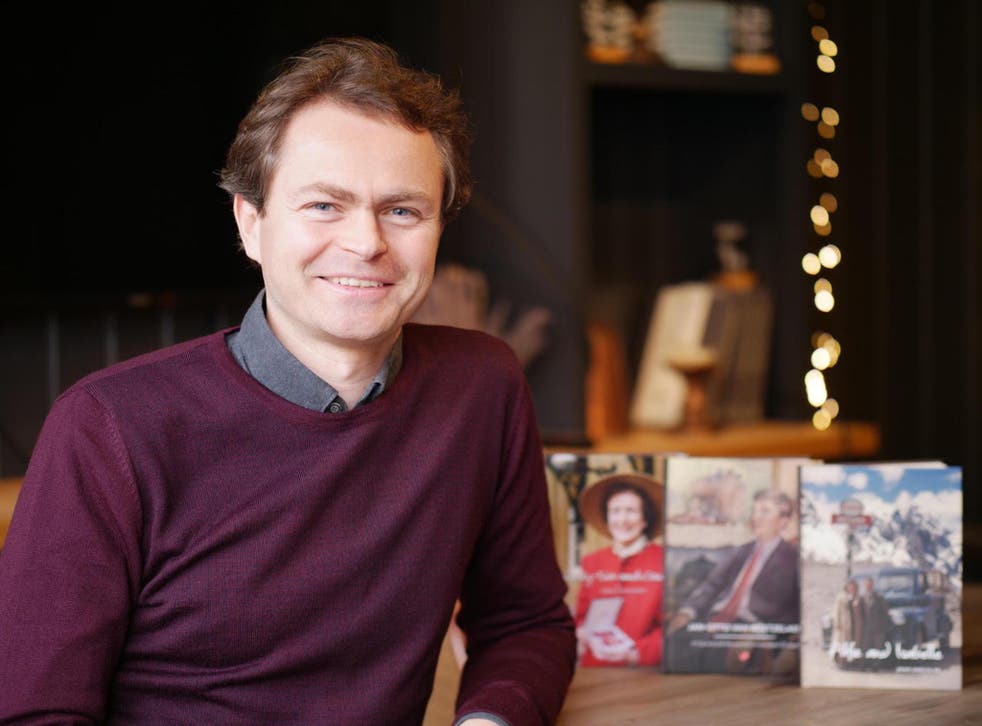 For years, Alison Stewart's mother had been intending to write her life story. For good reason: the life of Elizabeth Morgan, née Caswell, is like a plotline on Call the Midwife. Morgan was born in Castleside, County Durham, the surprise twin to parents so unprepared for two babies that at first she had to sleep in a drawer.
Aged 16, she qualified as a nurse and worked in the Edinburgh slums. After responding to an advert from the Department for International Development in the 1960s, she was posted to Borneo where she delivered babies in the rainforest and set up medical centres in remote tribal villages. By the time she came home, she had been involved in delivering the last ever smallpox vaccine in Ethiopia.
Morgan had been to classes to learn how to write a memoir. She tried to write down the things she had experienced, but they always looked like lists of dates. Then last year, when she learned she had an aggressive form of breast cancer, her daughter knew it was their last chance. Dr Stewart says: "We thought if we didn't get it written down we never would."
In February, Dr Stewart and her mother received four bound copies of their mother's hardback memoir: Elizabeth Caswell: Ai ya, Sister! Elizabeth appeared in a black and white portrait on the cover: a striking dark-haired woman with clear eyes and a prim white nurses hat. The memoir is one of hundreds that have been produced by StoryTerrace, a startup founded on the idea there should be a biographer for every person. Using ghostwriters, it plans to turn a million life stories into books within 10 years.
"It's like social media for writing books, you find the person who fits with you," Dr Stewart says.
She had looked at hiring a biographer before, but had always been put off by the cost, which ran into the thousands. On the StoryTerrace website, she was able to browse writers, read sample chapters and select a package starting at £1,500 for four hours of interviews and four copies of a 60-page colour hardback book.
Rutger Bruining, who started StoryTerrace in the Netherlands in 2014, got the idea for a bespoke writing service after he saw Australian company Freelancer.com, a platform described as "the world's largest marketplace for outsourcing" where people can compete for jobs, go public. In 2013 the company was forced to close its initial public offering (IPO) early after demand overwhelmed supply of the 30 million shares offered.
The IPO caught Mr Bruining's attention. He had been thinking about scalable ways to tell people's stories. After a stint in management consultancy, he did an MBA at Columbia University in New York and then returned to Europe to work in private equity in London. He saw the Freelancer.com IPO and was struck by two things: the site hosted really good writers who were offering their services to anyone, and the founders were using software to manage freelancers all around the world.
This technology opened up the possibilities for a memoir-writing agency. Rather than hire 20 staff writers to work with customers, StoryTerrace works with 500 writers and matches them to clients based on their location, education and cost, among other factors. "We can do that anywhere in the world, and we can still make beautiful books for people," Mr Bruining says. "Without tech that wouldn't be possible."
StoryTerrace recommended a writer called Judy Brown to tell Elizabeth Morgan's story. The family were allocated several hours, but Dr Stewart says they spent a productive afternoon. Mrs Brown came to see her mother despite a broken ankle and asked gentle questions that started to reveal a narrative. Ms Brown says that process of getting to know a client well enough to inhabit their voice "can take a few gos", but describes the process as an honour. "It makes people feel like they have done something. Until you look back and you see the story as a whole it can be hard to see quite how much you've achieved."
Neither Mr Bruining nor Mrs Brown reveal writers' rates. The former says the writers, who get paid a set fee per job, are "by far the biggest cost" to the business. Mrs Brown, who is retired and has worked on as many as 14 memoirs through StoryTerrace, says the work provides useful extra income, but that it would be difficult to make a full-time living out of it.
StoryTerrace launched in the UK in 2016 and has now had 700 clients globally. The company raised £590,000 in a crowdfunding round with Seedrs in 2017, taking the total value raised to £1.5m. Mr Bruining says the money is going towards building a "bookmaker platform" that will automate the design processes so they no longer have to employ inhouse designers.
The next task will be to scale. In January the company recruited new board members Francois Coumau, a former eBay executive, to make new hires and smooth processes as the company grows. Angela Watts has joined the board after spending eight years at Spotify in the lead up to its IPO, to work on building awareness of the brand. Ms Watts says she was impressed by the early success of the service: "StoryTerrace's growth to date is admirable for a company creating a completely new product category – and they've only just scratched the surface."
Half the books commissioned on StoryTerrace are gifts, often from relatives. Many have revealed extraordinary stories. A woman called Teresa Ibrahim has narrated her story growing up in poverty in rural Sudan, "in the fog of civil war", to setting up charities for the education and empowerment of other displaced women. Another explores the journey of a Mongolian child to Britain in 1998 as one of the first generation of post-Soviet Mongolians allowed to leave the former communist regime.
Alison Stewart says her mother, now 80, never thought her story was that special. But the process of writing the book has brought back many memories, from the ambulance men who used to flirt with her at the Mayday Hospital in Croydon, to the sudden surfacing of a whole set of photos from her graduation as a nurse.
Dr Stewart, who has a passion for working out her family history, imagines the book will sit alongside her other research: from the family tree, to the diary of her great great grandfather, who was born in 1801. "I'll put them all together," she says. "In 100 years, someone else will be able to find it."
Register for free to continue reading
Registration is a free and easy way to support our truly independent journalism
By registering, you will also enjoy limited access to Premium articles, exclusive newsletters, commenting, and virtual events with our leading journalists
Already have an account? sign in
Register for free to continue reading
Registration is a free and easy way to support our truly independent journalism
By registering, you will also enjoy limited access to Premium articles, exclusive newsletters, commenting, and virtual events with our leading journalists
Already have an account? sign in
Join our new commenting forum
Join thought-provoking conversations, follow other Independent readers and see their replies