Should you go to university or start a business? Two young entrepreneurs on why they chose startups over Ucas
Hundreds of thousands of young people in the UK are currently applying for university. But should you still go if you have a great business idea?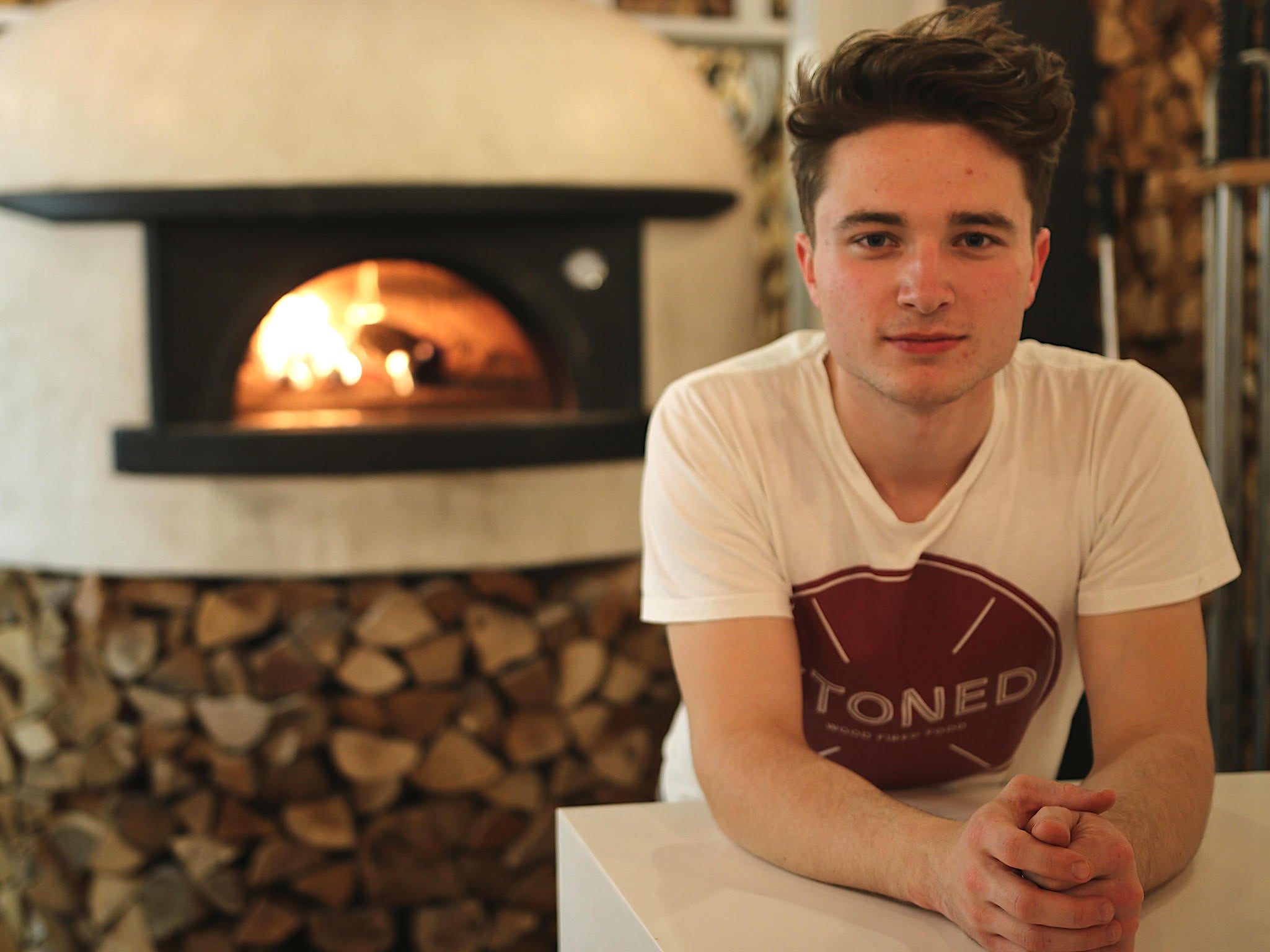 Tom Honey never went to university. One summer holiday when he was 16, he started selling ice cream from a local farmer to tourists by the beach in his home town of Braunton, Devon. He started out making around £30 a day, but by the end of the summer, he was taking home £300 a day. Soon he had enough money to buy a pizza oven. When the next summer came around, he started Stoned, a stone-baked, wood-fired pizza pop-up, and never looked back.
Hundreds of thousands of young people in the UK are currently applying for university. Many go because their friends do, or because they are not sure what else to do with their lives at such a young age.
But the number applying is falling for the first time since 2012, according to Ucas, because of Government subsidy cuts for nursing and the rising cost of student debt. While most of these young people will take up work or apprenticeships, a handful will follow their dream of starting a business.
Cameron Woodford, now 23, started his first business two years ago after spending a year working on super yachts to save. Now Dating is an online dating app that encourages people to move into offline dating as soon as possible, setting it apart from other dating apps, Woodford says. He is working on an algorithm to power the app, to make it the missing link between online and offline dating.
Now Dating attracted £100,000 from angel investors in January. "Starting a business is a full-time commitment," says Woodford, who works from the WeWork office in Paddington. "Every day of the week you'll find yourself thinking about it. It's not an easy thing, and if you're looking for a 9-5 this isn't it, but if you're willing to give up and commit everything, you'll learn more and grow more then you will in any university course."
Woodford, who hails from Australia, says he always struggled at school. "I never felt like university was the right option for me as I didn't really know what I wanted to do yet," he says. "I think if you're leaving school and going directly into university, there's a high chance you are following your friends, which will have an adverse effect on what you really want to do and your learning abilities. Distractions will follow."
Honey, meanwhile, says he always got on really well at school. He speaks proudly of his older brother, who studied engineering at Oxford and now works in Cambridge, and his younger sister, who has her sights set on English at Oxford and a career in publishing. "I've always done well in school because I've been surrounded by smart people," he says. "But it was never something I was motivated to do."
By the time he was doing his A-levels, Honey was employing around 20 people and paying salaries. He started looking for business loans to open a restaurant to keep the business going through the winter, when it was too cold for pop-ups. Natwest offered him a £49,000 business loan. Rob Shaw, the director and co-founder of Jack Wills, invested in return for a small stake.
Honey also secured £25,000 in loans from Virgin Start-Up, which distributes Government-backed startup loans ranging from £500 to £25,000 to entrepreneurs looking to grow a business under two years old in England or Scotland. The programme was launched in 2013 with a mission to promote entrepreneurship in the UK by another famous school-leaver, Richard Branson.
Branson, who never went to college, likens himself to other successful entrepreneurs, including Steve Jobs, Michael Dell, Bill Gates and Mark Zuckerberg, who learned their skills on the job. "Nobody would question whether any of those entrepreneurs could run a business," Branson told a Malaysian newspaper last year. "They didn't develop their unique and compelling approaches to disruptive innovation and leadership by reading a textbook, but by living through the thrill, dread and sleepless nights that come with being an entrepreneur."
Stoned Pizza, the restaurant, opened in Braunton in May 2016. "You saw from his pop-ups that people were queueing round the block to eat Stoned Pizza," Shaw from Jack Wills, says.
Shaw discovered Stoned when Honey entered the Young Brit Awards, an entrepreneurship contest. Honey didn't win the cash prize, but Shaw decided to invest anyway, attracted by Stoned's "experiential" approach to making pizza in full view of the customer, by the beach.
"The brand experience: that's what Jack Wills was about. It's not the premium nature of it, it's the experience of buying the product," Shaw says. Jack Wills also started off in a seaside town in Devon, in Shaw's native Salcomb, in 1999. "We had customers who were discovering us for the first time on the coast in the store. We realised that they were quite often students and they wanted to see Jack Wills in their home town."
Honey's next challenge will be to follow in the footsteps of his mentor and break out of Devon, into other towns where competition for artisan pizzas is much tougher. Analysts say the market is there. Mintel, the analytics company, expects growth in takeaway and home delivery pizza of 32 per cent from 2016 to 2021. Honey says he will look to Oxford, Bristol and other affluent, premium cities in the south where there are students and a high demand for higher quality pizza.
He's not joking about the high quality: this summer Stoned was selling £18 lobster and champagne pizzas on the beach, with a whole lobster on top of champagne-soaked sundried tomatoes.
In the colder months, the menu changes to seasonal produce like leek and bacon, or pulled pork. Stoned also makes its own vegan cheese, to cater for the many vegan surfers he encountered on the beach. Honey says: "Making pizza on the beach with the sun setting, you can't really top that as a job."
Woodford says it has taken over a year for Now Dating to refine its work process and recruit a team ready for expansion. He says aspiring entrepreneurs should take some time away from their routine to think about whether starting a business is right for them.
"My advice is to discover who you are and what problem you want to solve," he says. "Once your mind is away from distractions you'll be able to think clearly about what you want to do and whether you should start your own business."
Join our commenting forum
Join thought-provoking conversations, follow other Independent readers and see their replies