Virgin to build super-fast Hyperloop shuttle between Pune and Mumbai as India ramps up infrastructure spending
Sir Richard Branson likens possible impact of project to revolutionary introduction of steam trains in 20th century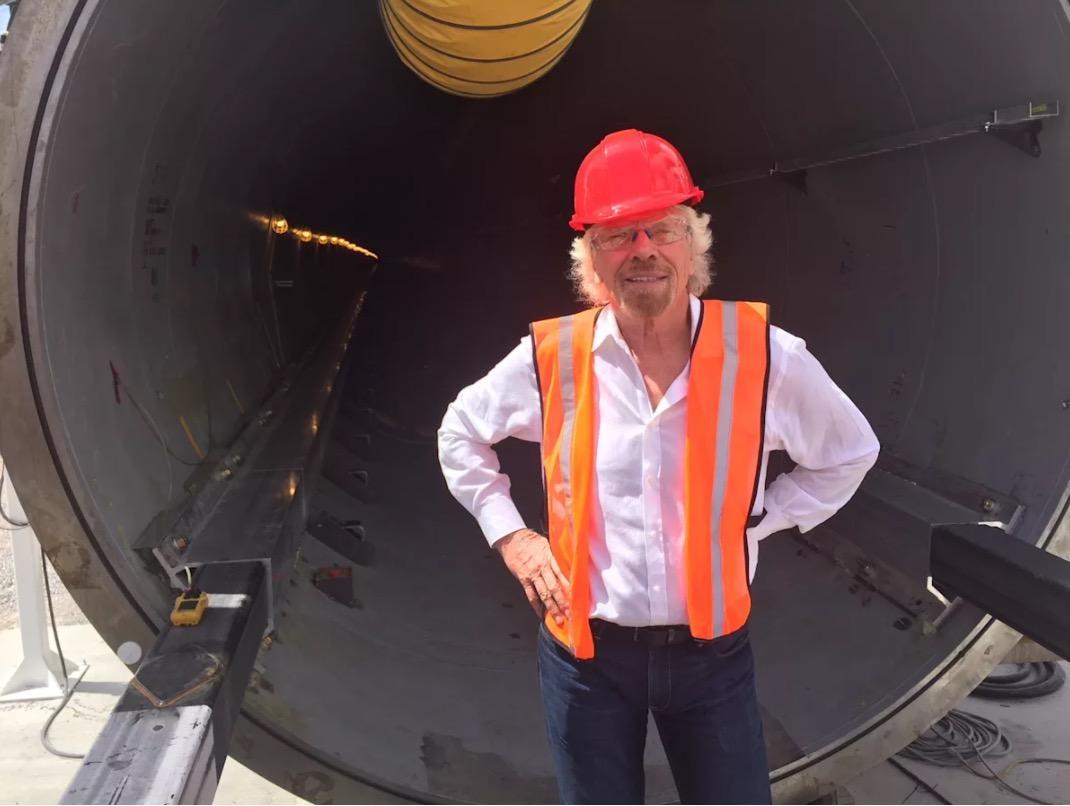 Sir Richard Branson's Virgin Hyperloop One venture has announced a preliminary agreement with the Indian state of Maharashtra to build a super-fast rail network between the cities of Pune and Mumbai.
Sir Richard's futuristic tube shuttle project, capable of travelling at speeds of 240mph, will deliver passengers from Pune's city centre to Navi Mumbai international airport in 25 minutes, shaving three hours from the current journey time and connecting 26 million people in the process.
Once completed, the Hyperloop will make 150 million passenger trips every year, saving more than 90 million hours currently lost to the commute, the company said.
It also hopes to play a major role in logistics, ferrying freight and light cargo to the Jawaharlal Nehru Port of Mumbai for international distribution.
A fully operational demonstration track will be built over a two to three year period following the signing of the final agreement, with the second phase of construction due for completion in five to seven years.
The total estimated cost of the project has yet to be established but a feasibility study now underway will be used to determine the structure of any subsequent public-private partnership entered into.
Virgin Hyperloop One estimates it will bring 3.5 trillion rupees (£39bn) in socioeconomic benefits to the region over three decades of operation, incorporating factors like time-saving, operational costs, emissions and accident reduction into its calculation.
The line itself will be 100 per cent electric, which – coupled with its expected easing of motorway congestion – could reduce greenhouse gas emissions along its route by as much as 150,000 tonnes per year.
"I believe Virgin Hyperloop One could have the same impact upon India in the 21st century as trains did in the 20th century," said Sir Richard. "Virgin Hyperloop One can help India become a global transportation pioneer and forge a new world-changing industry."
Maharashtra's chief minister Devendra Fadnavis said the Pune-Mumbai Hyperloop would serve as, "an economic catalyst for the region and create tens of thousands of jobs for India's world-class manufacturing, construction, service and IT sectors".
India's Prime Minister Narendra Modi, also present at the signing of the agreement, congratulated the state on its ambitious undertaking, saying: "51 per cent of total investments in India have come to Maharashtra and the state is attracting global investors.
"The state's overall development in the past few years is a shining example of change thinking and improving conditions in the country … It is on its way to achieving its bold vision of a trillion dollar economy."
Business news: In pictures
Show all 13
Mr Modi's government is currently working to upgrade rail networks across India, investing 8.6 trillion rupees to improve public transport infrastructure and tackle the problem of bottlenecks hindering the development of vital commercial hubs.
A 316-mile bullet train linking Mumbai with Ahmedabad, Gujurat, is also currently under construction.
Join our commenting forum
Join thought-provoking conversations, follow other Independent readers and see their replies