Zero-emissions courier service Zedify launches nationwide to help tackle urban pollution
Network of electric bike and trike couriers help fulfil our growing demand for online shopping deliveries, without choking our cities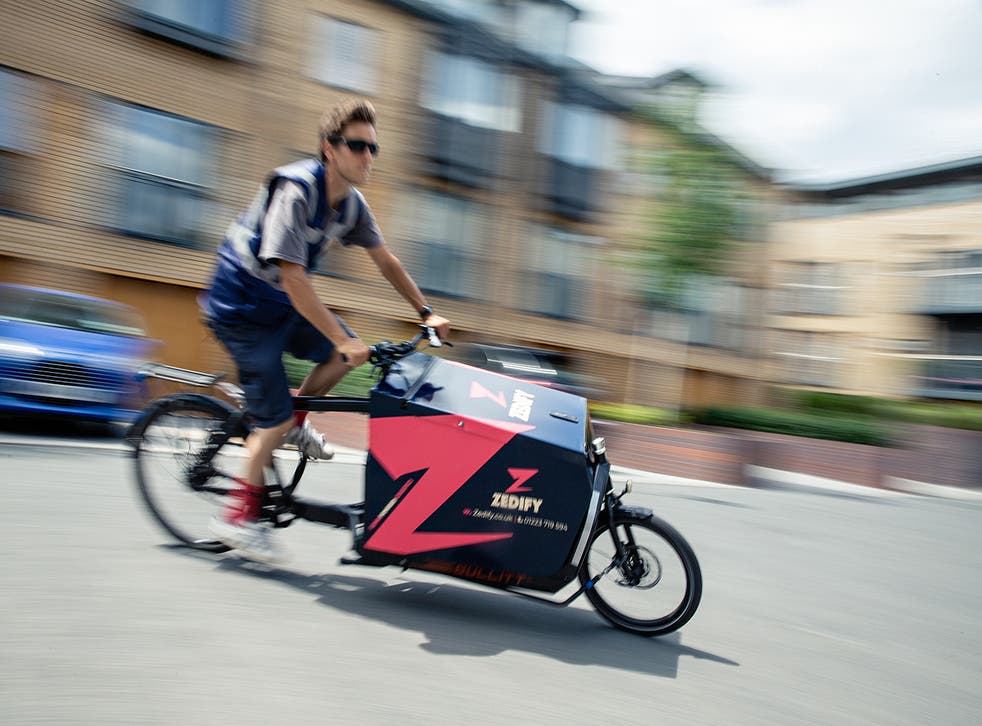 A new zero-emissions courier service is launching to help tackle the pollution choking Britain's cities.
Zedify, which began life as Cambridge-based Outspoken Deliveries, has teamed up with Recharge Cargo from Brighton to build a nationwide company to satisfy our rapidly growing appetite for online shopping without pumping out toxic diesel exhaust fumes.
The company has a network of electric bike and trike couriers that take items the "last mile" from city-centre depots to homes and businesses across Cambridge, central London, Waltham Forest, Brighton, Glasgow, and Norwich.
The national launch of the new brand coincides with Clean Air Day on 21 June, and a roll-out in Edinburgh is planned for next month. The company has implemented new technology to allow it to expand to all urban areas across the UK.
Co-founder Rob King says the last leg of delivery journeys is responsible for a significant chunk of air pollution as diesel vans criss-cross towns, making countless short journeys, dropping off millions of packages.
Diesel vehicles pump out particulate matter and harmful fumes which have been shown to shorten thousands of lives each year and worsen respiratory and other conditions.
The latest alarming research released this week showed that children are exposed to 30 per cent more pollution than adults due to their proximity to toxic exhaust fumes.
The government has pledged to remove diesel cars from the roads by 2050 but action needs to be taken now, says King.
"Demand for deliveries to door and desk is booming, but our cities just can't cope with ever-increasing numbers of diesel vans contributing to the toxic mix of poor air-quality and increased congestion."
"Businesses, especially retailers, need to step up and decouple the last mile of their deliveries to more sustainable services – which Zedify now enables them to do."
When he first launched a cycle courier service 13 years ago it needed "hardcore people, built of different stuff" to carry large loads around, says King. But big improvements in electric bike technology mean that Zedify's couriers can now transport 250kg around even the hilly streets of somewhere like Edinburgh with relative ease. EU research on cycle logistics has found that around 60 per cent of deliveries in cities could be made my cargo bike.
Using a zero-emissions courier is also a sensible choice for businesses who want to keep in line with the values of their customers, says King's co-founder, Sam Keam.
"A whopping 90 per cent of millennial shoppers say they prefer to buy from companies with a social or environmental purpose," he says.
"If their online order arrives by bike, then that's a big, and very visual, statement. For the first time, progressive brands can deliver the environmentally friendly services their customers demand, while maintaining their expectations around cost and speed."
"As a socially motivated company, we're committed to being good employers and pay our couriers a proper living wage. We've joined forces under Zedify to maximise the benefits we've been making through our own local zero-emissions delivery businesses– ultimately to make our urban areas healthier places to live."
Register for free to continue reading
Registration is a free and easy way to support our truly independent journalism
By registering, you will also enjoy limited access to Premium articles, exclusive newsletters, commenting, and virtual events with our leading journalists
Already have an account? sign in
Register for free to continue reading
Registration is a free and easy way to support our truly independent journalism
By registering, you will also enjoy limited access to Premium articles, exclusive newsletters, commenting, and virtual events with our leading journalists
Already have an account? sign in
Join our new commenting forum
Join thought-provoking conversations, follow other Independent readers and see their replies