Meet the 31-year-old Pegasus Airlines pilot who has become an Instagram sensation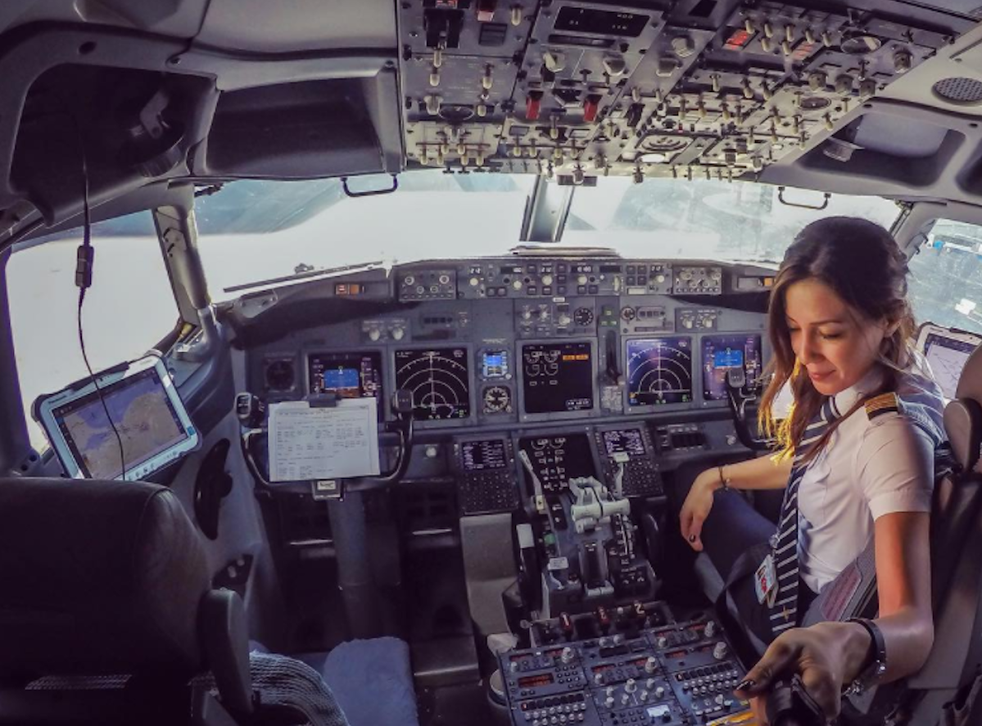 Nobody knows travel better than a pilot.
And 31-year-old Eser Aksan Erdogan, a pilot for Turkish low-cost airline Pegasus, has garnered a following for sharing her jet-setting life on Instagram.
Some 29.4k followers track her and her husband Volkan's movements around the world, from photos in the cockpit to beautiful images of the destinations where her plane touches down.
She's using her exposure to draw attention to the lack of women in the industry, which is largely male-dominated, she told The Daily Mirror.
Take a look at the life of rising Instagram star Eser Aksan Erdogan below.
---
This is Eser Aksan Erdogan, the 31-year-old pilot who has 29.4k followers on Instagram.
She flies a Boeing 737 aircraft for Turkish low-cost airline Pegasus.
She shares selfies of herself in uniform in her cockpit...
...and gives her followers major wanderlust with the trips she takes with her husband, 33-year-old Volkan.
Volkan is also a pilot. The two coordinate their schedules so they can travel the world together. From the Dead Sea in Jordan, to stunning hotels in Bangkok or Riads in Marrakech. They also find time to get glammed up.
Eser Aksan Erdogan grew up in Holland... ...but now lives in Turkey, which offers stunning views as she takes off. However, she hardly finds the time to spend at home.
It's not always glamorous. She usually lives her life out of a suitcase.
"It's really hard work and you have to be prepared to study a lifetime," she said. "Be prepared for hard weather conditions, red-eye flights, very long duty hours up to a maximum of 14 to 16 hours and a lot of hotel rooms." But she said the job never gets boring. "You will miss a lot of birthdays, special occasions and anniversaries, you will lose a lot of friends, but in return you get the most colourful, awesome job with lots of travelling — and did I mention you have the best office view in the world?"
She's now using her exposure to try and draw more women to the male-dominated industry.
'Being a pilot was my childhood dream,' she told The Mirror. 'I was kind of a tomboy so I always wanted to fly an F16, but since I'm against war, violence and armies, flying big jets is so much better.' She's now using her exposure to try and draw more women to the male-dominated industry. "From the bottom of my heart I hope more girls will choose this career since it's still a pretty much male-dominated industry," she said.
Read more:
British officials think Russia was behind a plot to kill Montenegro's prime minister
Trump's presidency has created the unbelievable turmoil Putin wanted all along
These 4 things could trigger the next crisis in Europe
Read the original article on Business Insider UK. © 2017. Follow Business Insider UK on Twitter.
Register for free to continue reading
Registration is a free and easy way to support our truly independent journalism
By registering, you will also enjoy limited access to Premium articles, exclusive newsletters, commenting, and virtual events with our leading journalists
Already have an account? sign in
Register for free to continue reading
Registration is a free and easy way to support our truly independent journalism
By registering, you will also enjoy limited access to Premium articles, exclusive newsletters, commenting, and virtual events with our leading journalists
Already have an account? sign in
Join our new commenting forum
Join thought-provoking conversations, follow other Independent readers and see their replies