Airbnb says sorry for 'passive aggressive' adverts on bus shelters
Residents took it to social media to complain that the adverts were passive aggressive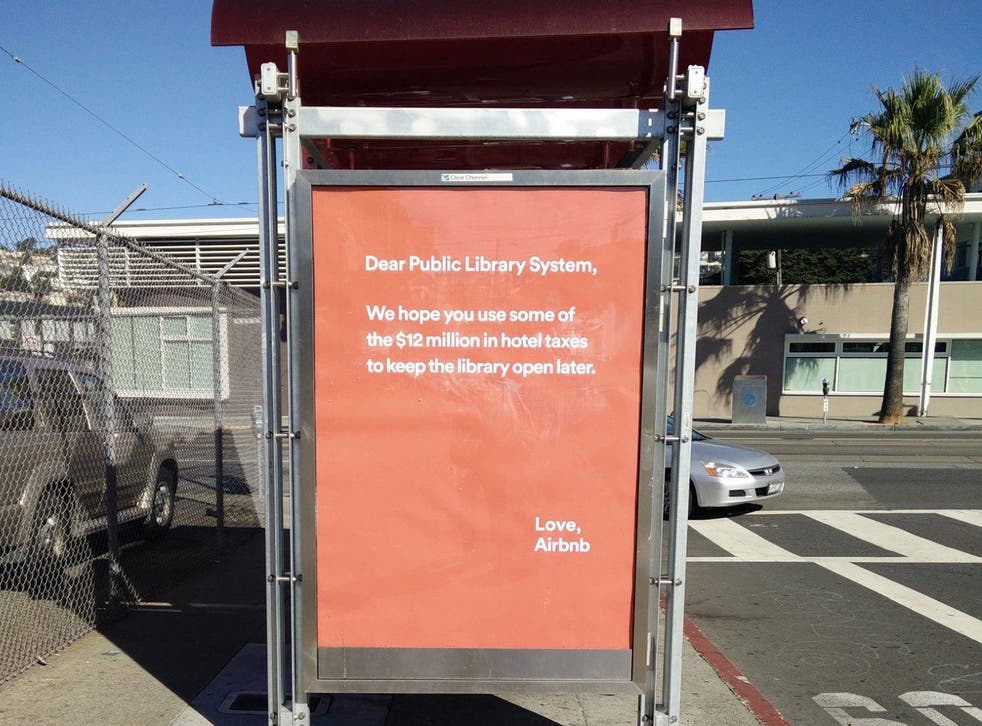 Airbnb has apologised for a series of adverts that made offending suggestions about what the city could do with tax.
The adverts, starting 'Dear San Francisco', were posted on billboards and bus stops across city. They were written in form of letters in the run-up to a vote on whether Airbnb should be more strictly regulated.
Some of the advertisements offered light-hearted but sarcastic suggestions to the city such as spending its hotel tax revenue on escalators for its hills, feeding expired parking meters or planting more trees.
Others, however, offended San Francisco residents such as a letter the library system saying it should be spending Airbnb's tax money on staying open later.
"Dear Public Library System, we hope you use some of the $12 million in hotel taxes to keep the library open later. Love, Airbnb," it read.
Residents took it to social media to complain that the adverts were passive aggressive.
Martha Kenny, an assistant professor at San Fransisco State University said in a Facebook post:
"I'm happy to hear that you paid your taxes this year," she wrote. "I did too! Isn't it awesome? However, I've crunched some numbers and I have some bad news for you. Out of your $12 million of hotel tax, only 1.4 per cent goes to the SF Public Libraries. So that's $168,000. Divided by the 868 library staff, we have $193 per person. Assuming each employee works five days per week minus holidays, this is $0.78 per employee per day.
The company has since apologised and vowed to take the adverts down.
"The intent was to show the hotel tax contribution from our hosts and guests, which is roughly $1 million per month. It was the wrong tone and we apologize to anyone who was offended. These ads are being taken down immediately," Christopher Nulty Airbnb spokesman said in an official statement to SF Weekly.
Join our new commenting forum
Join thought-provoking conversations, follow other Independent readers and see their replies