Aldi scraps name of 'rape yellow' paint after complaints from sexual assault victim
The glossy paint, which costs £4.99, is listed online as rapeseed yellow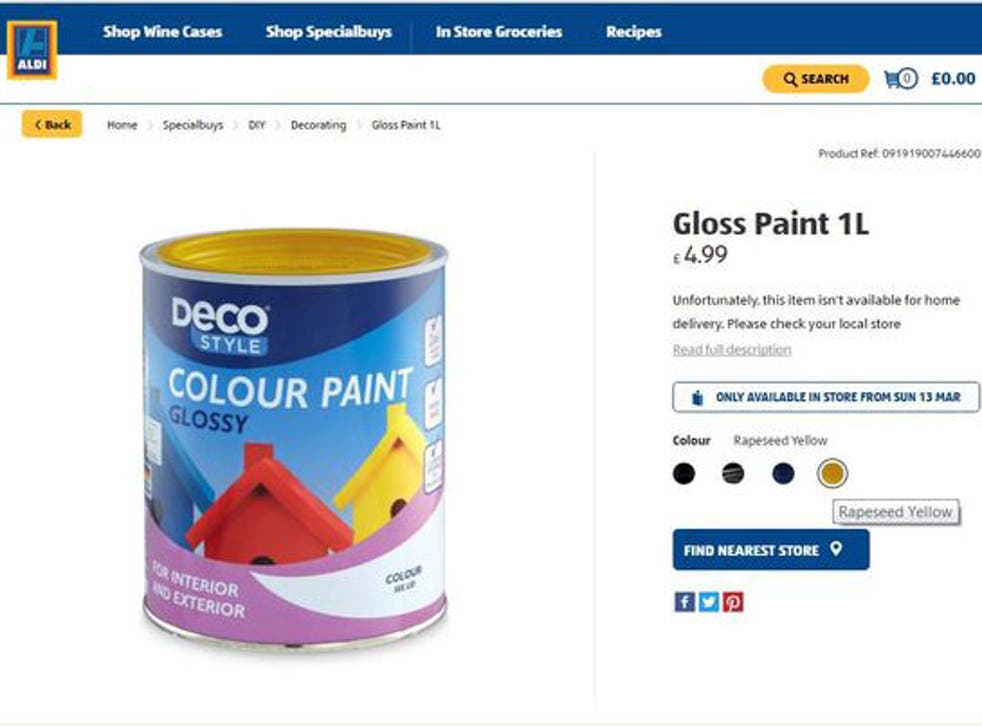 Aldi has changed the name of one of its paint colours after a sexual assault victim said it made her choke.
"Rape yellow" paint caused an Aldi woman to become "furious and upset" when she saw it in a store in Coventry.
The customer, who cannot be named for legal reasons, told the Coventry Telegraph:
"I looked at the paint and thought it can't possibly say that, you have got to be kidding me, there's no way they would sell that. I started choking. I got straight out of there. I was furious and upset.
"I thought maybe I was being sensitive because of my situation, but I sent pictures to my friends and they were all shocked by it. They couldn't believe what I was saying."
The customer said she contacted Aldi afterwards. "They assumed she was being sensitive because I was a rape victim," she said.
The glossy paint, which costs £4.99, is listed online as rapeseed yellow. But in stores the name has been abbreviated on the tins.
Biggest business scandals in pictures

Show all 20
Aldi said the colour is widely referred to as rape yellow in the industry, which refers to rapeseed, where the colour comes from.
In a statement the budget supermarket chain said: "This paint is a colour widely referred to in the industry as 'RAL 1021 Rape Yellow' which refers to rapeseed.
"The colour name will be altered to rapeseed yellow for all future production of this paint."
Register for free to continue reading
Registration is a free and easy way to support our truly independent journalism
By registering, you will also enjoy limited access to Premium articles, exclusive newsletters, commenting, and virtual events with our leading journalists
Already have an account? sign in
Register for free to continue reading
Registration is a free and easy way to support our truly independent journalism
By registering, you will also enjoy limited access to Premium articles, exclusive newsletters, commenting, and virtual events with our leading journalists
Already have an account? sign in
Join our new commenting forum
Join thought-provoking conversations, follow other Independent readers and see their replies