The Independent's journalism is supported by our readers. When you purchase through links on our site, we may earn commission.
Amazon Handmade takes on Etsy with homemade crafts marketplace
Handmade at Amazon went live at 3am EST on Thursday with over 80,000 handmade items
Hazel Sheffield
Thursday 08 October 2015 11:54 Comments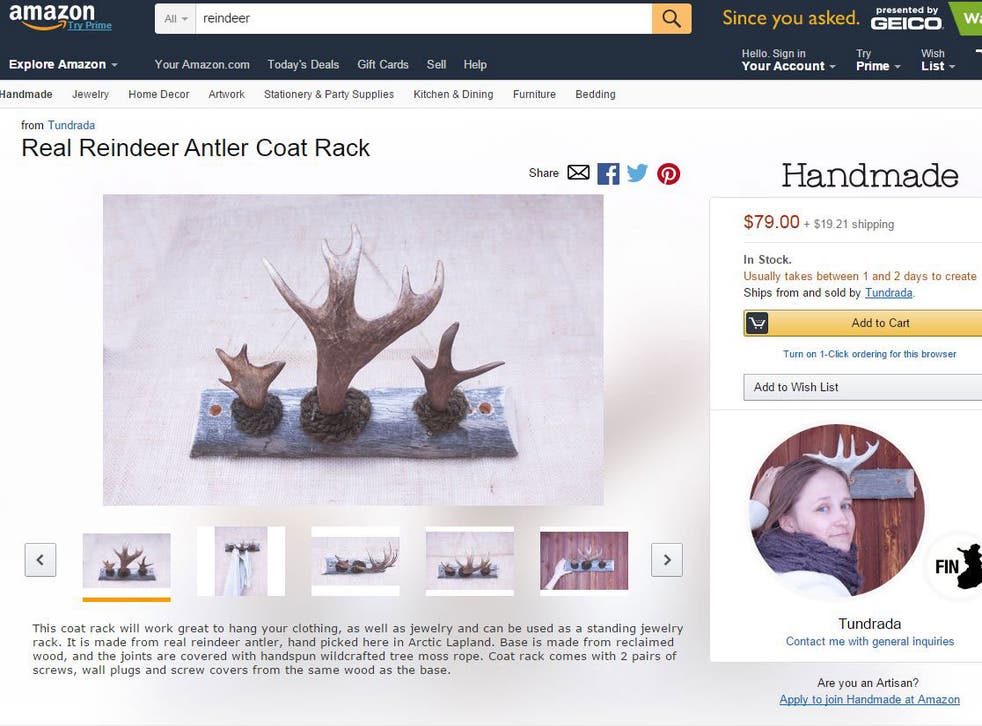 Amazon has opened a marketplace for handmade goods online, bringing it in direct competition with Etsy.
Handmade at Amazon went live at 3am EST on Thursday with over 80,000 handmade items for sale from about 5000 sellers, in 60 countries, the New York Times has reported.
Those goods range from recycled wood coasters, to coffee-scented candles and coat racks made of real reindeer antlers – pitting Amazon directly against Etsy, which is tiny in comparison.
Etsy makes around $2 billion a year in sales, according to the Times, whereas Amazon makes $75 billion in sales. But Amazon has shown no mercy, even sending out invitations to sellers of homemade good on Etsy asking them to list their goods on its own Handmade marketplace.
Amazon is also trying to import the same personal feel to its Handmade site, asking sellers to post pictures of themselves and say where they are from with their listings. It is also carefully vetting seller applications to check that items are handmade, Amazon said.
The successful applicants will get instand access to Amazon's 285 million customers, far more than Etsy's 2 million. But Chad Dickerson, Etsy CEO, said he still believed that Etsy's experience made it more attractive to a certain type of seller. " Etsy has a decade of experience understanding the needs of artists and sellers and supporting them in ways that no other marketplace can," Mr Dickerson said.
Register for free to continue reading
Registration is a free and easy way to support our truly independent journalism
By registering, you will also enjoy limited access to Premium articles, exclusive newsletters, commenting, and virtual events with our leading journalists
Already have an account? sign in
Join our new commenting forum
Join thought-provoking conversations, follow other Independent readers and see their replies