Apple CEO Tim Cook finally lifts lid on self-driving car project
Calling it 'the mother of all AI projects,' Mr Cook described the initiative as one of the most difficult to work on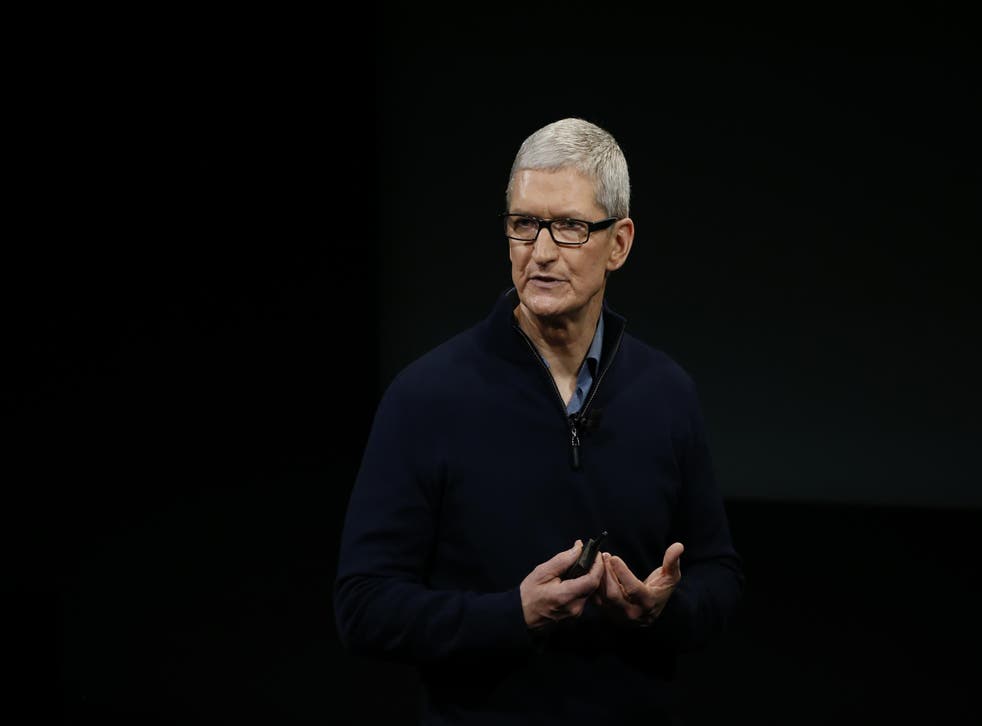 After years toiling away in secret on a car project, Apple chief executive Tim Cook has for the first time elaborated on the company's plans for the automotive market.
"We're focusing on autonomous systems," Mr Cook said in a 5 June interview on Bloomberg Television, which amounted to his most detailed comments yet on Apple's vehicle plans. "It's a core technology that we view as very important."
He likened the effort to "the mother of all AI projects," describing it as "probably one of the most difficult AI projects to work on".
The prospect of self-driving cars has seen a slew of technology companies push into the automobile industry, according to McKinsey & Co. Alphabet's Waymo unit has signed partnerships with Fiat Chrysler and Lyft to develop the technology, while carmakers from BMW to General Motors have opened sizeable Silicon Valley offices, dedicating hundreds of millions of dollars to acquire autonomous vehicle startups.
Mr Cook has never before openly outlined Apple's plans, although public filings have surfaced in recent months that provided snapshots of Apple's efforts. According to Bloomberg News, Apple had initially been seeking to build its own car, before recalibrating those ambitions last year to prioritise the underlying technology for autonomous driving.
The iPhone tech giant had hired more than 1,000 engineers to work on Project Titan, as the car team is known internally, after it started in 2014. Ballooning costs and numbers of employees led to Apple veteran Bob Mansfield being given the reins of the team in 2016.
Apple secured a permit from the California Department of Motor Vehicles in April to test three self-driving sports-utility vehicles, photos of which emerged several weeks later.
Half a dozen vehicles had been surreptitiously testing the autonomous technology on public roads in and around the San Francisco Bay area for at least a year, according to someone familiar with Project Titan. Apple spokesman Tom Neumayr declined to comment on how long the company has been conducting road tests.
Steve Kenner, Apple's director of product integrity, penned a letter in December to the National Highway Traffic Safety Administration which revealed the company's interest in automotive technology. It became public when it was published on a federal website.
In the letter, Mr Kenner wrote about the company's excitement surrounding the potential for automated systems in fields like transportation.
"There is a major disruption looming there," Mr Cook said on Bloomberg Television, citing self-driving technology, electric vehicles and ride-hailing. "You've got kind of three vectors of change happening generally in the same time frame."
Mr Cook was also bullish about the prospects for electric vehicles, a market which last week helped Tesla become the world's fourth-biggest carmaker by market capitalisation, even as it ranks well outside the top 10 by unit sales.
"It's a marvellous experience not to stop at the filling station or the gas station," Mr Cook said.
Gadget and tech news: In pictures

Show all 25
Apple invested $1bn last year in Didi Chuxing, the biggest Chinese ride-hailing service. The announcement came soon after Mansfield took over Project Titan and set about cutting hundreds of engineers.
Whereas Apple had initially been building its own car, Mansfield scrapped those plans in favour of building an autonomous driving system. The company will make a decision on whether to proceed with the push later this year, the people said at the time.
"Apple has long been the wild card in the autonomous car game," said Michelle Krebs, executive analyst for Autotrader. "Now we know Apple is all in, and, judging by its track record in other areas, it will be a force. Apple's strategy to commercialise autonomous vehicles remains to be seen – will they partner and sell the technology or actually develop their own vehicles?"
In the interview on Bloomberg Television, Mr Cook was hesitant to disclose whether Apple will ultimately manufacture its own car. "We'll see where it takes us," Mr Cook said. "We're not really saying from a product point of view what we will do."
Bloomberg
Join our new commenting forum
Join thought-provoking conversations, follow other Independent readers and see their replies