Argentina's Cristina Fernandez de Kirchner denounces US Supreme Court ruling as 'extortion' in debt row
Argentina's stock market tumbled 11% after the court's decision was announced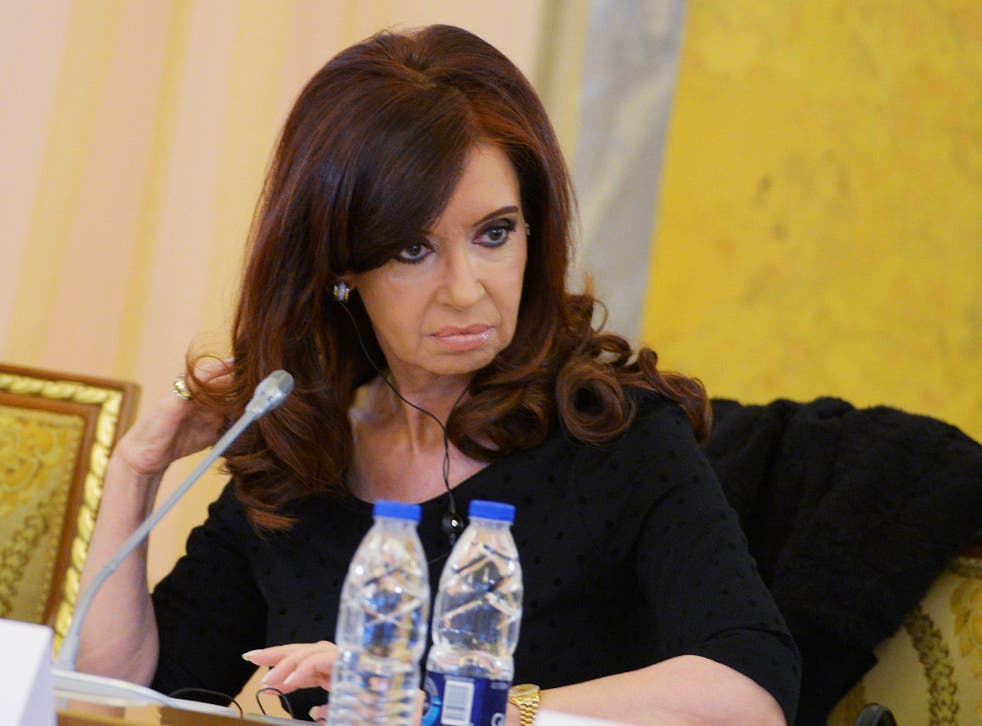 Argentinian president Cristina Fernandez de Kirchner has declared her country will not pay the so-called "vulture funds" which bought Argentina's defaulted debt in full.
She described their demands as "extortion" and dismissed yesterday's US Supreme Court ruling in their favour as "absurd".
She was speaking after the US Supreme Court refused even to hear Argentina's appeal against rulings that the country should pay the likes of hedge fund Aurelius, run by a trader known on Wall Street as Mark "The Terminator" Brodsky, 10 cents in the dollar on their debt.
Other private bondholders – most of whom unlike Aurelius lent money to Argentina before its 2001 default, have agreed to take a "haircut" on their loans of about 70 per cent. But Aurelius and NML have pursued their case relentlessly, claiming the country must pay its dues in full.
Ms De Kirchner told her country in a national television broadcast that she was willing to negotiate but that Argentina simply could not pay, in cash, all the vulture funds' $1.5bn demands on top of its repayments to those lenders who have accepted haircuts.
"What I cannot do as president is submit the country to such extortion," she said, repeatedly adding that Argentina would continue making repayments to those lenders who have agreed renegotiated settlements.
She added that, if she were to comply, the lenders who had agreed a haircut "will find a judge who will tell them that they, too, have the same rights." That would be an outcome that would crash the Argentinian economy.
Argentina's stock market tumbled 11 percent yesterday after the court's decision.
As well as rejecting Argentina's case, the Supreme Court also declared the hedge funds should be able to force the country to reveal the whereabouts of its assets around the world, making it easier for them to collect on their debts.
A spokesman for the Jubilee Debt Campaign said: "We are shocked the Supreme Court did not even agree to hear this case. It is so important in terms of setting a precedent. The vulture funds never lent any money to Argentina yet they could now force the country to default to those who did over the next couple of weeks."
Debt campaign groups argue that much of Argentina's debt crisis was started by the military junta and exacerbated by irresponsible lending.
The case famously saw NML obtain an order from Ghana to seize the Argentine navy ship The Libertad in 2012. Ghana held the ship for several months until a UN maritime court ruled against the seizure and ordered Ghana to let the ship go.
Mark Brodsky, known as "The Terminator" for his relentless approach to achieving his business objectives, has reportedly sold most of Aurelius's stake in the Coop Bank's debt. He and other vulture funds bought in when the debt was cheap in the hope of forcing the company to give them a stake worth much more in the long run.
Mr Brodsky has said throughout the years-long fight that countries around the world should not be allowed to run up debts irresponsibly and get away with it. Last year he said: "Argentina is the world's leading exemplar of how a sovereign should not treat its creditors."
Register for free to continue reading
Registration is a free and easy way to support our truly independent journalism
By registering, you will also enjoy limited access to Premium articles, exclusive newsletters, commenting, and virtual events with our leading journalists
Already have an account? sign in
Register for free to continue reading
Registration is a free and easy way to support our truly independent journalism
By registering, you will also enjoy limited access to Premium articles, exclusive newsletters, commenting, and virtual events with our leading journalists
Already have an account? sign in
Join our new commenting forum
Join thought-provoking conversations, follow other Independent readers and see their replies