Argentines up in arms as McDonald's runs out of ketchup amid peso pressure
McDonald's Argentina apologised for the lack of ketchup citing a shortage problem and asking customers to use other dressings
Maria Tadeo
Tuesday 04 February 2014 14:47 Comments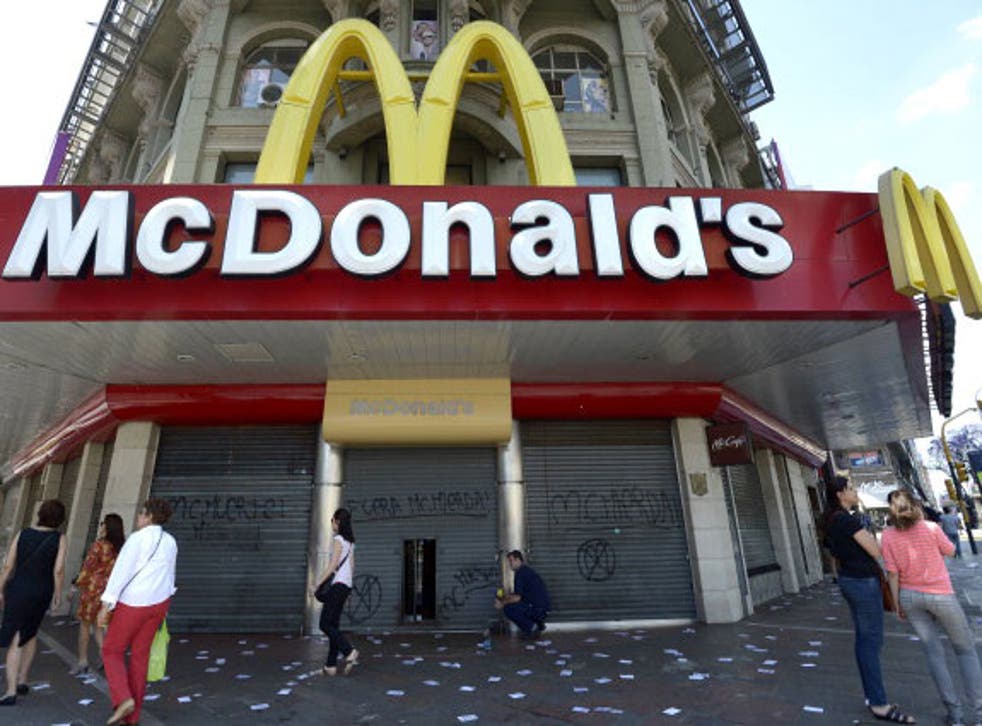 Argentines have grown used to food shortages and strict foreign exchange controls, but could running out of ketchup be the final straw?
On Monday, McDonald's Argentina apologised to customers citing a shortage problem for the lack of ketchup but that didn't stop angry customers from using social media to vent their frustration- with some arguing the situation reflects the dire state of the Argentine economy under President Cristina Kirchner.
Under Kirchner, the widow and political heir of former president Nestor Kirchner, the Argentine government has introduced a number of restrictions on transactions with foreign currency and limiting imports. Critics claim Kirchner's socialist polices are scaring off investors.
Now, Latin America's second largest economy is moving dangerously close to a full-blown currency crisis as investor confidence in the peso declines in the face of rising inflation and falling reserves.
Jimena Blanco, senior Latin America analyst at Maplecroft, told The Independent: "The problem varies from week to week, product to product, but it's largely related to Argentina's foreign exchange controls."
"In this case, it appears that the sachets are packaged in Chile," she added. "McDonald's Argentina may have the cash to pay for it in pesos - it's the lack of access to dollars that's usually a problem for Argentine companies."
One angry customer tweeted: "Please Cristina (Kirchner) let us have ketchup."
Another user wrote on the social network: "Not ketchup, Cristina. Not Ketchup."
The Argentine government has soften its forex rules reducing the tax rate on dollar purchases to 20 per cent from 35 per cent last month. The new rules were introduced soon after the Argentine peso suffered its steepest declined since the 2002 financial crisis down to eight pesos to the dollar after the country's central bank pulled support for the currency.
Argentina is losing foreign currency reserves at the fastest pace in more than a decade according to Bloomberg data- making support for the peso increasingly difficult and expensive.
Inflation is set to top 30 per cent this year as Argentines see their purchasing power decline as prices continue to increase. However, according to the Kirchner administration, inflation stood at 10.9 per cent in 2013. The International Monetary Fund censured Argentina's data as inaccurate. The country has two months left to release updated figures.
Last year, Argentina saw shortages of basic products such as wheat, corn, tomatoes and cooking oil. Now it can add Ketchup to the list.
The Kirchner dynasty: key moments
2003 A lawyer by training, Nestor Kirchner is sworn in after a succession of presidents in the wake of the major financial crisis which hit Argentina in 2001.
2005 Kirchner declares the restructuring of the country's debt a success, and a year later announces that Argentina had paid back multi-billion dollar debt to the International Monetary Fund.
2007 Cristina Fernandez de Kirchner sworn in as president in December, succeeding her husband. They are criticised for working together to side-step presidential term limits.
2010 Nestor Kirchner dies from heart attack.
2011 Fernandez-Kirchner is re-elected in a landslide victory.
2013 Banned from running again in 2015, Fernandez-Kichner had hoped to win enough support in October's mid-terms to allow the constitution to be changed to allow her a third term.
Ed Stocker
Register for free to continue reading
Registration is a free and easy way to support our truly independent journalism
By registering, you will also enjoy limited access to Premium articles, exclusive newsletters, commenting, and virtual events with our leading journalists
Already have an account? sign in
Join our new commenting forum
Join thought-provoking conversations, follow other Independent readers and see their replies