Arts and entertainment sectors face 'significant' job losses unless furlough extended, government warned
Just 29 per cent of sector's furloughed staff have returned to work, with many venues still closed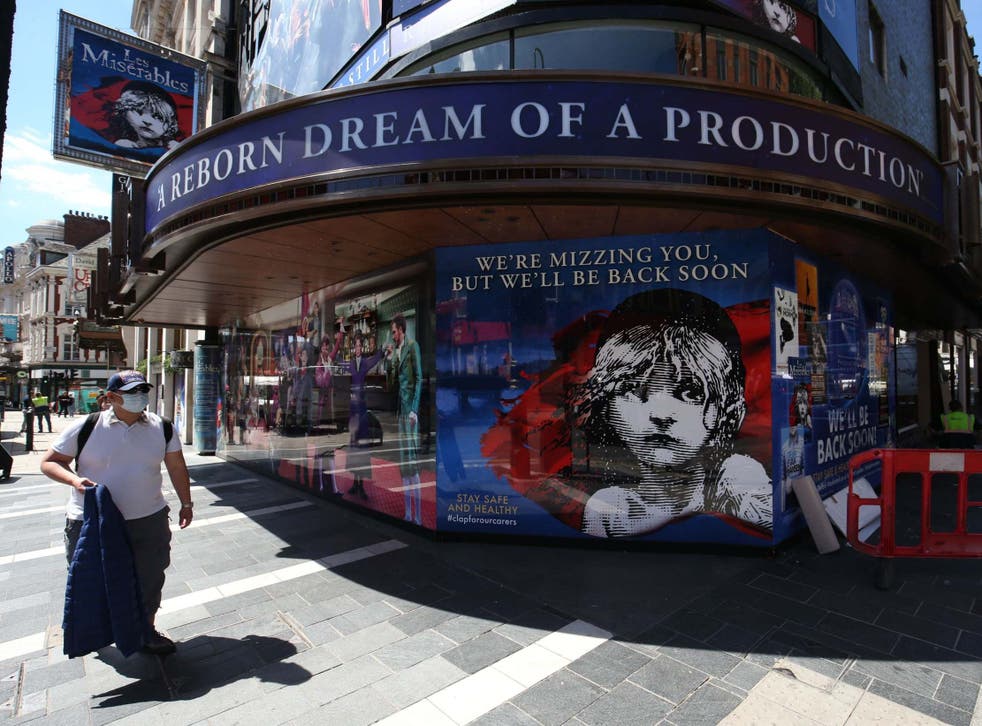 The arts and entertainment sectors face "significant" job losses unless the furlough scheme is extended, the government has been warned.
Just 29 per cent of furloughed employees in arts and entertainment have gone back to work so far, according to research by the Royal Society for the Encouragement of Arts, Manufactures and Commerce (RSA).
By contrast, 60 per cent of workers in the job retention scheme in the hospitality industry have returned to work, while in construction and retail the figure is 70 per cent.
Many venues such as theatres, cinemas and nightclubs, as well as gyms and leisure centres, remain closed. Theatres are allowed to reopen for socially-distanced performances from this weekend but the industry's financial future remains uncertain.
Fabian Wallace-Stephens, senior researcher at the RSA, said: "The return to work is encouraging news for the millions of workers in sectors like hospitality and construction.
"However, for some sectors such as the arts and entertainment, the numbers are worryingly low and may prove to be the warning signs of significant redundancies.
"The government needs to give continued, focused support for these sectors of the economy, linked to a clear recovery strategy."
The furlough scheme, which has helped to preserve millions of jobs, is due to end on the last day of October.
Employers started to contribute to the cost of furloughed workers from 1 August, with those contributions increasing in September and October.
Economists have warned millions could be laid off as the scheme winds down while the economy remains below its pre-pandemic level and social distancing continues to negatively impact some sectors.
On Friday, the government announced the criteria arts organisations will have to meet in order to receive a share of its £270m finance scheme.
Applicants will be assessed against rigorous cultural and economic standards, the Department for Digital, Culture, Media and Sport (DCMS) said.
Organisations will need to demonstrate national or international significance and prove they can engage with local communities through education and outreach.
They will also have to demonstrate their efficiency and that they have "ongoing viability for the future".
The money comes from the government's £1.57bn funding package for the arts.
Each eligible organisation will be able to apply for a minimum of £3m in funding on loan terms.
This includes a payment term of up to 20 years, an initial repayment holiday of up to four years and a 2 per cent interest rate per annum.
Arts Council England will review applications, along with the British Film Institute, Historic England and National Lottery Heritage Fund.
Decisions will be made by the independent Culture Recovery Board, chaired by Sir Damon Buffini.
The DCMS also announced details of further funding allocations including a £50m Heritage Stimulus Fund from Historic England.
Additional reporting by PA Media
Register for free to continue reading
Registration is a free and easy way to support our truly independent journalism
By registering, you will also enjoy limited access to Premium articles, exclusive newsletters, commenting, and virtual events with our leading journalists
Already have an account? sign in
Register for free to continue reading
Registration is a free and easy way to support our truly independent journalism
By registering, you will also enjoy limited access to Premium articles, exclusive newsletters, commenting, and virtual events with our leading journalists
Already have an account? sign in
Join our new commenting forum
Join thought-provoking conversations, follow other Independent readers and see their replies