ASmallWorld: Nestlé heir Patrick Liotard-Vogt, a 'jetrosexual' website and a £3m dispute
One of the social media company's backers has made an apparently sudden exit of his own from his native Switzerland for St Kitts in the Caribbean
Jim Armitage
Friday 24 January 2014 21:17 Comments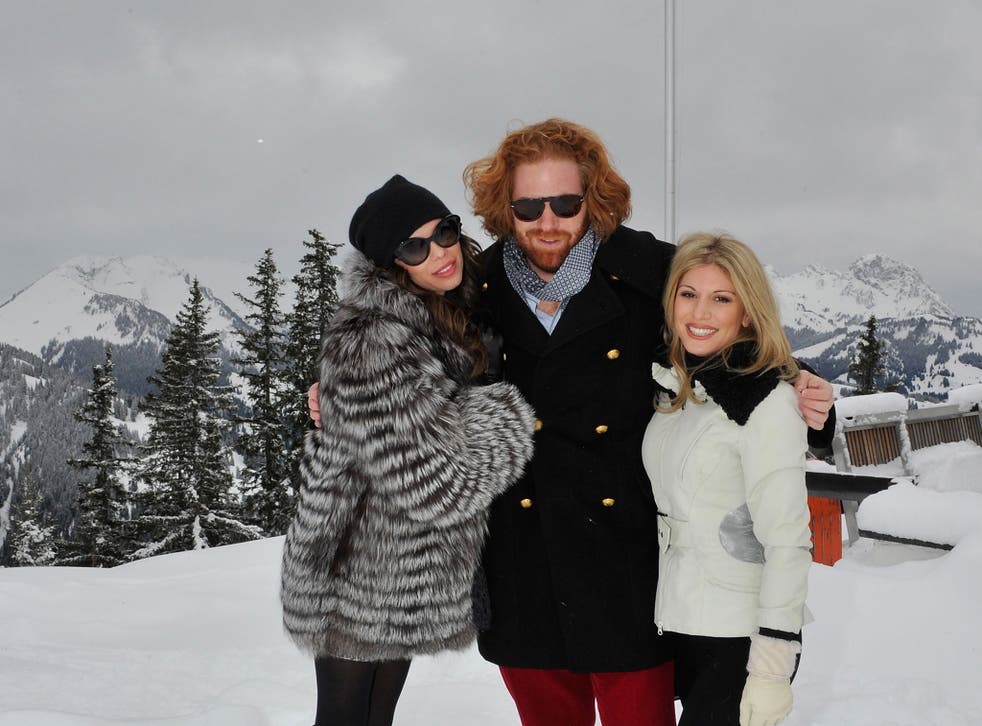 Chuka Umunna must have wished he could have run away from the Westminster bubble after he was exposed as a member of the international rich kids' website ASmallWorld – particularly when his messages bemoaning the "trash" and "C-list wannabes" in London's nightclubs were made public.
Now one of the social media company's backers, the Nestlé heir Patrick Liotard-Vogt, has made an apparently sudden exit of his own from his native Switzerland for St Kitts in the Caribbean, leaving a string of financial claims and from business partners behind him.
Mr Liotard-Vogt was the archetypal ASmallWorld member. Handsome, aristocratic and from one of Europe's wealthiest families, he epitomised the "jetrosexual" customers using the London-registered site known as "MySpace for millionaires".
He lives the life of the moneyed continental, sporting tailored bling designed to set off his long, swept-back ginger curls at exclusive nightclubs and ski slopes.
His anecdote about how he bought ASmallWorld from the movie mogul Harvey Weinstein while at a glitzy function in Cannes paints a picture of the man. "I walked up to him and said, 'Hey, I want to buy your shares in ASmallWorld.' To which he responded: 'You need to show up with a lot of money, which I don't think you have.' I laughed and said, 'I think I have 10 times more than you do.' "
However, reports in the Swiss press said that according to official documents he was now being pursued for more than Sfr4m (£3m).
One of those registering a claim is a company associated with the website's former chief executive, Joe Robinson. It is seeking Sfr1.6m. The claim is confidential, but is likely to involved the events surrounding his departure from the company.
Another business, a franchise of the exclusive Diners' Club credit card, is said to be claiming Sfr1.15m, amid reports he racked up big debts on his personal Diners' Club card - claims he strenuously denies. The claim comes despite the fact that he is a director and shareholder, since teaming up with a businessman friend to buy the franchise for Switzerland, Liechtenstein, Germany and Luxembourg.
Most intriguingly, the FC Basel football star David Degen was also reportedly claiming more than SFr1.5m. That case appears to have now been settled privately and the claim withdrawn.
Mr Liotard-Vogt surfaced tonight to tell The Independent by email that the other claims continue, with, as he describes it: "different opinions on various internal affairs" with Diners' Club, and an ongoing spat with the former ASmallWorld boss Mr Robinson who "was asked to leave" the website in 2010.
He said the company has set aside an "escrow" account with money to cover the Robinson dispute, and added: "the courts shall decide" whether the money gets released to the former executive or not.
On the Diners' Club claims, he said: "Diners Club and I have different opinions on various internal affairs. Both Diners Club and I remain confident that all lawsuits against each other (against myself, against management), will be withdrawn within days."
His Diners' Club partner, Anthony Helbling, declined to comment on the proceedings when asked by the Swiss newspaper Handelszeitung. Mr Robinson did not return calls.
Mr Liotard-Vogt's London-born great grandfather worked his way up through Nestlé to become chairman and chief executive of the company.
Asked whether he was in financial difficulties, the heir to the fortune responded: "I can afford three hot meals a day... No financial difficulties in sight", declaring he had long planned to stay in St Kitts while overseeing a luxury property development there. "Being on the spot is better than [in] a foreign country," he said.
He added that he had recently upped his stake in ASmallWorld in December by a further 35%, taking his ownership to 80%.
ASmallWorld files accounts in two addresses in London but a spokesman said it only had offices in Edinburgh, Switzerland and New York.
Update: Representatives of Patrick Liotard-Vogt have told The Independent that there are no outstanding claims against him. We are happy to update matters. 27/2/19
Register for free to continue reading
Registration is a free and easy way to support our truly independent journalism
By registering, you will also enjoy limited access to Premium articles, exclusive newsletters, commenting, and virtual events with our leading journalists
Already have an account? sign in
Join our new commenting forum
Join thought-provoking conversations, follow other Independent readers and see their replies