Bank of England to print £150bn to boost economy as outlook worsens
The Bank's Monetary Policy Committee voted unanimously in favour of the additional money printing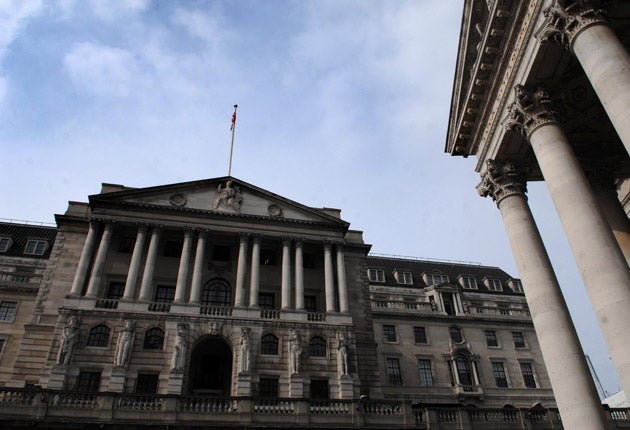 The Bank of England has announced it will pump an additional £150bn into the economy as a second national lockdown begins.
In its latest report on the UK economic outlook, the Bank's Monetary Policy Committee (MPC) warned that a range of indicators suggest that consumer spending has softened, firms' investment intentions "remained weak", and unemployment has increased.
The Bank expects the economy to shrink 2 per cent in the final three months of 2020, before beginning to recover at the start of 2021 meaning the UK would narrowly avoid a "double-dip" recession. Gross domestic product is expected to contract by 11 per cent this year.
In response to the bleaker outlook, the MPC voted in favour of printing £150bn, which will extend its asset purchase scheme to £875bn. The newly created money will be used to buy up government debt, a move designed to keep borrowing costs low.
As expected, the MPC kept interest rates on hold at 0.1 per cent.
Developments relating to Covid-19 will reduce spending more than the Bank forecast in August, but it is forecast to pick up again in early 2021, the MPC said. Consumer price inflation remains well below the Bank's 2 per cent target, at 0.5 per cent. 
The Bank expects unemployment to spike in the next eight weeks, jumping from 4.5 per cent to 6.3 per cent by the end of the year before reaching a peak of 7.75 per cent between April and June 2021. 
The official measure of joblessness has kept relatively low so far but the most recent figures showed a sharp rise in redundancies, while the total number of hours worked each remains well below pre-pandemic levels.
The recently extended furlough scheme will reduce the number of jobs at risk, the MPC said.
"The extended Coronavirus Job Retention Scheme and new Job Support Scheme will mitigate significantly the impact of weaker economic activity on the labour market," the MPC said.
However, it cautioned that Brexit and the coronavirus pandemic mean that the economic outlook remains unusually uncertain. 
"It depends on the evolution of the pandemic and measures taken to protect public health, as well as the nature of, and transition to, the new trading arrangements between the European Union and the United Kingdom.  
"It also depends on the responses of households, businesses and financial markets to these developments." 
The Bank warned that Brexit will reduce UK exports after the transition period ends on 31 December, dragging economic growth down by 1 per cent in early 2021. Some firms, particularly small businesses, are not prepared for new customs arrangements, the Bank said.
The chancellor, Rishi Sunak, is also expected to announce further support for the UK economy later this afternoon.
It comes days after Mr Sunak extended the furlough scheme through November to help struggling employers pay their staff during a new lockdown across England. 
Join our commenting forum
Join thought-provoking conversations, follow other Independent readers and see their replies