Bayer increases takeover bid for seed giant Monsanto to £41bn
The combined company would become the world's biggest supplier of farm chemicals and seeds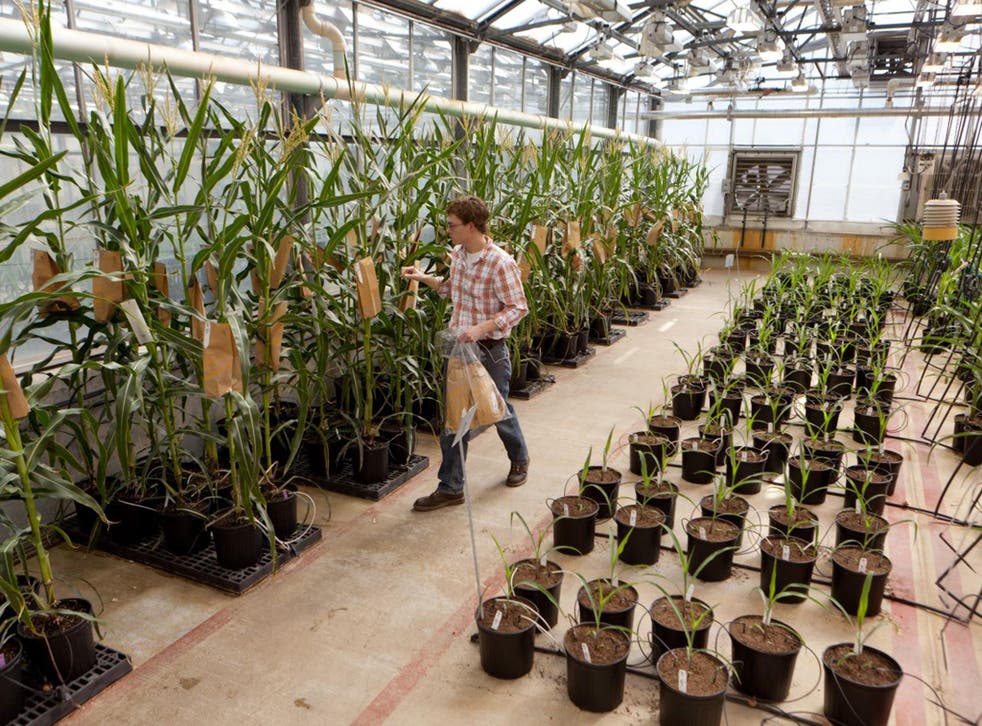 The chemical and pharmaceutical giant Bayer raised its offer for Monsanto in a bid that values shares of the US company at $54.7bn (£41bn), a 2.5 per cent rise that came after being rebuffed in its initial efforts to combine operations and become the world's biggest supplier of farm chemicals and seeds.
The proposed price was increased to $125 a share in cash, and Germany-based Bayer also offered an "antitrust break fee" of $1.5bn ($1.12bn), according to a statement on Thursday.
That's an increase on the initial terms of $122 per share and represents a 40 per cent premium over Monsanto's closing price on May 9. Monsanto, the world's largest seed supplier, said on Thursday its board of directors will review the increased offer.
Monsanto stock gained 3.1 per cent to $104.30 in afternoon trading in New York. That's far short of the offer price, reflecting investors' scepticism that Bayer can complete this transaction.
The new bid came amid renewed talks between the US seeds maker and BASF about a possible combination.
"From a Monsanto perspective, the BASF combination is better because they would be the ones in the driver's seat," Jason Dahl, a New York-based senior portfolio manager at Victory Capital Management, said.
"In a Bayer takeover, the US would lose one of its great assets. I hate to see the company fall in the hands of someone else."
Monsanto has revived talks with Germany's BASF about a possible combination of their agrochemicals businesses, people familiar with the matter said this week.
Doctor Says Monsanto Insecticides, Not Zika Virus, Causing Disease
The US company is exploring various transactions, including the potential acquisition of BASF's agriculture-solutions unit, the people said, asking not to be identified as the discussions are private.
In return, BASF would likely receive newly issued shares in Monsanto, the people said. Discussions are at an early stage, and no final decisions have been made as talks with Bayer are continuing, they said.
One of the key concerns has been that the transaction, coming amid a wave of megadeals in the agricultural-chemicals and seeds industry, may invite close scrutiny from regulators. Buying Monsanto would also give Bayer a controversial pioneer of crop biotechnology that is reviled in Europe.
Scrutiny of the deal
BASF is providing the latest twist in a prolonged attempt by the world's top six suppliers of pesticides and seeds to consolidate.
While Dow Chemical Co. and DuPont Co. are progressing with their planned merger relatively quickly, the planned $43 billion (£32.17 billion) takeover of Syngenta by China National Chemical Corporation has attracted regulatory and political scrutiny.
"We are convinced that this transaction is the best opportunity available to provide Monsanto shareholders with highly attractive, immediate and certain value," chief executive officer Werner Baumann said in the statement. "Bayer is fully committed to pursuing this transaction."
Bayer said it verbally raised its offer on July 1, and followed up with a proposal sent to Monsanto on July 9. The initial bid valued Monsanto and its debt at $62 billion (£46.4 billion), and was rejected on May 24 as "incomplete and financially inadequate."
A spokesman for Bayer refused to disclose the enterprise value of the latest bid.
Driving the potential deal is Bayer's ambition to become the global leader in pharmaceuticals and chemicals for people, plants and animals.
Though the negotiations were set in motion with talks on April 18 under his predecessor, Marijn Dekkers, Baumann is responsible for completing a transaction and then making it work.
Business news: In pictures

Show all 13
The 152-year-old company, which trademarked the brand names "heroin" and "aspirin," was founded by two friends who made dyes from coal-tar derivatives.
Over the following decades, they expanded into other chemicals and pharmaceuticals, introducing heroin as a cough remedy in 1896 and then aspirin, the world's first blockbuster drug, in 1899.
The takeover discussions mark a reversal of roles for Monsanto, which had previously sought to buy Swiss pesticide maker Syngenta, abandoning the $43.7 billion (£32.72 billion) bid in August after the other company refused to agree to a deal.
© Bloomberg
Join our new commenting forum
Join thought-provoking conversations, follow other Independent readers and see their replies