Samarco disaster; UK challenger banks; ECB: Business news in brief Wednesday 31 August 2016
BHP mine deaths verdict; Small banks back traditional banking; German inflation falls heaping pressure on ECB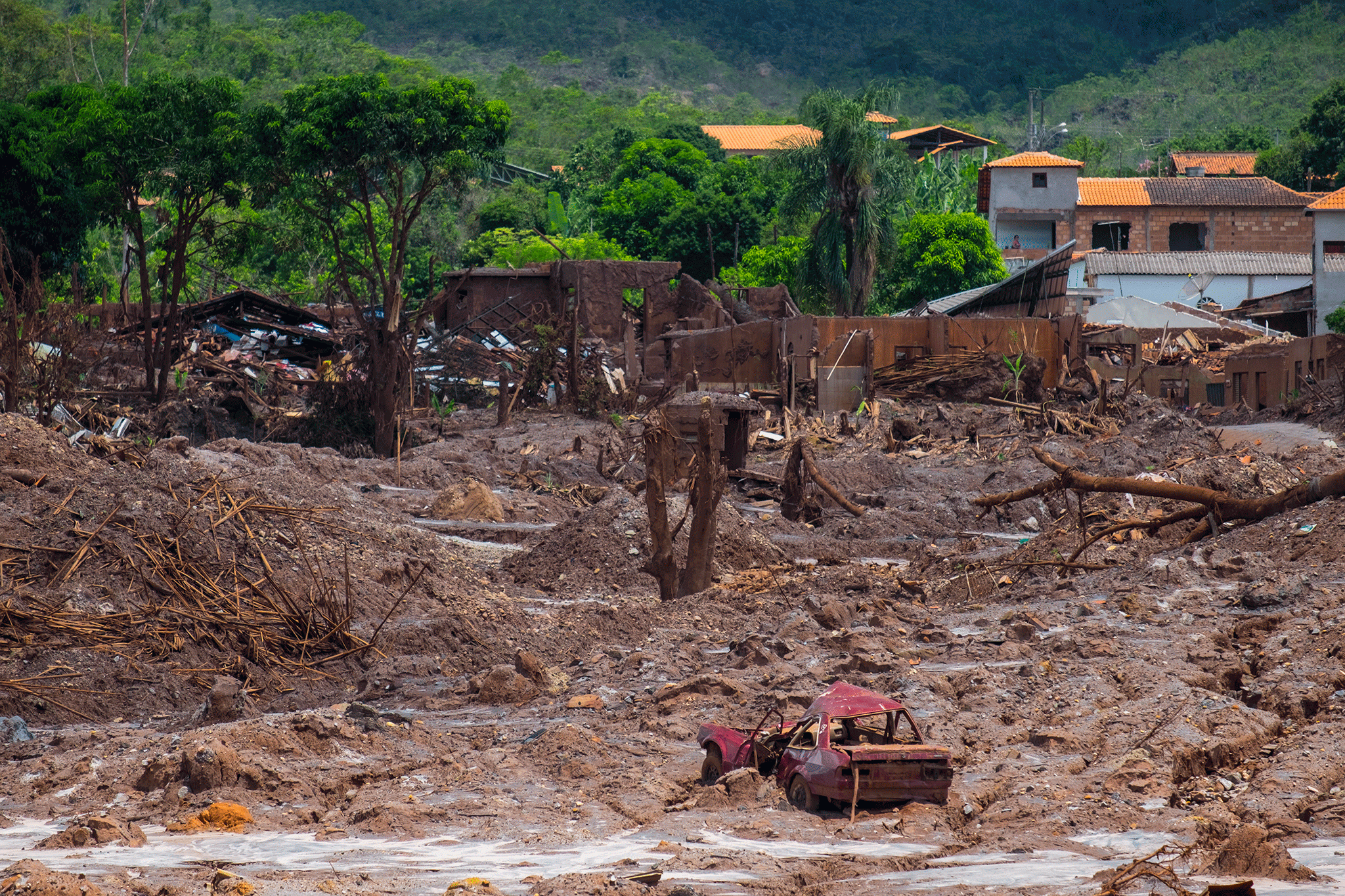 Deadly Samarco dam collapse caused by design flaws
Last year's deadly dam collapse at BHP Billiton. and Vale's Brazilian iron mine was caused by part of the structure liquefying after a series of misguided efforts to fix structural defects hindered drainage.
That's the finding of a panel headed by Canadian engineer Norbert Morgenstern. The dam at the Samarco joint venture used an upstream design, in which discharged tailings become the foundation for future embankment raises. As walls were raised and design changes made, saturation of the site increased, Morgenstern said Monday in a webcast. Three small earth tremors on the day of the 5 November spill may have accelerated the event, he said.
The panel was restricted to examining technical reasons rather than assigning blame or discussing key maintenance decisions. Morgenstern avoided questions on whether there was an increase in the rate of embankment raises before the spill to accommodate expanded output amid plummeting commodity prices.
"The panel restricted its work in explaining the physical basis of the failure," he said, adding that investigators avoided "any evaluation of alternates related to design or construction."
The rupture sent billions of gallons of sludge through the Rio Doce valley, killing as many as 19, leaving hundreds homeless and contaminating waterways in two states in what the government described as Brazil's worst environmental disaster.
"There is no reason to believe that anyone at BHP had any information that indicated the dam was in danger of collapsing," Dean Dalla Valle, chief commercial officer told to reporters on a call after the report was released.
BHP shares have declined 9 per cent since the incident last year.
The report states that construction defects as well as design changes in 2011 and 2012 contributed to the saturation of parts of the dam meant to remain solid and secure.
Bloomberg
Brexit boosts lure of traditional banking for UK banking startups
As Europe's largest banks discourage new deposits from customers, a score of British startup lenders see them as more crucial than ever.
Banks in talks with regulators for bank licenses in Britain are reworking their plans to rely even more on funding from deposits than from wholesale markets after the Brexit vote, according to a person familiar with the matter.
That's in contrast with RBS and HSBC, which are discouraging some depositors as low and negative interest rates across Europe squeeze profitability.
The potential for market volatility post-Brexit is convincing banking startups that the stickiness of deposit funding is worth the cost and effort needed to convince customers to move their money.
British regulators are in talks with about 20 new firms seeking to take deposits, more than the total approved in the past three years, said the person, who asked not to be identified because the details are private.
New banks are "looking to break into the retail deposit market and this means a big slug of retail deposits will help meet their funding requirements," said Stephen Morse, a financial services partner and adviser to startup lenders at PricewaterhouseCoopers. After Brexit, "regulators will be tough on funding as part of testing the business model," he said.
A mixture of UK firms and others from Europe, China, South Africa and the Americas are looking to invest about £200m in British banking startups, PwC wrote in a report last month.
European leaders hold post-Brexit crisis talks
The firms include Civilised Bank, which will focus on business lending, and the Services Family, which will offer consumer banking to military personnel.
The move toward customers' deposits would reinforce a return to traditional methods of funding, commonplace for centuries before deregulation in recent decades enabled firms to grow lending with the help of financial engineering and capital markets.
German inflation slows despite ultra-lax monetary policy, heaping pressure on ECB
German annual inflation slowed unexpectedly in August, preliminary data showed on Tuesday, suggesting price pressures in Europe's largest economy remain weak despite the European Central Bank's ultra-loose monetary policy.
The euro zone has struggled with little or no inflation for the past year, caused mainly by a plunge in oil prices. The ECB expects the bloc-wide figure to stay below its target of just under 2 per cent for some years despite its monetary stimulus.
German prices, harmonised to compare with other European countries (HICP), were up by 0.3 per cent on the year after rising by 0.4 per cent in July, the Federal Statistics Office said.
This was below a Reuters consensus forecast for consumer prices to rise by 0.5 per cent.
DZ bank economist Michael Holstein said the surprisingly weak German inflation data indicated that the euro zone figure, due out on Wednesday, would now also come in weaker than expected.
For the bloc, economists polled by Reuters so far expected the rate to inch up to 0.3 per cent from 0.2 per cent in July.
"Now we clearly see downside risks to this forecast. We'll probably have stable inflation of 0.2 per cent in the euro zone," Holstein said. "And this would clearly raise the pressure on the ECB to unleash more monetary stimulus."
A breakdown of Germany's non-harmonised consumer price data showed that energy prices remained the main drag on the headline figure, but they fell less sharply than in the previous month. Costs for food and services increased slower than in July.
Reuters
More than a million Indian workers to strike on Friday
More than a million Indian workers in banking, telecoms and other sectors will go on strike on Friday, seeking higher wages and to protest against Prime Minister Narendra Modi's labour reforms and a plan to close some loss-making firms.
Trade unions including the All India Trade Unions Congress and Centre of Indian Trade Unions rejected a government appeal on Tuesday to call off the strike, saying it failed to address their demands.
Since taking charge in May 2014, Modi has implemented a raft of economic reforms and is trying to ease labour laws to attract foreign investment and make it easier to do business in the country.
The government aims to raise 560bn rupees (£6.36bn) through privatisation this fiscal year, and shut down some companies. Losses at 77 state-run companies exceeded $4bn in the last fiscal year.
Tapan Sen, general secretary of the Centre of Trade Unions, said there had not been any "tangible proactive steps" by the government to address union demands such as a rollback of privatisation in sectors like defence and railways, and an increase in minimum wages.
He said the strike would go on despite Finance Minister Arun Jaitley's promise on Tuesday that the government would release state employees' bonuses for the last two years, and increase minimum wages for unskilled labourers.
The unions also oppose a government directive to state-run pension funds to put more money into stock markets.
Reuters
Rolls-Royce boss says ANA engine issue is 'manageable'
Warren East, Rolls Royce chief executive said on Tuesday that a problem found by ANA Holdings in Rolls engines used to power the Japanese airline's 787 Dreamliner aircraft was a "manageable issue".
"It is an issue but it's a manageable issue," East told Reuters after a business forum hosted by the German foreign ministry in Berlin.
ANA said last week it needed to replace damaged compressor blades in the Rolls-Royce Trent 1000 engines on some of the Boeing Dreamliner aircraft in its fleet, forcing it to cancel some flights over the coming weeks.
ANA Holdings said earlier on Tuesday that it could take two to three years to replace the engine parts on its 787s. East said ANA had used the engines intensively.
"With the more intensive use, the natural wear and tear on the engines happens sooner," he said. "By the time we get all the way through the fleet it's going to take some time."
Reuters
Aviva to hire JPMorgan's Chetan Singh to head global M&A
Aviva Plc hired Chetan Singh, a managing director at JPMorgan Chase & Co., to head its mergers and acquisitions globally, a person with knowledge of the matter said.
Singh, who led dealmaking for financial institutions in Southeast Asia at JPMorgan, will relocate to London from Singapore, according to the person, who asked not to be identified because the information isn't public. He will start at the British insurer as soon as the end of September, the person said.
Mark Wilson, Chief Executive Officer has reshaped Aviva through asset sales and acquisitions since taking over in 2013. Aviva's purchase of Friends Life Group Ltd. for more than $8bn last year was the biggest U.K. insurance deal in 15 years. Wilson said in October the company is looking for smaller acquisitions outside its home market.
In 2010, JPMorgan hired Singh from Citigroup in London to head its financial institutions group in India. A Hong Kong-based spokeswoman for Aviva said she couldn't immediately comment. Li Anne Wong, a Singapore-based spokeswoman at JPMorgan, declined to comment.
Bloomberg
American Airlines president jumps to troubled rival United
The decision by United Airlines to hire a new president away from American Airlines firms up the roster of executives who will contend with fare declines pushing the industry to its worst returns in five years.
Scott Kirby, 49, will join United Continental immediately, reporting to Oscar Munoz, chief executive and overseeing day-to-day functions from operations to network planning. At American Airlines, Robert Isom, chief operating officer, 52, takes over as president.
The surprise move fills a key void at United, providing a potential successor with deep airline roots to Munoz, 57, a former railroad executive. It ends the more than two-decade partnership of Kirby and American CEO Doug Parker, 54, and costs American the executive overseeing scheduling, revenue management and fare strategy.
"United's hire of Scott Kirby as president comes as a big surprise and should be a meaningful positive for UAL shares," Julie Yates, an analyst at Credit Suisse, said.
Bloomberg
Business news: In pictures

Show all 13
Militants claim attack on pipeline in Nigeria's southern Delta state
A militant group on Tuesday said it attacked a pipeline operated by the Nigerian Petroleum Development Company (NPDC), a subsidiary of Nigeria's state oil company, in the country's restive southern Delta region.
The Niger Delta Greenland Justice Mandate said in a statement that it attacked the Ogor-Oteri pipeline in Delta state, operated NPDC and Nigerian energy company Shoreline, at around 03:00 a.m. (0200 GMT) on Tuesday. A spokesman for the state oil company NNPC could not immediately be reached.
Oil slump driving inflation and currency drop in Nigeria
OPEC member Nigeria has seen its oil output fall by around 700,000 barrels a day to 1.56m bpd due to attacks on oil pipelines in the southern energy hub, home to much of the country's oil and gas wealth, since the start of the year.
Reuters
Join our new commenting forum
Join thought-provoking conversations, follow other Independent readers and see their replies