Black Friday: Asda latest store to scale back on massive sales day
History shows that Black Friday doesn't increase the amount shoppers spend over the Christmas period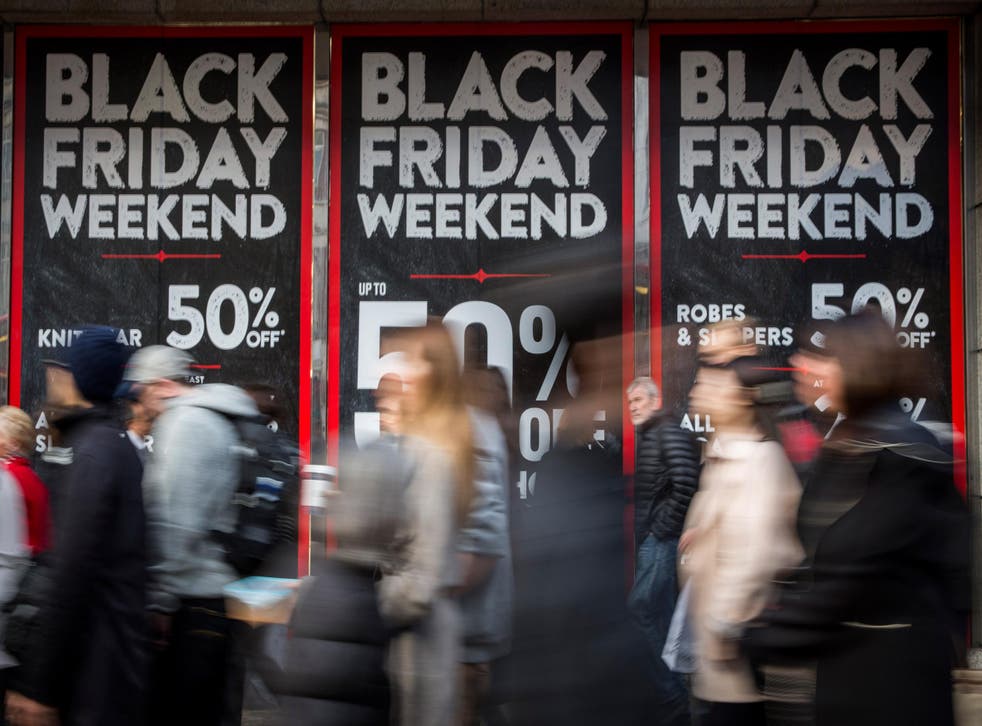 A year since Black Friday took hold in the UK, prompting scenes of chaos in supermarkets as shoppers fought over cut price TVs, it may already be over.
Black Friday was brought to the UK by Amazon five years ago, when the online store spotted a way to make more money out of the day after Thanksgiving, which is traditionally a big shopping day in the US.
It didn't take the UK long to join in. By 2014, UK shoppers spent £1 million every three minutes on Black Friday, resulting in total sales of over £800 million that day and a jump in store traffic of 23 per cent. But the knock on effect was brutal: 2014 saw the weakest December sales growth since 2008 of just 1 per cent, and online sales achieved their lowest ever growth of just 5 per cent.
Now big retailers are turning their backs on Black Friday. Asda has said it is dropping out of Black Friday this year, joining Argos, Primark, Oasis, John Lewis and Mothercare in either cancelling the day of sales, or reducing their participation in the day. Argos is offering deals every Friday in November to try and spread out sales, while John Lewis is sticking to its standard offer of never being beaten on price and offering a few electricals deals on the day.
Asda's official line is that Asda wants to spread out the £26 million it is investing in Christmas sales over the period. "This year customers have told us loud and clear that they don't want to be held hostage to a day or two of sales," said Andy Clarke, CEO of Asda.
"One by one, big British retailers are driving nails into the Black Friday coffin," said Aaron Shields, Strategy Director Europe, Middle East and Africa at Fitch. He said that retailers will increasingly risk customer scorn as this concentrated buying wreaks havoc on delivery and returns operations.
History shows that Black Friday doesn't increase the amount shoppers spend over the Christmas period, but it does concentrate it into one day, which can be difficult to manage. Tesco is shutting its 24-hour Tesco Extras the night before November 27 to get security measures in place.
The stress is bad for staff and bad for stores as customers, fearing the worst, stay home and order online instead. Nine out of ten shoppers choose to look for Black Friday deals online, Shields said, which will reduce pressure in stores but can make delivery and returns more difficult. "Only Amazon-like retailers come out on top," Shields said.
There are those who think that now Black Friday has started, it will be impossible to stop. "Unfortunately, as Andy Street of John Lewis says, it is impossible to put the genie back in the bottle," said Nick Bubb, Retail Consultant in a report published by KPMG and Ipsos.
Just as the retailers are better prepared, shoppers should be too. Despite ads promising crash, one-off discounts, shops will still want to stretch out their sales over the Christmas period, so the sales will last through December and beyond. There will be other chances to get a bargain. Those who do plan to shop on the day may find the safest place is at the computer, far from the security guards and fighting crowds.
Register for free to continue reading
Registration is a free and easy way to support our truly independent journalism
By registering, you will also enjoy limited access to Premium articles, exclusive newsletters, commenting, and virtual events with our leading journalists
Already have an account? sign in
Register for free to continue reading
Registration is a free and easy way to support our truly independent journalism
By registering, you will also enjoy limited access to Premium articles, exclusive newsletters, commenting, and virtual events with our leading journalists
Already have an account? sign in
Join our new commenting forum
Join thought-provoking conversations, follow other Independent readers and see their replies