Single bluefin tuna at Tokyo fish market sold for £238,000 to sushi chain owner
Price equates to about £590 per kilo but is far from the highest price ever paid for a tuna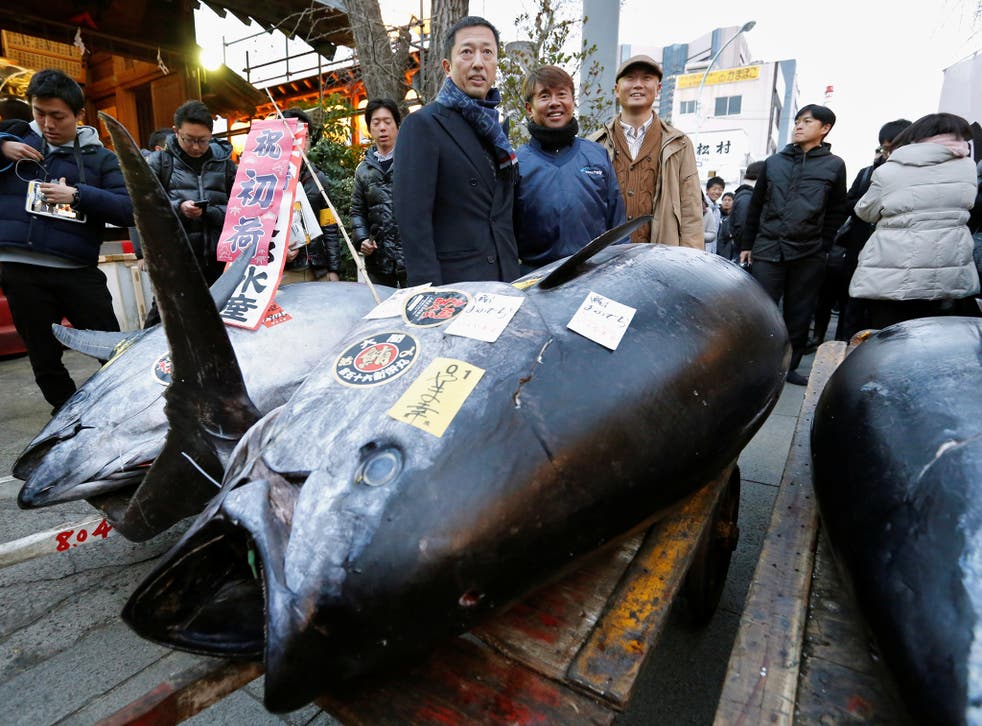 The owner of an international, high-end sushi restaurant chain has reportedly splashed out more than the equivalent of £238,000 on a prime bluefin tuna at a Tokyo fish market.
Hiroshi Onodera, the president of the company that owns restaurant chain Ginza Onodera – which has a branch in London – is said to have paid 36.45m yen for the 405kg fish, which equates to about £590 per kilo.
But according to Reuters the purchase price was far from a record-breaker. Last year's highest bid at the final New Year's auction of the Tsukiji fish market – where Mr Onodera made his purchase this year – was almost double that. The all-time record was 155m yen, or just over £1m, spent on tuna in 2013.
"I've tried to win in the auction since last year, so I'm really happy," Mr Onodera told the agency. "This is especially true because it's the last year in Tsukiji."
Tsukiji fish market is the world's largest and a major tourist magnet for the city. It's particularly well-known for its early morning daily auctions but it's due to relocate later in the year as a result of plans to build a road for the Tokyo 2020 Olympic Games.
Tuna is in high demand among top-restaurateurs and caterers due to the swelling popularity of sushi around the world but, according to the World Wide Fund for Nature (WFF), bluefin populations have declined severely in recent decades as a result of overfishing and illegal fishing.
Populations of Atlantic bluefin tuna, Pacific bluefin tuna and Southern bluefin tuna have all dwindled.
According to media reports, the fish bought by Mr Onodera on Friday was caught off the Aomori prefecture in Japan.
Additional reporting by news wires
Register for free to continue reading
Registration is a free and easy way to support our truly independent journalism
By registering, you will also enjoy limited access to Premium articles, exclusive newsletters, commenting, and virtual events with our leading journalists
Already have an account? sign in
Join our new commenting forum
Join thought-provoking conversations, follow other Independent readers and see their replies