Bob did tell me to fix the rate, says Diamond's right-hand man
Barclays executive del Missier's evidence to MPs seems to contradict his embattled former boss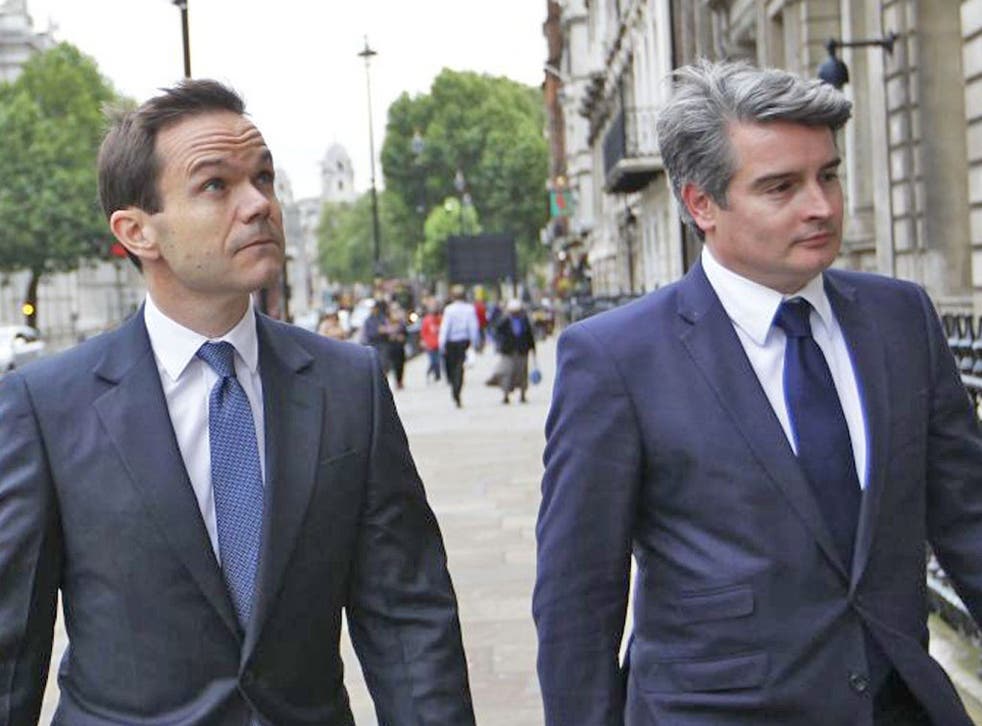 The Barclays executive at the centre of the Libor interest rate-fixing scandal last night said he had only passed on "instructions" from a conversation he had with his then boss Bob Diamond.
In potentially explosive testimony to the Treasury Select Committee, Jerry del Missier, who quit last week as chief operating officer along with the Barclays chief executive, Mr Diamond, said: "He (Mr Diamond) said he had had a conversation with Mr (Paul) Tucker at the Bank of England. (He said) the Bank of England was getting pressure from Whitehall about the health of Barclays and that we should get our Libor rates down. That we shouldn't be outliers."
Mr Del Missier's testimony appears to contradict Mr Diamond, who told MPs there was no instruction from the Bank and that he did not intend to relay one. Mr Del Missier said: "I passed the instruction as I had received it on to the money markets desk. I relayed the contents of the conversation I had had with Mr Diamond and expected the Bank of England's views would be incorporated into Libor submissions."
Challenged on the point he said: "It was an instruction, yes." He also said he "did not know" why Mr Diamond sent him a note recording the conversation between himself and Mr Tucker, the Bank's deputy governor, after they had talked about it.
Mr Del Missier passed the instructions down to Mark Dearlove, the head of Barclays' money markets desk. He then made Barclays compliance department aware of it, but they did not contact Mr Del Missier. "The circle was not closed," Mr Del Missier admitted.
He insisted he did not consider what he did with the instruction to be improper despite MPs pointing out that the US Department of Justice considered it to be illegal. Mr Del Missier was repeatedly challenged on how he wasn't made aware of what appeared to be "standard practice" among Barclays traders, who regulators found had for several years been trying to manipulate Libor rates. Barclays paid fines of £290m as a result.
Labour's Pat McFadden, highlighted numerous occasions where the bank had "lowballed" Libor submissions and accused it of being "up to its eyeballs in dishonesty". He suggested Mr DelMissier was trying to "blame someone else" for what was going on.
But Mr DelMissier said: "To the extent that it was or wasn't going on I was not aware. Clearly it was a failure of control. It's regrettable."
Mr Del Missier was one of Mr Diamond's closest Lieutenant's during the time Barclays Capital was built into one of the world's most powerful investment banks. But he told MPs that the two men were not close friends. The 50-year-old Canadian, who is expected to head to North America after taking a break, looked ill at ease during his testimony. His former boss said he had either misunderstood or miscommunicated the conversation between himself and Mr Tucker.
Lord Turner, the chairman of the Financial Services Authority, said he had become increasingly concerned by Barclays behaviour under Bob Diamond. "There was a pattern of behaviour that was 'trying it on' and 'gaming' the system," he said. "There was a cultural tendency always to be pushing the limits."
Lord Turner said that as a result, Andrew Bailey, head of the FSA's Prudential Business Unit, had spoken to the Barclays board earlier this year to express its concerns, which he followed up with a letter to the Marcus Agius, the bank's chairman.
Mr Bailey said: "I did not have evidence that Bob Diamond was personally involved… but there was a repeated pattern which seemed not to be changing. I felt Barclays was trying it on. There was a culture of gaming us. We said this had to change." When asked whether he considered this was "no way to run a bank", he agreed.
Both regulators said Mr Diamond was well aware about the FSA's concern and expressed surprise that he had told the committee that its concerns were part of a run-of-the-mill annual review.
Profile: Del Missier was heading for the top
Jerry del Missier, 50, cut his teeth in the arcane world of credit derivatives in his native Canada, becoming a successful trader. He has been described as straight forward and plain speaking, but also has a reputation for ruthlessness, a commodity not in short supply in the higher echelons of investment banking. He has been at Barclays for 15 years and is a close colleague of Mr Diamond, but interestingly, not a close friend. He took full control of investment banking operations when his boss was made chief executive of the group. He also followed the tradition of the investment banking head being Barclays' top-paid executive, with his annual package nearing £50m by 2010.
Register for free to continue reading
Registration is a free and easy way to support our truly independent journalism
By registering, you will also enjoy limited access to Premium articles, exclusive newsletters, commenting, and virtual events with our leading journalists
Already have an account? sign in
Register for free to continue reading
Registration is a free and easy way to support our truly independent journalism
By registering, you will also enjoy limited access to Premium articles, exclusive newsletters, commenting, and virtual events with our leading journalists
Already have an account? sign in
Join our new commenting forum
Join thought-provoking conversations, follow other Independent readers and see their replies