Birmingham and Bristol to keep offices in Brussels after Brexit as councils weigh cost of leaving EU
Wales, Bristol, Birmingham and many other places in the UK are fighting to keep funding for employment and infrastructure projects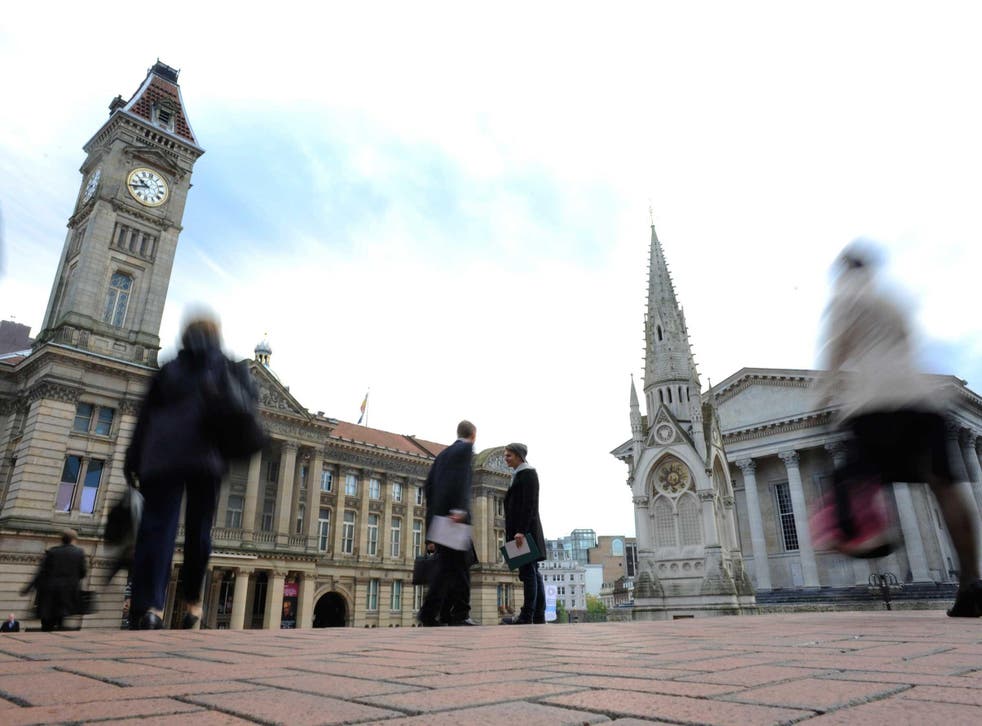 Birmingham and Bristol city councils plan to keep representatives in Brussels even after the UK leaves the EU, The Independent can reveal.
Both city councils said that they have no plans to shut up shop in Brussels even after the UK officially leaves the bloc.
They follow the lead of Cornwall, which said on Monday that it will keep its office in Brussels after the UK has severed ties with the EU, despite residents in the county voting to leave.
Birmingham also voted to leave the EU, with 49.5 per cent of residents voting to remain and 50.5 per cent voting to leave.
John Clancy, leader of Birmingham council, has written to the department for work and pensions calling for an end to uncertainty over existing EU funding committments, including a local enterprise partnership worth £237m between 2014 and 2020.
A spokesman told The Independent that the council currently has no plans to remove its representative in Brussels.
Sturgeon on Scotland & Brexit
Since the mid-1980s, over £1bn of EU funding has gone towards building some of Birmingham's key landmarks, from the NEC, the International Convention Centre, Millennium Point and the Town Hall.
EU funding has also helped reshape the city centre by providing funding for the removal of the old inner city ring road known as the concrete collar.
A quarter of this money has already been committed to key investments including a £50m youth employment initiative supporting 16,000 young people into work and a £36m business growth programme providing financial support for over 500 small and medium businesses in the region, providing 1,300 jobs.
The referendum result has placed these and the remaining 75 per cent of uncommitted potential investments at risk.
A spokesperson from the department for work and pensions that Councillor Clancy's letter had been received and that they would be responding shortly.
The EU's regional development fund has helped with the start-up costs for 7,000 West Midlands businesses.
Another £300m of EU money has been invested in jobs and skills, putting 60,000 people into work, 48,000 into further education and training and over 50,000 through courses that have gained them new qualifications.
EU funds also helped Birmingham to respond to crises. When the MG Rover plant closed in 2005, almost 6,000 people were made redundant and thousands more in the supply chain suffered. Over £65m of EU funding supported the creation of a Rover Taskforce and by April 2007, 90 per cent of the redundant workers were back in work.
But Birmingham is not the only city council where people are worried about losing funding.
Marvin Rees, the mayor of Bristol, said that the council has no plans to close its Brussels office.
"We will continue to ensure we are best placed to protect our city's interests. It has played an important part in collaborating with European partners, maintaining an understanding of what EU policy means for the city and securing funding for local projects which benefit the people of Bristol," he said.
Bristol voted to stay in the EU, with 61.7 per cent voting remain and just 38.3 per cent voting leave.
Welsh voters, meanwhile, were 52.5 per cent in favour of leaving the EU, compared to 47.5 per cent in favour of remaining.
A Welsh Government spokesperson said that they had made it clear to the UK Government that Wales should not lose a penny of the approximately £650m budgeted for Wales from EU programmes from the current EU budget cycle ending in 2020.
"We also want to ensure Wales continues to have a close relationship with the EU and access to the single market. Continuing our presence in Brussels will be vital to this but clearly we will review that presence when the UK leaves the EU," the spokesperson said.
Lincolnshire voters were among the most Eurosceptic in the UK, with more than 75 per cent of voters in Boston voting to leave. A spokesperson from Lincolnshire council told The Independent that it doesn't have a representative in Brussels. Nor had the county seen any funding put on hold since the vote.
Manchester and Liverpool both said they didn't have representatives in Brussels, but they are concerned about the effects of the referendum.
Mark Bassnett, executive director for Liverpool City Region local enterprise partnership, said: "Liverpool City Region LEP is working closely with local business to understand the challenges and opportunities they face as a result of the referendum decision and respond accordingly.
6 ways Britain leaving the EU will affect you

Show all 6
"The picture emerging is a mixed one – with uncertainty for business the greatest concern, whilst some of our exporting businesses have reported benefits due to shifting exchange rates. We will continue to monitor this over the coming months."
The department for communities and local government was not able to provide any clarity on EU funding.
"The Government recognises the need for certainty when it comes to EU-managed projects and will make an announcement in due course," a spokesman said.
Register for free to continue reading
Registration is a free and easy way to support our truly independent journalism
By registering, you will also enjoy limited access to Premium articles, exclusive newsletters, commenting, and virtual events with our leading journalists
Already have an account? sign in
Register for free to continue reading
Registration is a free and easy way to support our truly independent journalism
By registering, you will also enjoy limited access to Premium articles, exclusive newsletters, commenting, and virtual events with our leading journalists
Already have an account? sign in
Join our new commenting forum
Join thought-provoking conversations, follow other Independent readers and see their replies