EU member states avert €100bn Brexit 'disaster' for European Investment Bank as UK quits
'If the Brits had withdrawn without their capital being replaced by the others, we would have had to reduce the maximum lending we could do,' says EIB president Werner Hoyer
Phil Thornton
Friday 31 January 2020 12:51 Comments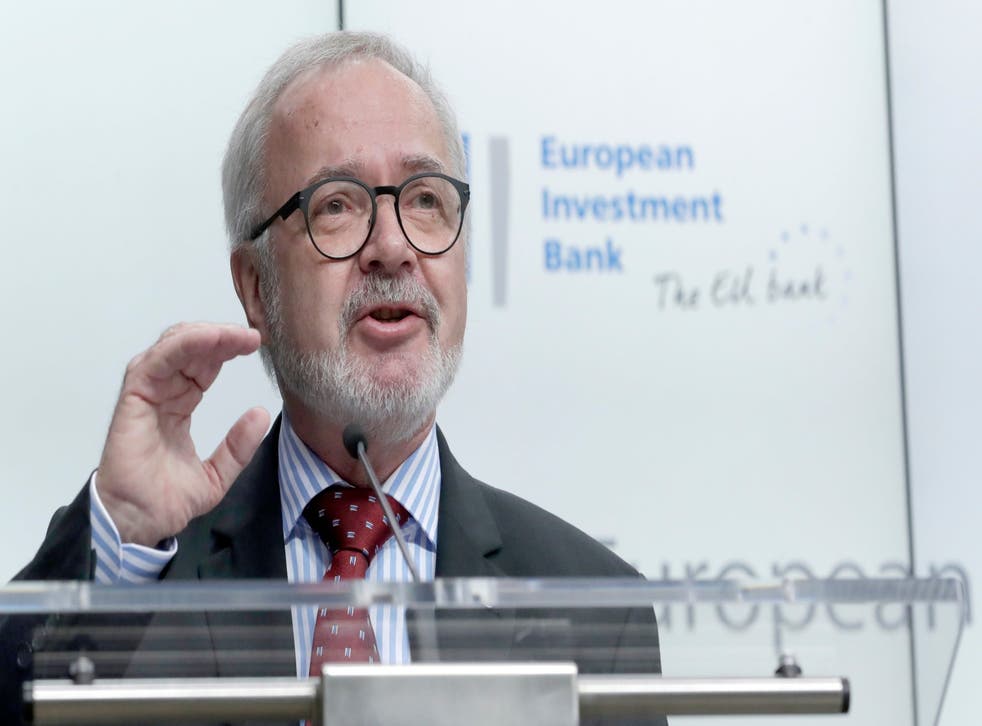 Brexit would have caused a "disaster" for the European Investment Bank (EIB) if other member states had not agreed to make up almost €40bn (£33.6bn) of capital that it would have lost as Britain leaves.
The UK has a 16 per cent stake in the bank, which focuses on regional development and tackling climate change, and will withdraw €3.5bn in cash when it leaves the EU at 11pm on Friday. The move will also eliminate €38.4bn of so-called callable capital that the EIB can use to raise finance in the capital markets.
Launching its 2019 annual report, EIB president Werner Hoyer said that as the bank uses a gearing ratio (a financial ratio that compares owner equity to funds borrowed by the company) of 2.5, the loss of that money would have led to a cut in financing of almost €100bn. After weeks of negotiations in early 2019 the other EU member states agreed to pay in the missing capital.
He said: "If the Brits had withdrawn without their capital being replaced by the others, we would have had to reduce the maximum lending we could do. That would have been €100bn less and would have been a disaster.
"Not only would we have had to reduce for the next few years by 50 per cent but also those member states that need us most would have suffered. So I am extremely happy and grateful that after long discussions member states decided to replace proportionately the British capital."
Brexit day: UK says goodbye to EU

Show all 66
Mr Hoyer also revealed that EIB staff had watched Wednesday's ceremony in the European parliament as the British MEPs stood down that was marred by a flag protest by Brexit Party leader Nigel Farage.
"We have a similar ceremony with probably the same tears but less expressions of joy tomorrow at the bank in Luxembourg," he said.
Hoyer said that the EIB had a "surprisingly" good year in 2019 given the uncertainty created by the political turbulence in the UK over Brexit. "It started with a very big difficulty for us as the uncertainty persisted until April or May," he said.
"We lost almost half a year but at the end of the day it is almost a miracle that we concluded out business plan almost 100 per cent."
Last year the EIB group, that also includes the European Investment Fund, signed financing worth €72.2bn for more than 1,200 projects, of which €63.4bn were in the EU and €8.8bn outside the union.
It supported a total investment of €280bn, of which 31 per cent was for climate-related projects. The EIB has set a target of ensuring that half of its finance goes towards climate projects by 2025. It has set a target of €1 trillion of climate investment by 2030.
"We will do nothing that is not entirely behind the Paris Agreement. The logic of this is that it would not make very much sense to say that we invest 50 per cent of what we do into climate projects and let the other 50 per cent destroy the positive impacts of our climate action."
Register for free to continue reading
Registration is a free and easy way to support our truly independent journalism
By registering, you will also enjoy limited access to Premium articles, exclusive newsletters, commenting, and virtual events with our leading journalists
Already have an account? sign in
Join our new commenting forum
Join thought-provoking conversations, follow other Independent readers and see their replies