Brexit: What the biggest banks are planning once Theresa May begins EU departure
Frankfurt and Dublin are emerging as the biggest winners as finance firms shore up their plans to move operations from the UK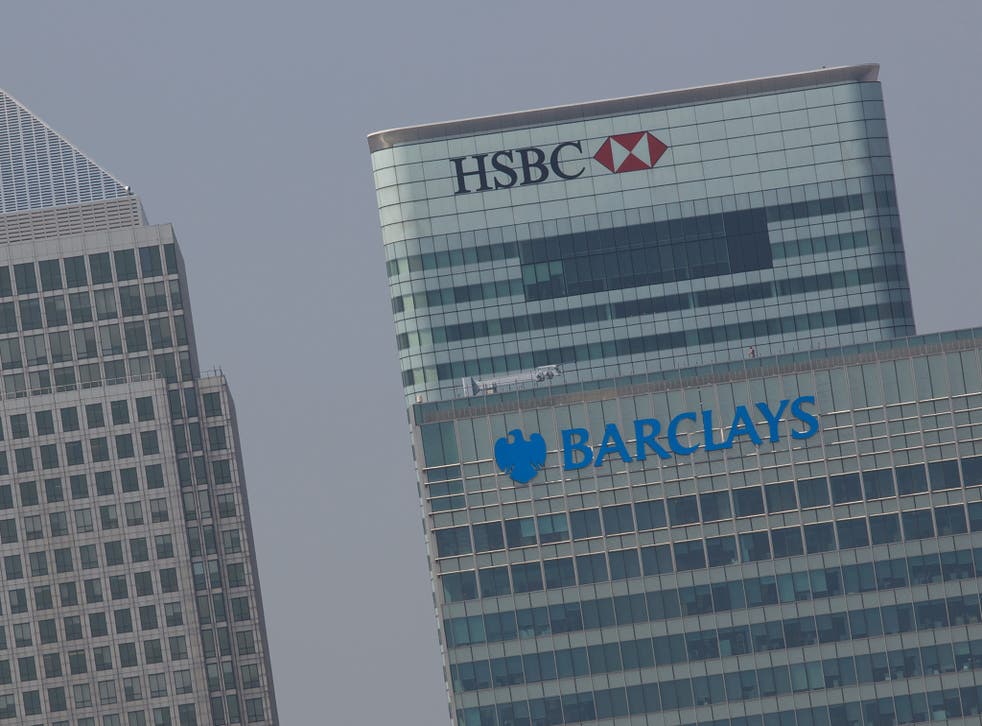 Big investment banks will begin the process of moving some London-based operations into new hubs inside the EU within weeks after UK Prime Minister Theresa May set a date to trigger the formal mechanism for quitting the bloc.
Frankfurt and Dublin are emerging as the biggest winners. Bank of America, Standard Chartered and Barclays are considering Ireland's capital for their EU base to ensure continued access to the single market, said people familiar with the plans, asking not to be named because the plans aren't public. Goldman Sachs and Citigroup are among banks eyeing Frankfurt, other people said.
With banks increasingly expecting a so-called hard Brexit — the loss of their right to sell services freely around the EU from London — executives want to have new or expanded offices up and running inside the bloc before the UK departs in 2019. Frankfurt is a natural pick given a financial ecosystem featuring Deutsche Bank, the European Central Bank and BaFin. Dublin shares similar laws and regulations as its UK neighbour and is the only other English-speaking hub in the EU.
Article 50: What will happen after it's triggered?
May will file divorce papers to leave the EU on 29 March, launching two years of complex negotiations that will pit the UK's need for a trade deal against the bloc's view that Britain shouldn't benefit from Brexit.
London could lose 10,000 banking jobs and 20,000 roles in financial services as clients move €1.8 trillion (£1.56 trillion) of assets out of the UK after Brexit, according to think tank Bruegel. Other estimates range from as much as 232,000 jobs to as few as 4,000. Bloomberg News conducted interviews and reviewed public statements to discover what each major bank is planning.
Bank of America
Bank of America views Dublin as its default destination for a new EU hub if the UK loses easy access to the single market, one of the firm's top executives in Germany said earlier this month.
The bank will likely move some jobs to other cities across the region, including Frankfurt, Madrid, Luxembourg and Amsterdam, said Nikolaus Naerger, Bank of America's head of corporate banking in Germany, Switzerland and Austria. No final decisions have been made.
"You've got to get your legal entity structure correct so you can operate in two different environments: one inside the U.K. and one outside," Bank of America President Brian Moynihan said in Davos, Switzerland, in January. "We already have a lot of that structure set up. Then you have to start to think about where locations are."
Goldman Sachs
The Wall Street firm is considering making Frankfurt its hub inside the EU and could move as many as 1,000 employees, including traders and senior managers, according to a person familiar with the matter. Chief executive Lloyd Blankfein has publicly said the bank has shelved plans to move more key operations to the UK.
"We were on track to move more and more of our global activities, so global ops, global tech — all those things made more and more sense to operate out of the UK," because of the time zone, Blankfein said in a Bloomberg interview in Davos. "Now, we're slowing down that decision, and only moving there what we have to move there. We don't value doing things twice; moving them there and then moving them away from there."
JPMorgan
JPMorgan has scouted for office space in both Dublin and Frankfurt, people with knowledge of the matter said this month. Before the referendum, chief executive Jamie Dimon said as many as 4,000 of its 16,000 U.K. employees could be moved to the continent after Brexit.
"We have to accommodate the laws of the land in both Britain and the EU, and that will determine how many jobs and how many people you have to move," Dimon said in January. "It looks like there will be more job movement than we hoped for."
Brexit Concerns

Show all 26
UBS
Chairman Axel Weber said this month that the bank will make a final decision on whether to move as many as 1,500 of about 5,000 UK investment banking staff soon after Brexit is triggered.
"Yes, we will have to move bankers — we have an SE in Frankfurt, we have an appropriate setup in Spain," Andrea Orcel, head of UBS's investment bank, said in Davos, referring to the Swiss bank's German subsidiary, which is licensed to do investment banking. "We still have flexibility to decide where to go, but we will definitely have to move."
HSBC
HSBC chief executive Stuart Gulliver said in January that staff generating about 20 percent of its London investment-banking revenue may move to Paris, where it acquired a French commercial bank more than a decade ago. "Activities specifically covered by EU legislation will move," he said.
Before the June referendum, Gulliver said a Brexit vote would likely result in about 1,000 of the bank's 5,000 London-based staff relocating to the French capital.
Barclays
The UK bank has settled on Dublin for its main hub inside the EU and is planning to add about 150 staff there, people with knowledge of the decision said earlier this year.
Barclays chief executive Jes Staley has struck a different tone to other bank bosses. He said in Davos that it would be "very difficult" to dislodge a financial centre like London. If needed, Barclays may reassign its Frankfurt branch to its Irish subsidiary, he said.
"Same people, same traders, you have to book a trade in Ireland as opposed to London, but that's not a wholesale move of our capability from London to Ireland," he said.
Standard Chartered
The bank approached Irish officials about making Dublin its legal base inside the EU, people familiar with the discussions said in December. No final decision has been taken, and the firm is also in talks with Germany's regulator about choosing Frankfurt.
Citigroup
Citigroup is evaluating locations for parts of its London broker-dealer business, including Ireland, Spain, Italy, Germany, France, and the Netherlands, Jim Cowles, the bank's top executive for Europe, the Middle East and Africa, said at a conference in Dublin on 24 January. Mr Cowles said he expected the bank would make a final decision by the end of the first half.
Bloomberg News reported in November that the firm was in discussions with BaFin about moving some of its London-based equity and interest-rate derivatives traders to Frankfurt. Citigroup is also in discussions with the ECB and regulators in EU nations including Ireland about relocating other parts of its operations.
Morgan Stanley
Morgan Stanley is scouting for office space in Frankfurt and Dublin for their enlarged EU hub, people with knowledge the matter said in February. The bank may initially move about 300 workers to one of the cities.
Before the vote, Bloomberg News reported that the firm would likely move 1,000 of about 6,000 U.K. employees out of the country in the event of Brexit. Morgan Stanley president Colm Kelleher said the firm would likely move its local headquarters to Dublin or Frankfurt.
Morgan Stanley executives said New York would likely be the big winner from Brexit as US firms would probably allocate headcount away from Europe altogether.
Daiwa
Daiwa Securities chief executive Takashi Hibino said the Japanese brokerage is considering Frankfurt and Dublin among candidate cities to host European operations it moves out of London. The firm, the majority of whose 450 European staff work in London, has yet to establish a licenced entity in the EU, and is running simulations with consultants.
Lloyds Banking Group
Lloyds plans to convert its Berlin branch into a subsidiary, making that its base inside the EU, a person with knowledge of the matter said last month. A small number of people would move from London. The bank has yet to apply for an extension of its German banking licence.
Credit Suisse
Credit Suisse is exploring options for expanding in Dublin after Brexit, two people with knowledge of their plans said in January. Chief Financial Officer David Mathers said in February that losing access to the EU would endanger 10 percent to 15 percent of income at its two U.K. subsidiaries, which have a revenue base of $4bn to $5bn.
Business news: In pictures

Show all 13
Bank of China
Bank of China is in talks with Irish officials about potentially moving some of its UK operations to the country after Brexit, Ireland's Sunday Independent newspaper reported in January.
Sumitomo Mitsui
Sumitomo Mitsui Financial Group Inc. is also eyeing moving some of its UK employees to Ireland and has held a series of meetings with local regulators, the Sunday Independent reported.
Mitsubishi UFJ
Japan's biggest bank is increasing the size of its Amsterdam office, though the lender has yet to decide on where to base its securities operation after Brexit, Bloomberg reported earlier this month.
Mizuho
Mizuho Financial Group is considering Amsterdam and Dublin among potential locations to base its brokerage unit if it's impacted by a "heavy Brexit," President Yasuhiro Sato said in January. Mizuho changed the name of its Netherlands unit to Mizuho Bank Europe on Jan. 1, reflecting its role as a subsidiary overseeing a number of countries in the region, including Belgium, Austria and Spain.
Register for free to continue reading
Registration is a free and easy way to support our truly independent journalism
By registering, you will also enjoy limited access to Premium articles, exclusive newsletters, commenting, and virtual events with our leading journalists
Already have an account? sign in
Register for free to continue reading
Registration is a free and easy way to support our truly independent journalism
By registering, you will also enjoy limited access to Premium articles, exclusive newsletters, commenting, and virtual events with our leading journalists
Already have an account? sign in
Join our new commenting forum
Join thought-provoking conversations, follow other Independent readers and see their replies