Brexit: California overtakes UK to become 'world's fifth largest economy', US politician claims
California has a gross domestic product of $2.46 trillion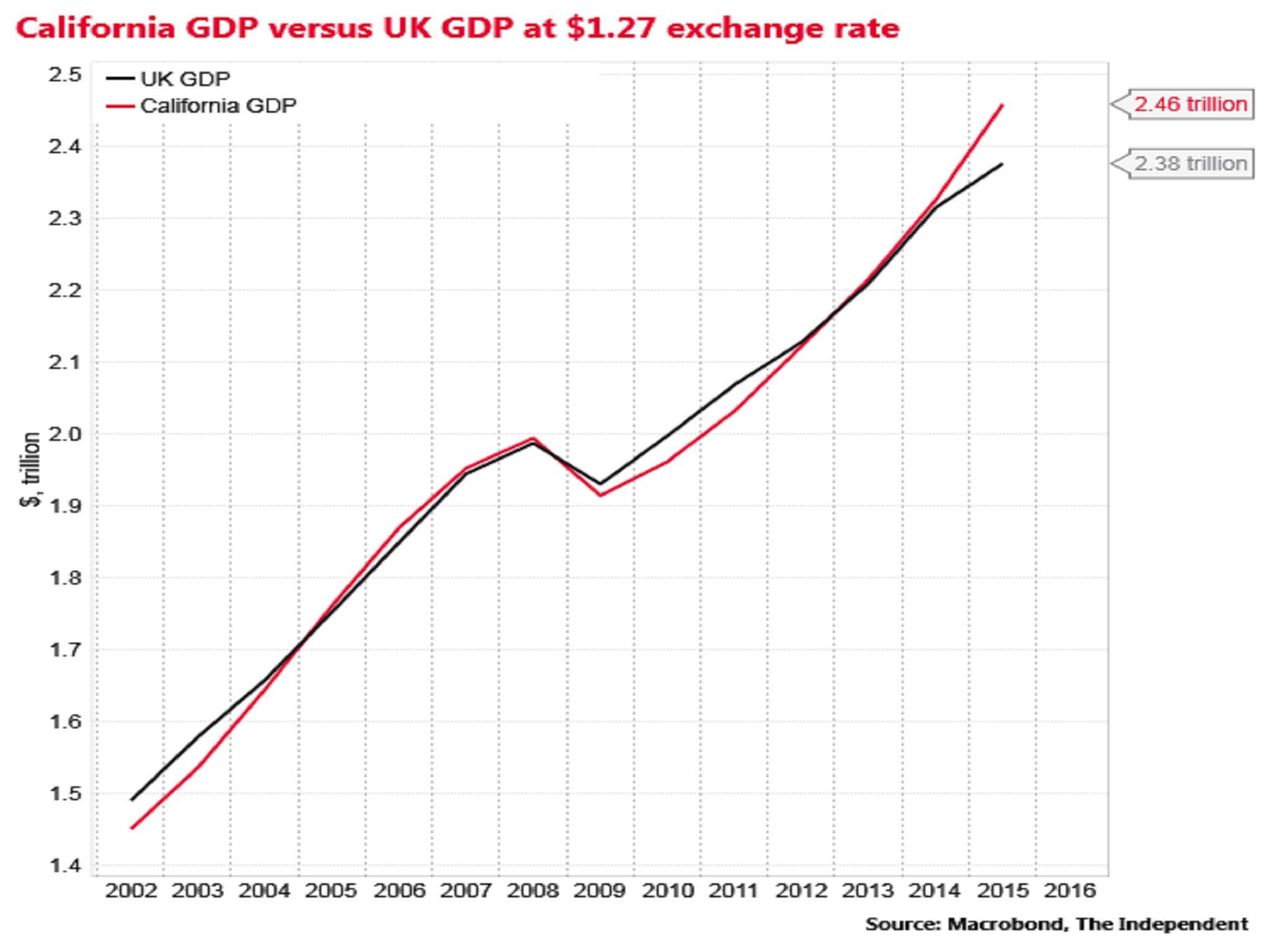 Kevin de Leon, the leader of the California Senate, has said the state of California is now the fifth largest economy in the world after UK's vote to leave the EU.
His comments came a day after the pound sterling hit a new 31-year low against the dollar as on-going fears over the consequences of a "hard" Brexit spooked traders.
Speaking at an event celebrating the tenth anniversary of the California Global Warming solution Act, de Leon said: "As of this morning California is officially the 5th largest economy in the world.
"We have created more jobs than the other top two job creators in the US, Florida and Texas, combined," he added.
Economists tend to be wary of comparing the relative size of economies using volatile market exchange rates, generally preferring to use a Purchasing Power Parity measure which adjusts for differences in local purchasing power.
However, according to the US Bureau of Economic Analysis, California's gross domestic product (GDP) in 2015 was $2.46 trillion.
Brexit uncertainty will 'weigh on growth'
This compares to a GDP of $2.36 trillion for the UK in 2016, at the current currency exchange rate of $1.27.
In June, the state of California's GDP surpassed France to become the sixth largest in the world on this measure.
"This is the result of both good growth in California and exchange-rate movements of the US dollar versus other currencies," said Irena Asmundson, chief economist in the California Department of Finance.
California's economy grew by 4.1 per cent in 2015 while the UK economy grew by 2.2 per cent.
What experts have said about Brexit
Show all 11
In July, soon after UK voted to leave the EU, the IMF cut its 2016 GDP growth forecast from 1.9 per cent to 1.7 per cent and the 2017 forecast from 2.2 per cent to 1.3 per cent.
On Tuesday it trimmed the 2017 forecast further to 1.1 per cent, although it has revised up this year's growth forecast to 1.8 per cent on the back of stronger than expected growth in the second quarter of the year.
Join our commenting forum
Join thought-provoking conversations, follow other Independent readers and see their replies