UK economic growth depends on 'orderly exit' from EU, warns IMF
Rise of 1.4 per cent predicted for 2020, if things go smoothly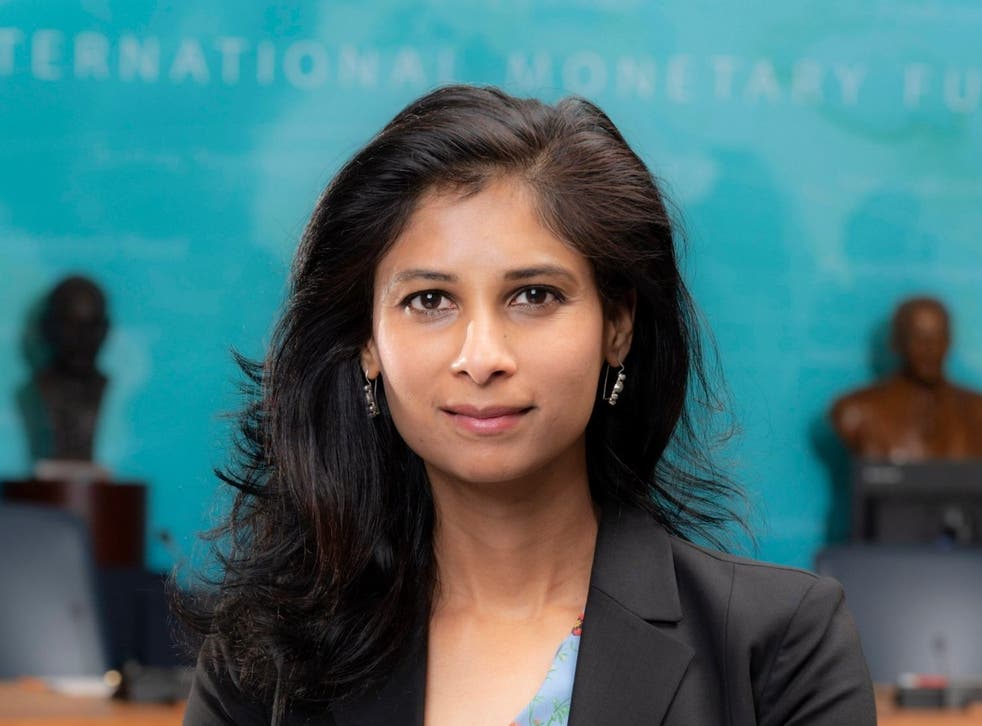 The International Monetary Fund (IMF) left its forecast for UK economic growth this year and next unchanged on Monday, but warned that the outlook depended on Britain avoiding a no-deal exit from the European Union.
The financial watchdog said the UK economy would grow by 1.4 per cent this year and 1.5 per cent in 2021 after anaemic growth of 1.3 per cent last year. The figures are unchanged from its October forecasts.
"The growth forecast assumes an orderly exit from the European Union at the end of January followed by a gradual transition to a new economic relationship," its World Economic Outlook said, adding that its forecasts depended on the UK and EU "averting" a no-deal exit.
Unveiling the update to its forecasts ahead of the start of the World Economic Forum's conference in Davos, the IMF cut its forecasts for a recovery in global growth.
It trimmed its estimate for growth in the world economy to 3.3 per cent in 2020 and 3.4 per cent for 2021 – a downward revision of 0.1 percentage point for 2020 and 0.2 points for 2021. It also cut its estimate of growth in 2019 from 3 per cent to a fresh 10-year low of 2.9 per cent.
UK news in pictures

Show all 50
"The downward revision primarily reflects negative surprises to economic activity in a few emerging market economies, notably India, which led to a reassessment of growth prospects over the next two years," the IMF said.
"In a few cases, this reassessment also reflects the impact of increased social unrest."
It highlighted rising geopolitical tensions in Iran, social unrest in Iraq and Lebanon, and civil strife in Chile, Libya, Syria and Yemen.
But the IMF said the largest risks included rising geopolitical tensions, notably between the United States and Iran, and further worsening of relations between the US and its trading partners, especially the EU.
"Materialisation of these risks could lead to rapidly deteriorating sentiment, causing global growth to fall below the projected baseline," the watchdog added.
Although its growth projection was weaker, the team led by IMF chief economist Gita Gopinath said that developments since the autumn of 2019 indicated that risks to global activity were less tilted to the downside compared to its October forecasts.
It said market sentiment had been boosted by tentative signs that manufacturing activity and global trade were bottoming out. If the early signs of stabilisation persist the hope is that they will finally mean the resilient levels of consumer spending start to lead to improved business spending.
It said that rate cuts by the US Federal Reserve and other central banks in the second half of last year had provided additional support. Its estimate for 2019 and forecast for 2020 would both have been 0.5 percentage point lower without this monetary stimulus, it said.
However, it warned the room for monetary policy to combat a renewed downturn was "limited". It said countries with budget surpluses should stand ready to use increased government spending to offset any future downturn.
In the past the IMF has criticised Germany for not redressing the imbalances between eurozone countries by investing more in infrastructure, education and innovation.
Register for free to continue reading
Registration is a free and easy way to support our truly independent journalism
By registering, you will also enjoy limited access to Premium articles, exclusive newsletters, commenting, and virtual events with our leading journalists
Already have an account? sign in
Register for free to continue reading
Registration is a free and easy way to support our truly independent journalism
By registering, you will also enjoy limited access to Premium articles, exclusive newsletters, commenting, and virtual events with our leading journalists
Already have an account? sign in
Join our new commenting forum
Join thought-provoking conversations, follow other Independent readers and see their replies