Carlos Slim could run for Mexican President after Donald Trump cost him $16bn
Formerly the richest person in the world, his vast fortune and defiance of Trump, have resonated with Mexicans and he is now the most popular candidate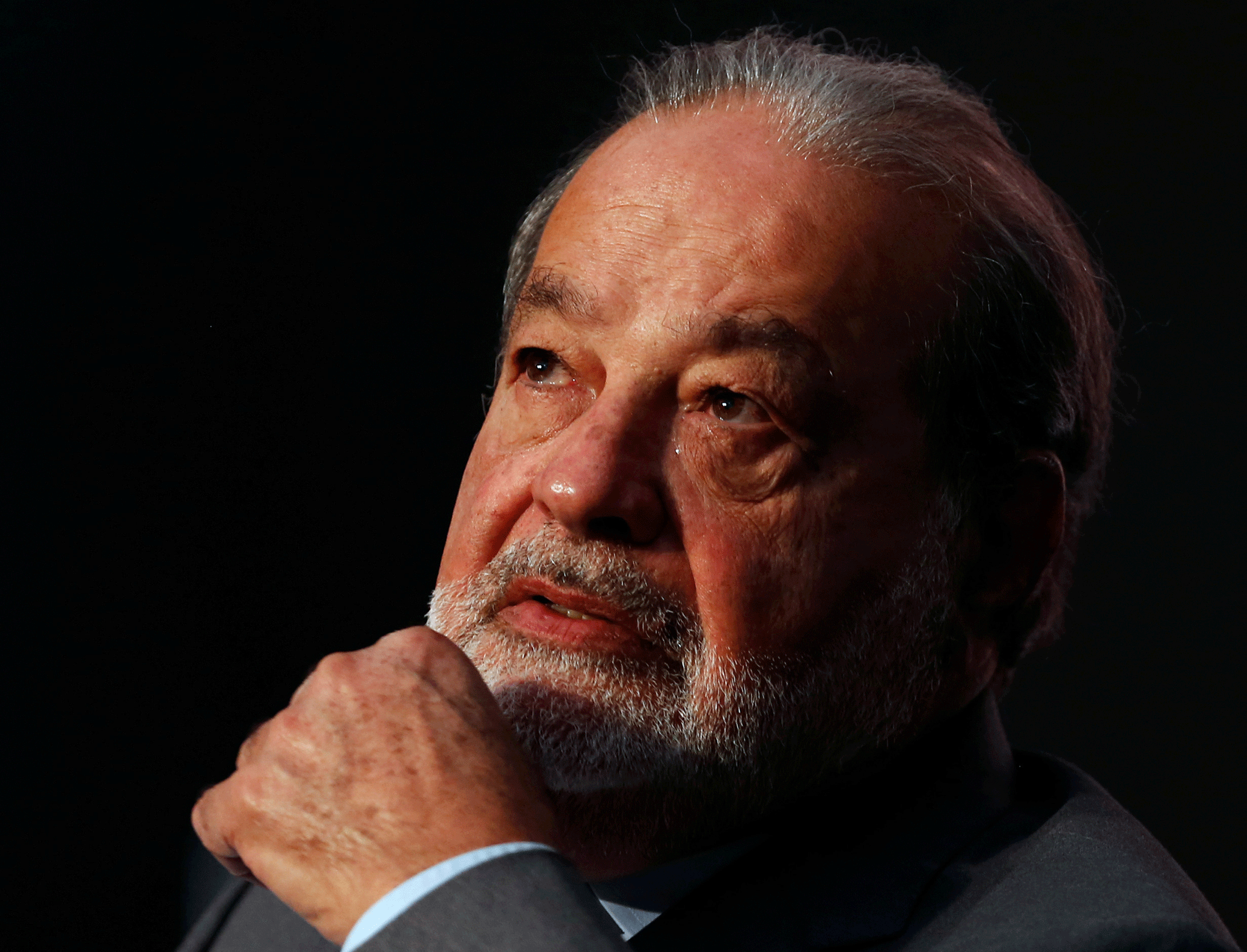 On June 15, 2015, the day before Donald Trump launched his presidential bid, Carlos Slim's personal fortune stood at just under $67bn.
Today, it's about $51bn.
No one on earth has lost more during Mr Trump's rise — from a dollar and cents standpoint, at least — than the Mexican telecom magnate. His rank on the Bloomberg Billionaires Index has slipped to sixth after having once held the No. 1 spot. Some of the reasons behind his tumble, of course, have little to do with US politics, but much of it comes down to this: Mr Trump's tough talk on Mexico has sunk the peso, dragging down the dollar-based value of Slim's domestic assets in the process.
There's another, entirely unexpected, element to the Slim saga, though. The very same forces that are shrinking his fortune are, oddly enough, also boosting his popularity at home — to the extent that he is now talked about wistfully as a candidate in next year's presidential election. After Slim met with Trump in a December visit, Mexicans outraged by Trump's vow to step up deportations and build a border wall at Mexico's expense started to warm to the idea that the 77-year-old tycoon could be exactly what the country needs.
A poll by El Universal in January showed that Slim was considered the best-suited Mexican to face Mr Trump, edging out populist Andres Manuel Lopez Obrador, the early frontrunner. His calls for the Mexican economy to look inward, as much as his vast fortune and defiance of Trump, have resonated with Mexicans. And while long reviled at home for his hard-ball business practices, Slim has become politically palatable as cell phone bills have fallen because of a price war and regulatory crackdown.
Longshot Candidacy
His candidacy may be a longshot — he told Bloomberg TV in December that he'd "never" run for office — but Mexicans are hopeful.
"Slim said he wasn't interested," said David Crow, a political analyst at Mexico City research center Centro de Investigacion y Docencia Economicas. "Nobody quite believes him or wants to believe him. He out-Trumps Trump. He's similar as a private sector guy, but he's fabulously wealthy and far outpaces Trump in that regard."
Indeed, Slim, the world's richest person as recently as 2013, is worth 17 times more than MR Trump's current $3bn.
As for his newfound popularity, a spokesman said the drop in mobile phone bills for Mexicans isn't necessarily the reason. "Fortunately, Mexican people have started to realise he's an honest, smart and principled businessman who has helped many others," Arturo Elias Ayub said from Mexico City.
Strained Relations
Trump's campaign talk strained relations with Slim. After Mr Trump's accusation that Mexico was sending rapists and other criminals to the US, Mr Slim's Ora TV network quickly dropped a television project with the then-candidate.
When the New York Times later dug up allegations of Mr Trump's sexual harassment, he claimed reporters were acting as "corporate lobbyists for Carlos Slim," a reference to his 17 per cent holding in the newspaper company, the biggest individual shareholder.
Trump doesn't say who will pay for Mexico wall, only that it's coming
But after Trump won, peace negotiations began. Slim traveled to Mar-a-Lago, Trump's estate in Palm Beach, Florida, for what the president-elect called "a lovely dinner with a wonderful man." When Slim spoke to reporters in Mexico weeks later, he criticized the proposed wall, saying investment and job creation are better ways to stem immigration. He had kind words for Trump, however, even holding up a copy of the president's latest book, "Great Again," for photos.
Viral Video
"Trump is not The Terminator," he reassured his fellow Mexicans, whose ire for Trump had turned the American billionaire into a best-selling pinata. "He's a negotiator."
The reconciliation, a result of weeks of backdoor negotiations, came at a time when President Enrique Pena Nieto was deeply unpopular and at odds with Mr Trump. (Pena Nieto can't run for another term.)
Soon after, a local TV network in southern Mexico seized the moment to create a video calling for Slim to run as a presidential candidate in 2018. The clip went viral, and pro-Slim hashtags proliferated (#SlimPresidente, it turns out, eventually became an awkward place for America Movil clients to air their phone bill grievances).
Mexico hasn't always loved MR Slim. His extreme wealth didn't sit well with many in a country mired in poverty, since much of his fortune was derived from his acquisition of the state-run telephone network in a privatization sale. For years, Mr Slim has battled allegations, based on scant evidence, that he won the 1990 auction for Telefonos de Mexico because of favouritism.
Mexico's regulator also fined his group $1bn for "monopolistic practices" in 2011 by overcharging competitors for connecting calls. Slim fought the fine in courts for years, but by the time he won, the government had started to chip away at his dominance by ensuring customers could more easily switch phone providers.
Non-Mexico Investments
The arrival of the Trump era presents many questions for Slim and his family fortune. While the decline in Slim's fortune seems to be a harbinger, a closer look shows his net worth sliding less than the peso. The impact on Slim was mitigated by his diversification away from Mexico — the country only accounts for about a quarter of America Movil's revenue, followed by Brazil, the U.S. and Austria after his recent takeover of Telekom Austria.
His gold and silver mining operation Minera Frisco was a hit last year, and his bet on a Spanish real estate recovery paid off with his Fomento de Construcciones, up more than 30 per cent over 12 months.
The controversial orders Donald Trump has already issued

Show all 9
Mr Slim may also be able to seize on the opportunities of a more inward-looking Mexican economy in a Trumpian world. A car company controlled by Slim has been working on a Mexican-made electric car in a partnership with bread giant Bimbo. He's also slated to lead in an infrastructure build-up, after a Slim-led consortium won a $4bn contract for a Mexico City airport terminal.
Obrador Relationship
Assuming Mr Slim doesn't run for president, he may be well-positioned if Obrador rides the anti-Trump wave to victory. Slim has somehow managed to stay on good terms with Obrador over the years, despite his disdain for monopolists and inequality, after the odd couple teamed up to revamp Mexico City's historic downtown when Obrador was mayor. Crow says it doesn't hurt that the daughter of an Obrador aide is married to Slim's son in a country where personal connections weigh heavily in politics.
Meanwhile, Slim's wealth is creeping back, having gained $5.6bn since it hit a low on 11 November — equal to about double what Mr Trump is worth. Mr Trump is aware of the disparity. When David Letterman compared their net worth in a 2015 interview, Mr Trump sheepishly acknowledged Slim's vast fortune, saying, "I don't feel so good when you mention Carlos Slim." It's now one of the most famous Trump quotes south of the border.
Bloomberg
Join our new commenting forum
Join thought-provoking conversations, follow other Independent readers and see their replies