Chief executive says 'HMV still has a place on the high street' as customers are told that their gift vouchers are worthless
Thousands of Christmas gifts have become worthless overnight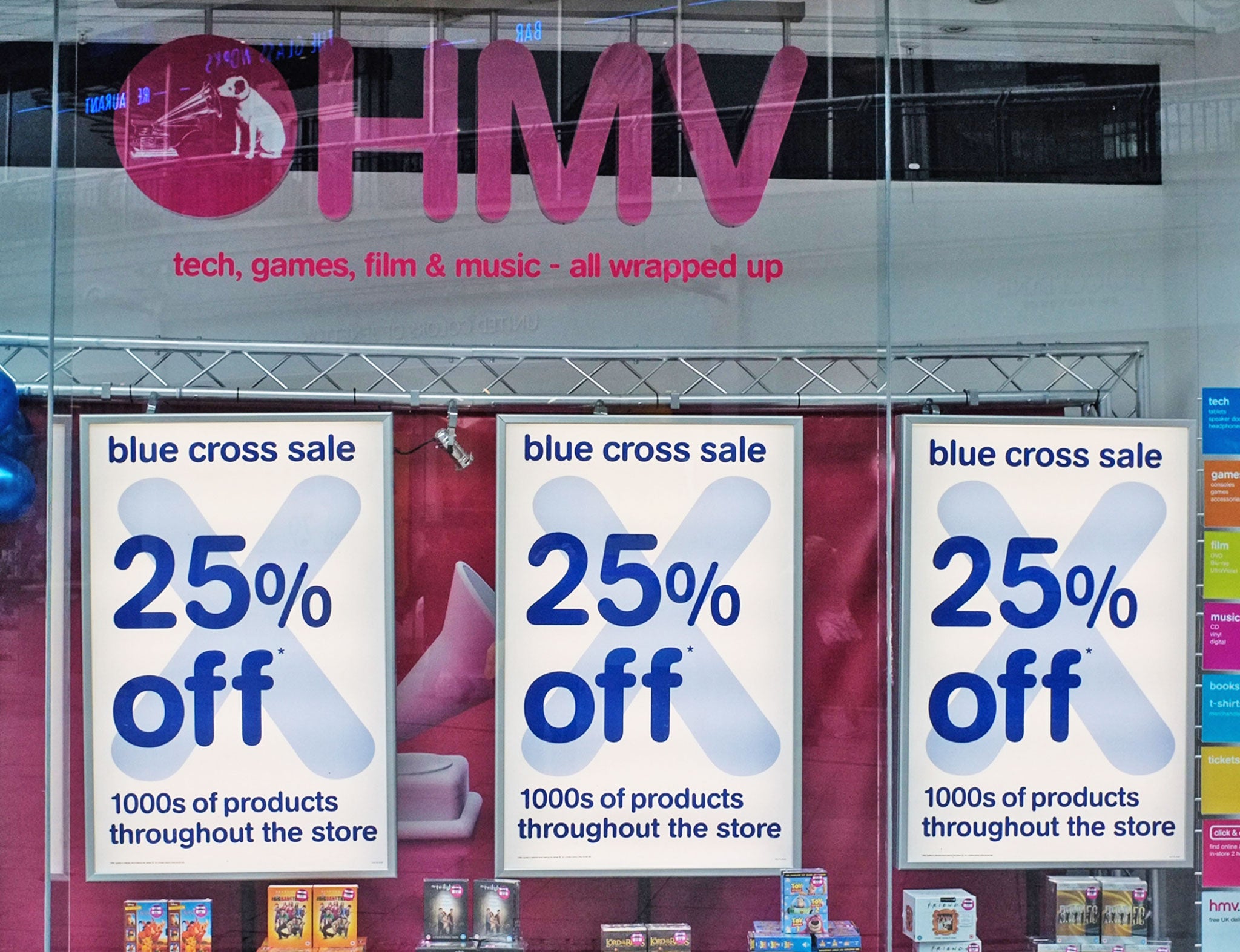 The chief executive of HMV has insisted that the failed entertainment chain has a future on the UK high street, as it emerged that the retailer's outstanding vouchers and gift cards are now worthless.
The 92-year-old retail group collapsed by appointing Deloitte as administrator today, leaving the future of 4,123 staff hanging by a thread. But Trevor Moore, the chief executive of HMV, said: "We remain convinced we can find a successful business outcome. We want to make sure it remains on the high street," adding: "We know our customers feel the same way."
Mr Moore, the former boss of the camera chain Jessops, which shut its 187 stores last week, vehemently denied there had been any form of "mis-selling scandal" over the decision taken by Deloitte not to honour gift cards, or vouchers, held by consumers, adding that directors had been closely monitoring redemption levels.
Weighed down by rising debt of £176.1m, HMV has been battered over the past decade by rampant price deflation in CDs, DVDs and games, the big supermarkets, the online giant Amazon and the huge shift to digital downloading.
Nick Hood, an analyst at Company Watch, the credit information specialist, said: "The recession has only played a small part in the sad demise of HMV. The main culprit has been the relentless move to downloads and online purchasing of music and films, as well as irresistible competition from the major supermarkets, who have pushed market prices down to levels with which HMV has been unable to live."
HMV's collapse means that nearly 200 retailers have collapsed over the past 12 months, including the electricals chain Comet just before Christmas and the sportswear retailer JJB in the autumn. It is also last remaining nationwide entertainment chain, following the disappearance of retailers such as Our Price and Zavvi.
Deloitte will continue to trade the retailer's 223 UK stores as it seeks a buyer for all, or parts, of the business. The restructuring firm Hilco could be interested in acquiring a slimmed-down version of HMV. Hilco has delivered an uplift in sales at HMV Canada since it acquired the business from the UK-listed entertainment group in 2011 and has established relationships with many of the same suppliers.
The private equity turnaround specialists, Endless and Better Capital, could also run a slide rule over HMV.
Sources believe that up to half of HMV's stores could eventually close within a year, as part of any rescue deal that would see it debt burden slashed.
Its trading over Christmas was hit by Google and Apple not supplying it with their popular iPad and Nexus tablet devices, respectively. Mr Moore said: "We had a very limited supply of two key brands of tablets."
He described HMV's performance over Christmas as "disappointing", adding that it was at a similar level to the 10.2 per cent fall in like-for-like sales over the six months to the end of October.
Mr Moore declined to comment on the value of outstanding HMV gift cards in the market, but said there had been a "very high levels of redemptions after Christmas" until Monday evening when they were suspended.
While it is typically standard practice for administrators not to honour gift cards or vouchers, industry experts called for changes. Dean Dunham, the founder of youandyourrights.co.uk, said: "We've got to see some changes in this area. It's almost theft." He added: "A gift voucher should be as good as a banker's draft."
HMV had been fighting for its life since it issued a "going concern" warning before Christmas and had been involved in crisis talks with its eight-strong banking syndicate, including Royal Bank of Scotland, Lloyds and Santander.
Neil Saunders, the managing director of Conlumino, the retail consultancy, said: "By our own figures, we forecast that by the end of 2015 some 90.4 per cent of music and film sales will be online. The bottom line is that there is no real future for physical retail in the music sector."
Nick Edwards, joint administrator and restructuring services partner at Deloitte, commented: "HMV is an iconic retailer and continues to be a very popular brand, but as we have seen with many high-street retailers, the market is changing rapidly and conditions are currently very tough."
Join our commenting forum
Join thought-provoking conversations, follow other Independent readers and see their replies