Kellogg's and Nestlé among household brands 'containing palm oil produced by child labour'
Amnesty International report finds manufacturers using oil from Singapore-based company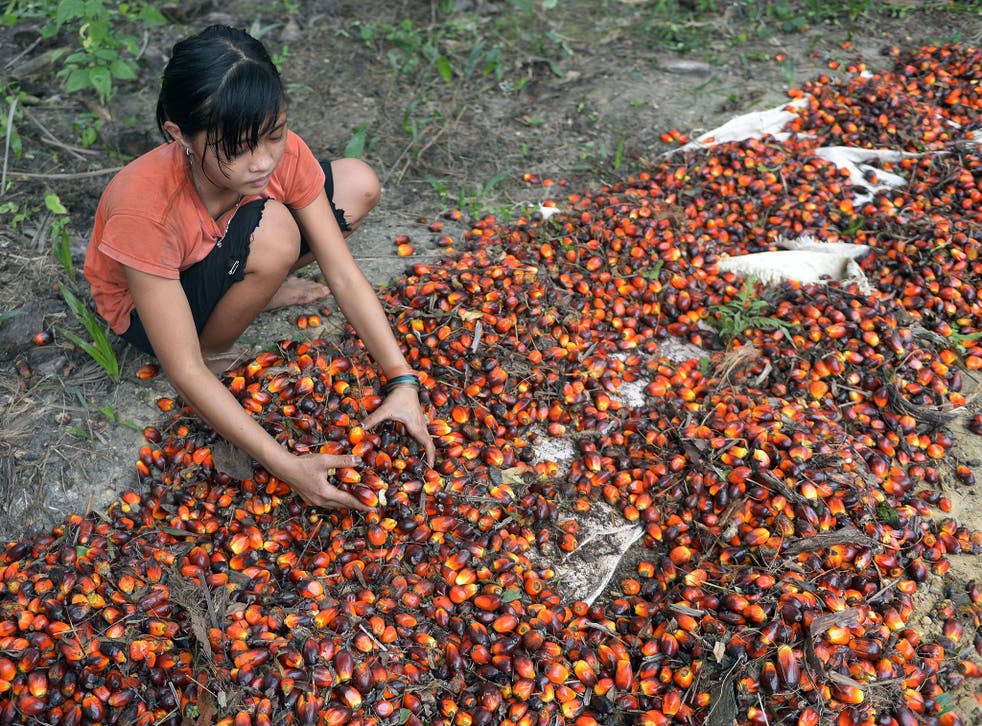 Major household brands are selling everyday grocery staples containing palm oil produced using child labour, Amnesty International has claimed.
Amnesty said children as young as eight were working in hazardous conditions for Singapore-based company Wilmar, whose palm oil was traced to nine global firms including Colgate-Palmolive, Kellogg's, Nestlé, Procter & Gamble, Reckitt Benckiser and Unilever.
A report by the human rights organisation contains details of children aged between eight and 14 working without safety equipment at Wilmar's Indonesian plantations, where toxic pesticides are used. Children were carrying sacks of palm fruit that can weigh 25kg, according to the report.
Some had dropped out of school to work with parents for all or most of the day, while others worked in the afternoon after school, at weekends and during holidays, Amnesty claimed.
The organisation asked the companies named in its report to confirm whether the palm oil in a list of their consumer products came from Wilmar's Indonesian operations.
Only two of the companies, Kellogg's and Reckitt Benckiser, provided any detail about which of their products were affected but both cited "traceability" in the supply chain as a factor explaining why they had not acted to investigate or identify abuses.
Colgate and Nestlé told Amnesty that none of the products listed by the organisation contained palm oil from Wilmar's Indonesian operations, but did not say if others did.
Two others, Unilever and Procter & Gamble, did not correct the list, while the others offered "vague or no responses".
World Day Against Child Labour - picture story

Show all 6
Amnesty is calling on firms to tell customers whether palm oil in popular products such as Magnum ice cream, Colgate toothpaste, Dove cosmetics, Knorr soup, Pantene shampoo, Aero and KitKat chocolate bars, Ariel and Pot Noodle comes from Wilmar's Indonesian operation.
Amnesty International senior investigator Meghna Abraham said: "These findings will shock any consumer who thinks they are making ethical choices in the supermarket when they buy products that claim to use sustainable palm oil.
"Something is wrong when nine companies turning over a combined revenue of £260bn in 2015 are unable to do anything about the atrocious treatment of palm oil workers earning a pittance."
Peter Frankental, Amnesty's business and human rights programme director, said: "You can be sure that if one of these companies' products were contaminated and had to be taken off the shelves of supermarkets, they would ensure that they could trace the source to specific plantations.
"The brutal truth is that human rights abuse in the supply chain is not viewed as a quality control issue, but it should be. Products containing human rights abuses should be viewed as defective."
In a letter to Amnesty regarding the report, Wilmar said: "In August 2016, we have been made aware of labour issues in the same plantations cited in your letter, and we immediately initiated an internal review process which is still ongoing. Wilmar will report on the actions that we have already started to take and the progress of the action plan.
"Whilst we have already started our own internal procedures to resolve these issues, we are also open for any further collaboration or ideas on how best to address these. We would be happy and willing to discuss any potential suggestions or solutions that Amnesty International would like to share with us.
Child labour rife in India's coal mines
"We recognise that these issues, including the ones raised in your letters, are systemic challenges shared by the industry. We are committed to addressing these labour issues in our own operations and the industry, both independently and collaboratively."
Kellogg's said in a statement: "Kellogg's is committed to working with our global palm oil suppliers to source fully traceable palm oil to known and certified sources that are environmentally appropriate, socially beneficial and economically viable.
"If we find, or are made aware of, any supply chain violations of our global palm oil principles, we work with the supplier to understand corrective actions and ensure they understand our commitments. If the concerns are not adequately addressed, we take action to remove them from our supply chain."
A Nestlé spokesman said: "Practices such as those identified in Amnesty International's report have no place in our supply chain. Nestlé engaged extensively with Amnesty during the drafting report, including supplying detailed information on our relationship with palm oil supplier Wilmar and on our actions to address human rights and labour rights issues in the sector.
"We will investigate allegations related to our purchasing of palm oil, along with our suppliers.
"Wilmar supplies around 10 per cent of the total palm oil that we use in our products. We are working closely with the company to improve traceability. Now, 83 per cent of the volume that we purchase is traceable back to the mill of origin and 11 per cent is traceable to plantation. This traceability does not yet extend to the plantations at the centre of the allegations in Amnesty International's report."
The spokesman added: "Given the complexity of the palm oil industry and the estimated four million people that it employs in South East Asia, progress in addressing labour and human rights issues relies on cross-industry efforts. We will continue to play an active role, alongside others."
PA
Join our new commenting forum
Join thought-provoking conversations, follow other Independent readers and see their replies