China poised to build its first car in Western Europe
Sweden's Volvo could lend factory and logistics to help Chinese car maker Geely
Sam Nagarajan
,
Yan Zhang
,
Elisabeth Behrmann
Thursday 25 January 2018 11:47 Comments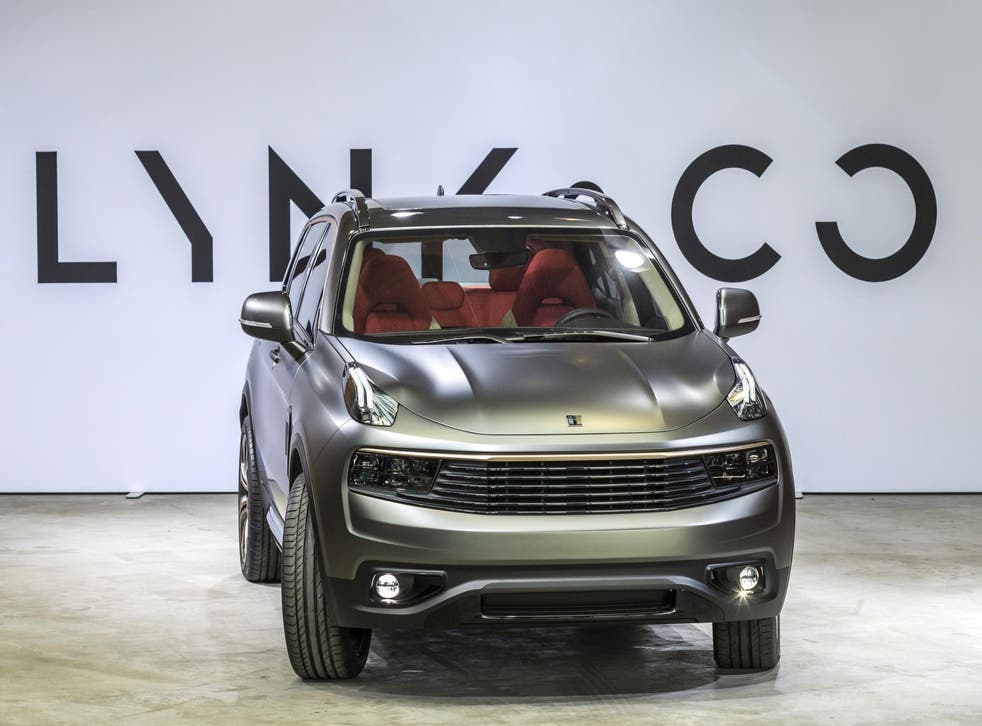 China may be poised to build its first car in Western Europe, with the help of Sweden's Volvo.
The iconic brand that was taken over by Chinese billionaire Li Shufu, would offer its factory in Gent, Belgium, to build an upscale brand for the tycoon, the Swedish company's chief executive Hakan Samuelsson said. The Swedish carmaker may also extend its Europe infrastructure -- service and other logistics -- to the brand.
Li's Zhejiang Geely started selling its upmarket compact SUV in China about two months ago under the Lynk & Co brand for a base price of 158,800 yuan (£17,578). Volvo Cars could consider offering the factory to build the model if and when the Chinese company wants to expand to Europe, Samuelsson said in an interview in Hong Kong Wednesday.
A ''Made in Europe'' stamp will augur well for the ambitions of a Chinese brand as it takes on global car majors such as Volkswagen, which has dominated the China car market for a decade. After years of selling lower-priced models at home, Chinese carmakers such as Geely and BYD -- which signed Leonardo DiCaprio as a brand ambassador -- are increasingly turning their attention to the international market.
"If and when they decide to go global, to Europe, possibly the US, we can of course make that entry more credible," Samuelsson said.
Geely Ambitions
Li bought Volvo Cars from Ford in 2010 and spent more than $11bn to modernise its production facilities. Last year, Geely bought almost 50 per cent of Malaysia's Proton and 51 per cent of UK sports-car maker Lotus. Li has ambitions of making Geely into a global major and as part of that plan; he unveiled the Lynk & Co in 2016, a brand that targets young customers.
The $25,000 Lynk brand compares with the more popular $14,000 Haval H6 from Great Wall Motor, China's biggest SUV maker. Great Wall is also seeking to move upscale with its Wey brand, which sold 86,427 units in 2017.
Volvo owns 30 per cent of Lynk & Co, while Geely holds 50 per cent. The rest is with Zhejiang Haoqing Automobile, a firm controlled by Zhejiang Geely. Lynk shares the production line with the Volvo XC40 in a factory in China's Luqiao, 350 kilometers south of Shanghai.
Business news: In pictures

Show all 13
"We would of course have interest doing that," Samuelsson said, referring to the support Volvo Cars is offering Geely. The Chinese carmaker is studying the feasibility of making the cars in Europe, a Geely spokesman said.
Lynk's first model, the 01, a compact five-seat SUV, features in-car Internet connections that allow users to open the car without a physical key and share the vehicle with a phone button. The brand has sold more than 6,000 units since it hit the market last November in China. Geely plans to start selling the model outside China from mid-2019, beginning in Europe.
Volvo Cars' volume sales in China last year rose about 25 per cent to 114,410 units, and the carmaker's biggest market will "continue to grow fast" in 2018, Samuelsson said, without elaborating.
Bloomberg
Register for free to continue reading
Registration is a free and easy way to support our truly independent journalism
By registering, you will also enjoy limited access to Premium articles, exclusive newsletters, commenting, and virtual events with our leading journalists
Already have an account? sign in
Register for free to continue reading
Registration is a free and easy way to support our truly independent journalism
By registering, you will also enjoy limited access to Premium articles, exclusive newsletters, commenting, and virtual events with our leading journalists
Already have an account? sign in
Join our new commenting forum
Join thought-provoking conversations, follow other Independent readers and see their replies