Chinese investment group set to purchase Chicago Stock Exchange
Obscure conglomerate CCEG could become the first ever foreign owners of a US stock exchange 
Matt Broomfield
Saturday 06 February 2016 18:05 Comments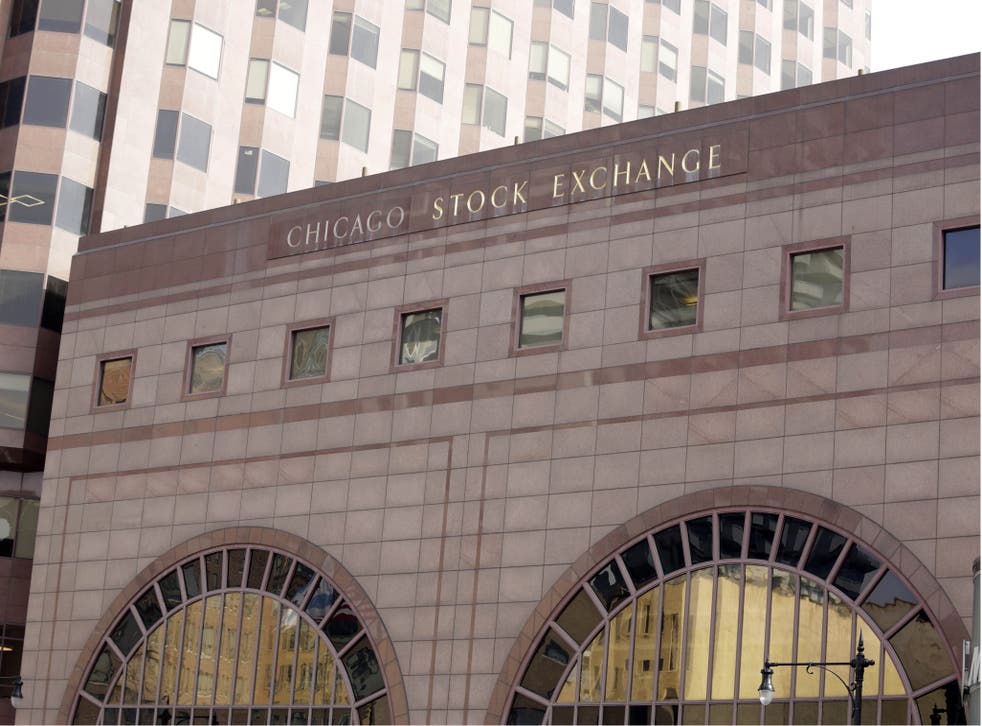 A Chinese investment group is purchasing the Chicago Stock Exchange, in a deal which will make them the first Chinese company to own a US stock exchange.
The third-smallest exchange in the USA, the 134-year-old instution only handles around 0.5 per cent of the country's stock trades, compared to the 20 per cent market share enjoyed by the New York Stock Exchange or Nasdaw. However, the sale is not merely symbolic, and will provide a foothold in the US equity market for purchasers Chongqing Casin Enterprise Group (CCEG).
Sources at the Exchange, which employs around 75 people, suggested that the sale would ultimately go through for somewhere south of $100 million.
"We're a good fit," Chicago Stock Exchange Chief Executive Officer John Kerin told Bloomberg. "We provide technology and we're a standalone, full-service exchange that they can grow in a manner that suits their needs."
There are around 70 sites where stocks are legally traded in the USA. These include market behemoths such as New York and Nasdaq, a number of smaller forums such as the 134-year-old Chicago Stock Exchange, and around 20 "dark pool" trading sites closed to the general public.
Previous attempts by foreign owners to purchase American exchanges have come unstuck. A move by Deutsche Börse to purchase and merge with the corporation behind the New York Exchange, NYSE Euronext, was blocked by the European Commission on the grounds that it would create a near-monopoly in Europe for the new conglomerate.
While the Chicago Exchange is not as emotive a symbol of the American dream as its big cousin on the East Coast, this week's move by the previously obscure CCEG still a deeply unusual one.
CCEG was founded by Shengju Lu, a torchbearer during the 2008 Olympics who made his fortune in real estate following the privatisation of previously state-controlled industry. The firm employs 800 people and has made Mr Lu a rich man, but its activities were previously confined to Southwestern China.
Chinese stocks plunge after 'currency manipulation'
It appears that Mr Lu purchased a $4,000,000 Californian property in 2012, but other than that the firm had no previous connections to America or even to the equity market. US regulators will doubtless be sniffing around the deal before they allow it to go through later this year.
The move comes amidst an unprecedented onslaught of extranational acquisitions by Chinese corporations, in defiance of the slump in their domestic market. Chinese companies have purchased at least $70 billion of foreign companies in acquisitions of investments since the turn of the financial year in April 2015, and look set to break their record of $123 billion cross-border purchases, set the previous year.
Some of these moves have been blocked by US regulators, but analysts will be closely monitoring the situation in Chicago if the sale goes ahead as planned later this year.
Although the Exchange is relatively insignificant at present, its management team say they aim to triple its market share over the next few years. US regulations require trades to be routed to whichever exchange is offering the best deal on stocks, meaning it is possible for exchanges to rapidly rise from obscurity if the fiduciary stars align.
Register for free to continue reading
Registration is a free and easy way to support our truly independent journalism
By registering, you will also enjoy limited access to Premium articles, exclusive newsletters, commenting, and virtual events with our leading journalists
Already have an account? sign in
Register for free to continue reading
Registration is a free and easy way to support our truly independent journalism
By registering, you will also enjoy limited access to Premium articles, exclusive newsletters, commenting, and virtual events with our leading journalists
Already have an account? sign in
Join our new commenting forum
Join thought-provoking conversations, follow other Independent readers and see their replies