Clarks sparks sexism row with girls shoe called 'Dolly Babe' and boys shoe called 'Leader'
The shoes feature a heart print insole with the boys' equivalent sporting a football pattern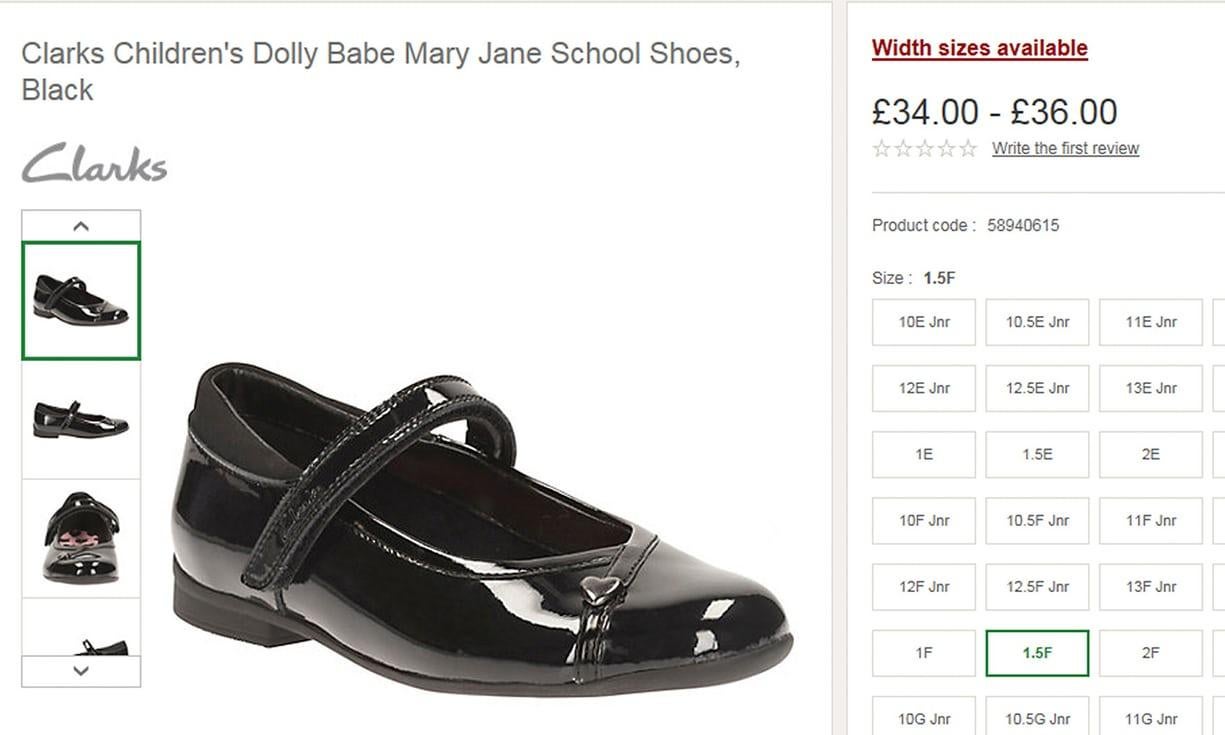 Clarks has sparked a sexism row after naming a girls' shoe range Dolly Babe while the boys' equivalent is called Leader.
The footwear firm removed the Dolly Babe shoes from its website and is withdrawing the name from its in-store products after "customer feedback".
The shoes feature a heart print insole with the boys' equivalent sporting a football pattern.
Scotland's First Minister Nicola Sturgeon was among those to criticise the company. It is almost beyond belief that in 2017 a major company could think this is in any way acceptable. Shows what we are still up against," she tweeted.
Conservative MP Jacob Rees-Mogg, well-known as an ardent upholder of traditional values, told the BBC: "To call a pair of shoes for a girl Dolly Babe is dreadful. It's wrong in all sorts of ways … this is just really silly."
Clarks said in a statement that the Dolly Babe range is "an old and discontinued line, with only remaining stock being sold through our stores".
"We are working hard to ensure our ranges reflect our gender-neutral ethos," Clarks said.
"We apologise for any unintended offence caused."
Campaign group Let Clothes be Clothes said it was "ecouraged" to hear that Clarks had dropped the Dolly Babe shoe.
A spokesperson said: "Hopefully this is just the first step for Clarks towards developing a range for children which gives boys and girls a choice of visually appealling, robust shoes which are kind to developing feet."
Clarks has already been accused of sexism. Earlier this month, customer Jemma Moonie-Dalton wrote on Facebook of her experience buying shoes for two young children.
"In the boys' section the shoes are sturdy, comfortable and weatherproof with soles clearly designed with running and climbing in mind," she wrote.
Business news: In pictures
Show all 13
"In contrast, the girls' shoes have inferior soles, are not fully covered and are not well padded at the ankle. They are not comfortable and are not suited to outdoor activities in British weather."
"To the best of my knowledge, all small children like to run, jump & play. If I thought she was sat quietly in the corner looking pretty & dainty all day, avoiding puddles or running games that might scuff her shoes, I'd be heartbroken."
Clarks responded, saying that it was creating more unisex ranges.
The company is not alone in being accused of selling sexist clothing. Let Clothes be Clothes criticised Tesco and Mothercare earlier this month for their use of "harmful" gender stereotypes.
The group shared an image from a recent Tesco campaign which promoted the brand's latest range of school shoes. Here, they spotted that the footwear had been divided into 'Airtred Soles' for boys and 'Sensitive Soles' for girls
Let Clothes be Clothes also blasted Mothercare for its new Nature Explorer collection aimed at girls which features glitter, floral patterns and slogans like 'confetti' and 'sparkle.'
Meanwhile, the Space Oddity collection aimed at boys was filled with images of science themes, planets and words like "genius".
The Advertising Standards Agency unveiled plans last month to take a "togher line" on gender stereotypes in advertising.
The ASA concluded that regulations must be stricter after carrying out research which found that stereotypes in ads can "restrict the choices, aspirations and opportunities of children, young people and adults".
Join our commenting forum
Join thought-provoking conversations, follow other Independent readers and see their replies