The Independent's journalism is supported by our readers. When you purchase through links on our site, we may earn commission.
Coronavirus: Jaguar Land Rover flying in Chinese car parts in suitcases as carmaker scrambles to keep UK factories running
UK factories could run out of parts in just two weeks, CEO warns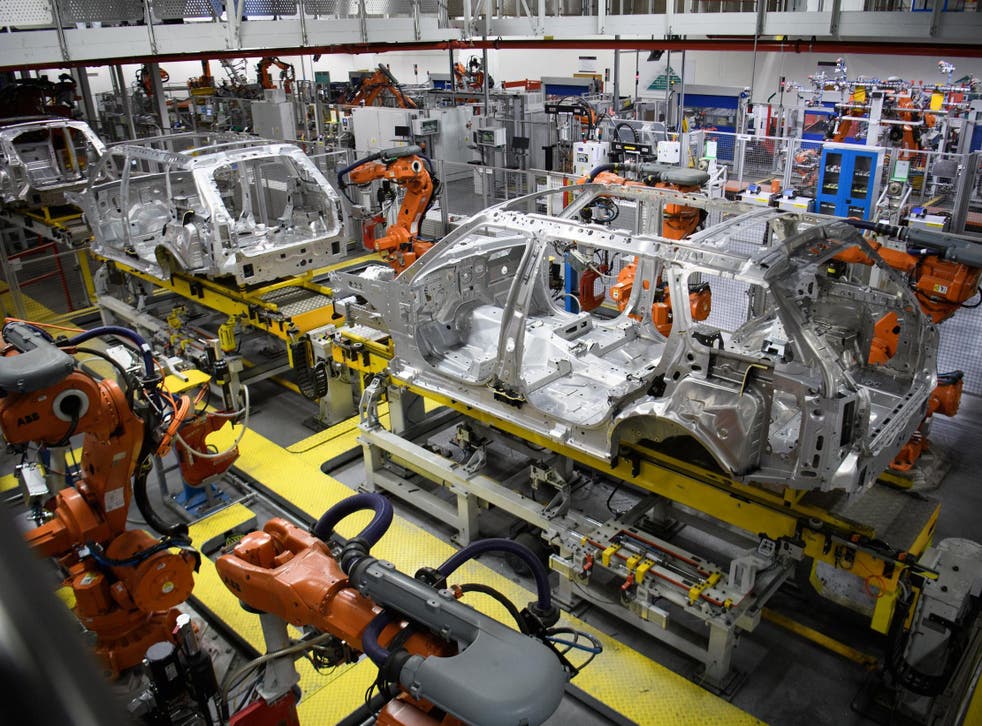 Britain's largest car manufacturer has flown Chinese parts to the UK in suitcases in a scramble to keep production running, as firms across the world warn of crippling supply chain issues as a result of the coronavirus outbreak.
Jaguar Land Rover (JLR), which makes nearly 400,000 vehicles a year at its three factories in the UK, warned it could run out of parts in just two weeks.
"We are safe for this week and we are safe for next week and in the third week we have ... parts missing," CEO Sir Ralf Speth told reporters at the opening of the National Automotive Innovation Centre in Coventry.
Efforts to contain the COVID-19 virus have seen travel severely restricted both from and within China, leading companies such as Apple to warn of the damaging impact to global trade and business.
Hubei province – the centre of the outbreak which has infected more than 72,000 people globally and taken at least 1,860 lives – is a major hub for vehicle parts production and shipments.
Coronavirus: Cases soar of deadly new flu-like virus

Show all 154
"This is an issue for the complete car automotive industry," Sir Ralf told Sky News. "We don't know how long it will take before the supply chain comes on stream again in China."
After a prolonged break for the Lunar New Year imposed by several provinces, a portion of firms reopened their Chinese factories last week, but many warned it would take further time before they were again fully operational.
While production at JLR's Chinese factory is set to recommence on 24 February, Sir Ralf said this would be "safe for the very first week".
Speaking in Coventry to launch a self-driving electric vehicle dubbed Project Vector, the JLR chief executive added that sales in China – where the firm had seen an important return to form in recent quarters – had also taken a hit.
"That's completely stopped. It's zero," Sir Ralf said. "You don't know whether the economy will catch up or whether this kind of loss is just a loss."
On Friday, Fiat Chrysler became the first car manufacturer in Europe to suspend operations in response to the health crisis, announcing it had temporarily halted output at its Serbian plant.
It came after Nissan was forced to temporarily close a plant in Japan due to supply chain issues caused by the coronavirus response.
Speaking at the same event, the boss of Tata Motors – JLR's parent company – also warned its Indian suppliers did not have sufficient visibility regarding parts from China.
"We are safe for the month of February and for a good part of March," said Guenter Butschek. "Are we fully covered at this point of time for the full month of March? Unfortunately ... not."
Additional reporting by Reuters
Register for free to continue reading
Registration is a free and easy way to support our truly independent journalism
By registering, you will also enjoy limited access to Premium articles, exclusive newsletters, commenting, and virtual events with our leading journalists
Already have an account? sign in
Register for free to continue reading
Registration is a free and easy way to support our truly independent journalism
By registering, you will also enjoy limited access to Premium articles, exclusive newsletters, commenting, and virtual events with our leading journalists
Already have an account? sign in
Join our new commenting forum
Join thought-provoking conversations, follow other Independent readers and see their replies