Deliveroo contracts 'written to scare couriers from going to court over workers' rights'
Deliveroo couriers need to be considered as employees to have access to  worker's rights such as the national minimum wage and holiday pay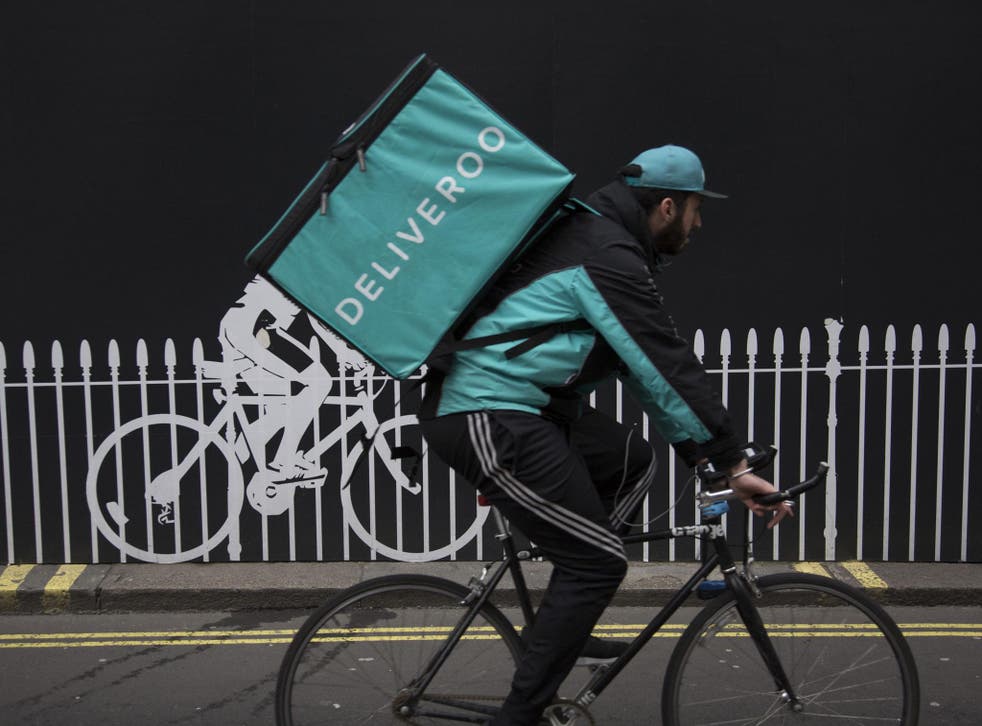 Deliveroo has outsmarted Uber by reportedly building clauses into the contracts of its couriers to prevent them from taking the company to court over worker's rights.
A clause in the contracts of Deliveroo couriers prevents them from going to employment tribunals if they ever wanted to challenge their status, according to the Guardian.
Like Uber drivers, Deliveroo couriers are self-employed.
This means they have the flexibility of being able to work when they choose. However, they need to be considered as employees to have access to fundamental worker's rights such as the national minimum wage and holiday pay.
Deliveroo couriers that eventually chose to challenge their status despite the clause are contractually obliged to pay the company additional costs.
"You further warrant that neither you nor anyone acting on your behalf will present any claim in the employment tribunal or any civil court in which it is contended that you are either an employee or a worker," the clause in the contract reportedly reads.
"Indemnity and keep indemnified Deliveroo against costs (including legal costs) and expenses that it incurs," a further clause adds.
In a statement, Deliveroo said that it provided a platform for people to work on a freelance basis.
"This allows riders to work flexibly around another commitment, like studying or other work. We've worked with legal experts to design our contracts to reflect that and we're proud to be creating opportunities for over 5,000 riders across the UK," Deliveroo said.
But Michael Newman, partner at law firm Leigh Day which is representing Uber, reportedly saw the Deliveroo contract.
He told the Guardian that the clause was there to "scare the worker".
"If it was two sophisticated parties with legal advisers, for example two big businesses, it might be decided that they had equal bargaining power, making it less likely to be a penalty clause. With Deliveroo there is no such equality – they are using a standard contract on a take-it-or-leave-it basis, and the worker couldn't bargain with them. They either just sign the contract or walk away," Newman said.
Matt Gingell, an employment law partner at Gannons solicitors, told the Independent the clause is likely to be "unenforceable".
"Statutory employment rights cannot be waived unless through a settlement agreement (signed by an independent adviser) or through ACAS. A clause indemnifying a company against costs incurred in defending a claim could be void for being contrary to public policy," he said.
Deliveroo has built a dominant position in London delivery market and now delivers food from more than 2,500 restaurants, although it has recently been challenged by the arrival of UberEats.
It recently secured key partnerships with PizzaExpress, Gourmet Burger Kitchen and Bill's.
The company, founded in 2013, has raised $200million (£140m) in funding in the last two years at a reported $600 million valuation, but has not yet disclosed sales figures.
The report comes as Uber faces its first legal action over the status of its workers in the UK, in a case brought by the law firm Leigh Day and supported by the GMB union, which represents drivers.
"Uber drivers face very difficult working conditions and with cuts to fares we believe that some of our members are taking home less than the national minimum wage when you take into account the costs of running a car," Justin Bowden, GMB national secretary, said.
Business news: In pictures

Show all 13
"GMB believes this could pose a safety risk to drivers and the public as some drivers are forced into working longer and longer hours in order to make ends meet and are unable to take any paid holiday," he added.
Matt Gingell said Uber's case could have wider implications for the gig economy in general.
"The case may have serious implications for Uber's operations in the UK and for the gig economy in general. If these drivers are deemed employees Uber may well have to change its UK business model. Other UK businesses with similar operations could be affected too," he told the Independent.
Join our new commenting forum
Join thought-provoking conversations, follow other Independent readers and see their replies