Designer says Marks & Spencer copied her work
Louise Verity claims move by retail giant has made her business suffer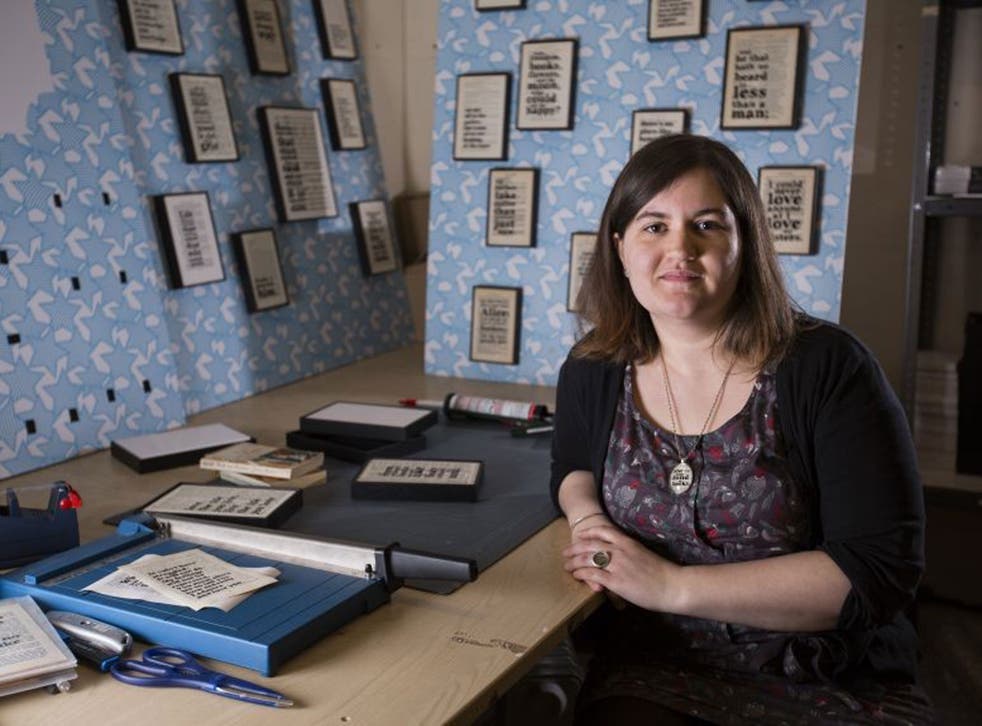 A young designer is facing the prospect of a David and Goliath legal battle with Marks & Spencer after the retailer began selling framed wall prints that she claims are almost identical to her own work.
Louise Verity, who runs Bookishly, an independent art business, said she was shocked to see images on M&S's Instagram page of artwork of large printed messages on top of old pages from a dictionary – closely resembling designs she has sold since 2009.
She claims that the high street giant's prints use a similar font and place the slogans in the same position as her own work.
While the 31-year-old, who lives in Northampton, was waiting for a response, the retailer began selling versions of the artwork on its website and in stores.
Ms Verity said: "At first, people were really pleased for me because they thought I'd been commissioned by M&S, but obviously I hadn't."
Ms Verity's main artworks are phrases printed on top of pages from books, especially dictionaries, while the M&S product features a page from a dictionary with larger print on top, in an apparently similar font to that used by Ms Verity.
After seeing the M&S images, the designer asked for advice from an intellectual property lawyer, who wrote to the company suggesting that it was in breach of copyright.
The letter said: "The image posted on your Instagram site … shows a substantially similar product … It is our contention that this... is a substantial taking of our client's work and hence an infringement of her copyright.
"We therefore request that you immediately remove this image from your Instagram site, and any other location in which it may be available. We further request that you supply us with information regarding the producer of this infringing product."
In response, an M&S solicitor, Amarjit Purewal, wrote: "Whilst there may or may not be copyright subsisting in any particular work your client has produced, we do not believe that your client can claim a monopoly in the actual use of 'overlaying' printed words on dictionary pages. It is our understanding that overlaying of typed words or other imagery on a background of a densely worded page from a dictionary, is not an uncommon design feature.
"Accordingly, your client's allegations of copyright infringement are unmeritorious and unfounded."
Ms Verity said: "I wasn't that surprised by M&S's response, to be honest, because they must know it will cost me tens of thousands of pounds in legal fees to take this further, with no guarantee that I'll get the money back even if I win.
"My concern is that my business will suffer, including my mother, father and brother's business, which I buy the frames from."
Her lawyer suggested launching a social media campaign to raise awareness, which has led to allies sending messages of support and attacking M&S.
A Marks & Spencer spokesperson said: "We take all claims of intellectual property infringement extremely seriously. We've investigated this thoroughly and determined that the technique of overlaying text on print is a common design practice. We've already been in touch with Bookishly directly and we're happy to follow up with them if they have any questions."
Join our new commenting forum
Join thought-provoking conversations, follow other Independent readers and see their replies