Deutsche Bank and Credit Suisse to pay $12.5bn in US fines over role in 2008 financial crisis
The US Department of Justice is also suing Barclays for alleged mortgage securities fraud
Zlata Rodionova
Friday 23 December 2016 09:10 Comments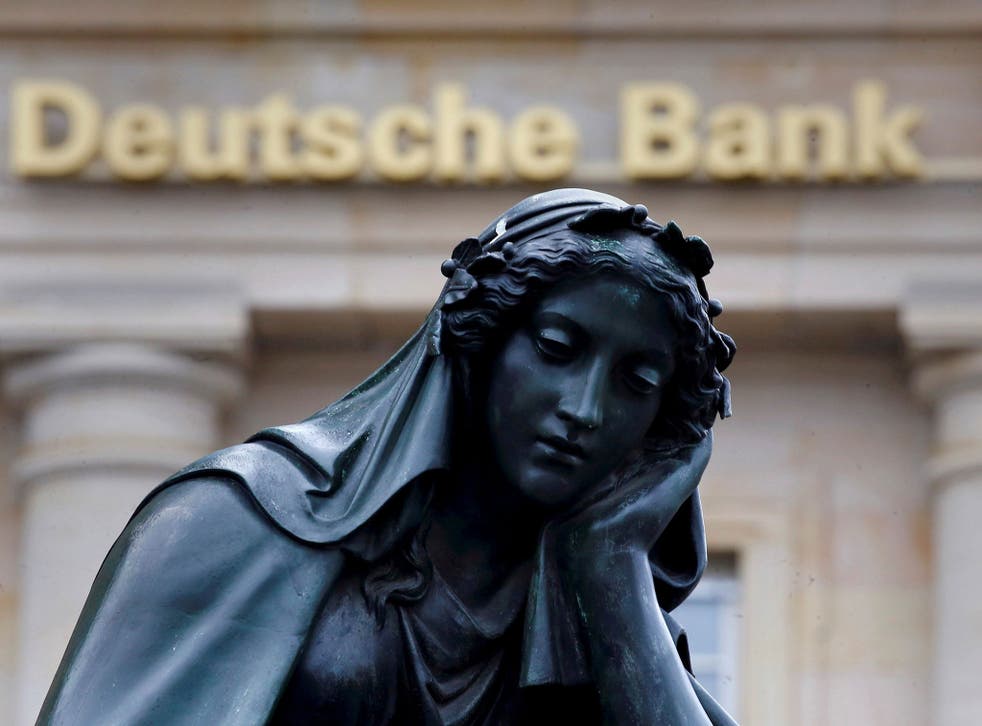 Deutsche Bank and Credit Suisse have agreed to pay billions in fines relating to the collapse of the US housing market that contributed to the financial crisis, striking deals before Donald Trump's administration takes power.
The lenders are among many financial institutions investigated over dealings in discreditable mortgages in the run-up to the financial crisis. The US government has accused the banks of misleading investors about the quality of their loans. The inquiries related to deals done between 2005 and 2007.
After months of negotiations with the Department of Justice (DoJ) , Germany's Deutsche Bank agreed to pay a $7.2bn (£5.9bn) fine over an investigation into mortgage-backed securities. Meanwhile, Swiss bank Credit Suisse will pay a $5.3bn deal to settle its own dispute with US authorities over similar alleged actions.
The deal came as federal prosecutors also announced they were suing Barclays for alleged mortgage security fraud.
They claim that from 2005 to 2007, Barclays "repeatedly misrepresented the characteristics of the loans backing securities they sold to investors throughout the world, who incurred billions of dollars in losses".
Barclays denied any involvement.
The bank said in a statement: "Barclays considers that the claims made in the complaint are disconnected from the facts.
"We have an obligation to our shareholders, customers, clients, and employees to defend ourselves against unreasonable allegations and demands.
"Barclays will vigorously defend the complaint and seek its dismissal at the earliest opportunity."
US authorities originally threatened Deutsche Bank with a $14bn settlement.
Deutsche's payment will be made up of a civil penalty of $3.1bn, as well as $4.1bn in consumer relief.
Credit Suisse said it will pay a civil penalty of $2.48bn and, in an agreement similar to Deutsche's, provide consumer relief to the tune of $2.8bn over the course of five years.
The DoJ has taken a tough stance in settlement negotiations with other banks, requesting sums higher than the eventual fine.
In 2014, it asked Citigroup to pay $12bn to resolve an investigation into the sale of shoddy mortgage-backed securities, sources said. The fine eventually came in at $7bn.
Biggest business scandals in pictures

Show all 20
In 2013, JP Morgan Chase was fined $13bn following allegations that it overstated the quality of mortgages being sold to investors, while Bank of America paid $16.7bn in similar charges.
And in another case, rival Goldman Sachs agreed in April to pay $5.06bn to settle claims that it misled mortgage bond investors during the financial crisis.
Register for free to continue reading
Registration is a free and easy way to support our truly independent journalism
By registering, you will also enjoy limited access to Premium articles, exclusive newsletters, commenting, and virtual events with our leading journalists
Already have an account? sign in
Join our new commenting forum
Join thought-provoking conversations, follow other Independent readers and see their replies