Deutsche Bank agrees to pay US £5.8bn fine over role in subprime mortgage crisis
'Deutsche Bank did not merely mislead investors: It contributed directly to an international financial crisis.' - US Attorney General, Loretta Lynch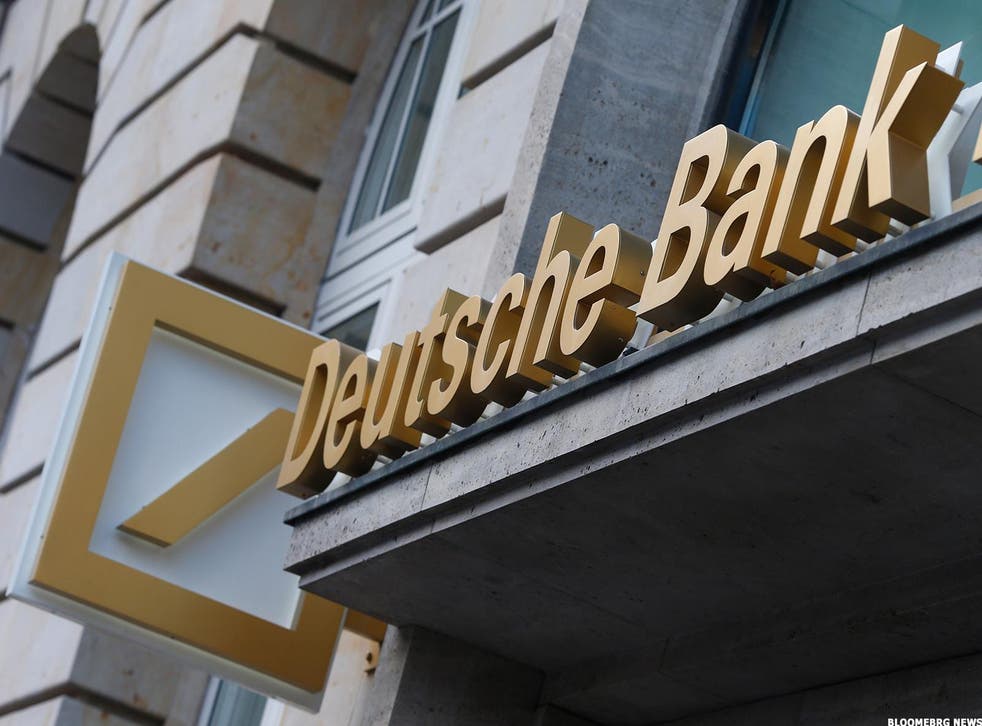 Deutsche Bank agreed to pay $7.2bn (£5.4bn) in the US for its illegal conduct and "irresponsible lending practices" before the financial crisis, the Justice Department said on Tuesday.
"This resolution holds Deutsche Bank accountable for its illegal conduct and irresponsible lending practices, which caused serious and lasting damage to investors and the American public," Attorney General Loretta Lynch said in a written statement. "Deutsche Bank did not merely mislead investors: It contributed directly to an international financial crisis."
The penalties and compensation resolve one of a host of potential legal actions against the company. The figure was in line with the bank's 23 December announcement that it had reached an agreement in principle in the matter. It will pay a $3.1bn civil penalty and provide $4.1bn in relief to homeowners.
The final settlement caps a negotiation process that had sent the company's shares to a record low in September, when Deutsche Bank said the Justice Department had made an opening request of $14bn to settle. The news spurred concern that the bank might not have enough capital.
"Our conduct in this matter, which occurred from 2005 to 2007, falls short of our standards and is unacceptable," Deutsche Bank chief executive John Cryan said. "We apologise unreservedly for it. We have subsequently exited many of the underlying activities and comprehensively improved our standards. As we enter 2017, we are pleased to have resolved this matter."
Independent Monitor
Under the terms of the agreement the bank agreed to hire a monitor to review its compliance with its pledge to provide consumer relief. The lender already has monitors reviewing its compliance with foreign exchange practices, US sanctions laws and derivatives trading.
In a statement of facts issued along with news of the accord, Deutsche Bank admitted to making false representations and omitting material information from disclosures to investors about the loans included in residential mortgage-backed securities sold by the bank.
"This misconduct, combined with that of other banks we have already settled with, hurt our economy and threatened the banking system," said Benjamin Mizer, the principal deputy assistant attorney general and head of the Justice Department's civil division. "To make matters worse, the bank's conduct encouraged shoddy mortgage underwriting and improvident lending that caused borrowers to lose their homes they couldn't pay their loans."
Midrange Penalty
The penalty against Deutsche Bank was in the midrange of mortgage-related settlements by big banks stemming from the financial crisis. Over the last few years, Bank of America agreed to pay $16.7bn; JPMorgan, $13bn; Citigroup, $7bn; Goldman Sachs, $5.1bn; and Morgan Stanley, $3.2bn.
Business news: In pictures

Show all 13
Deutsche Bank, Germany's biggest bank, continues to defend itself from other US probes and potentially expensive civil suits -- liabilities that Cryan has set out to resolve as he seeks to restore confidence. The bank declared a hit of $1.2bn from the Justice Department settlement to fourth-quarter pretax profit on 23 December.
The bank still faces investigations into whether it manipulated foreign-currency rates and precious metals prices and whether it facilitated transactions that helped investors illegally transfer billions of dollars out of Russia. In a memo to employees in December, the lender said it found "deficiencies" in the bank's systems and controls in Russia, but no indications that it breached sanctions in the country.
And on Tuesday, the U.S. Supreme Court refused to stop antitrust lawsuits that accuse some of the world's biggest banks, including Deutsche Bank, of conspiring to rig the London Interbank Offered Rate, known as Libor. The court rejected the banks' appeal without explanation, leaving them vulnerable to the prospect of paying out billions of dollars in damages if the suits succeed.
Deutsche Bank had set aside €5.9 billion for all of its outstanding legal costs as of 30 September, about €2bn of which it used for the settlement with the US. Its common equity tier 1 ratio, a key metric of financial strength, stood at 11.1 per cent, below the target level of at least 12.5 per cent for 2018.
Bloomberg
Join our new commenting forum
Join thought-provoking conversations, follow other Independent readers and see their replies