Disney-Fox deal: Rupert Murdoch sells assets including Sky for $66bn
Deal would head off prospect of media mogul taking full control of Sky News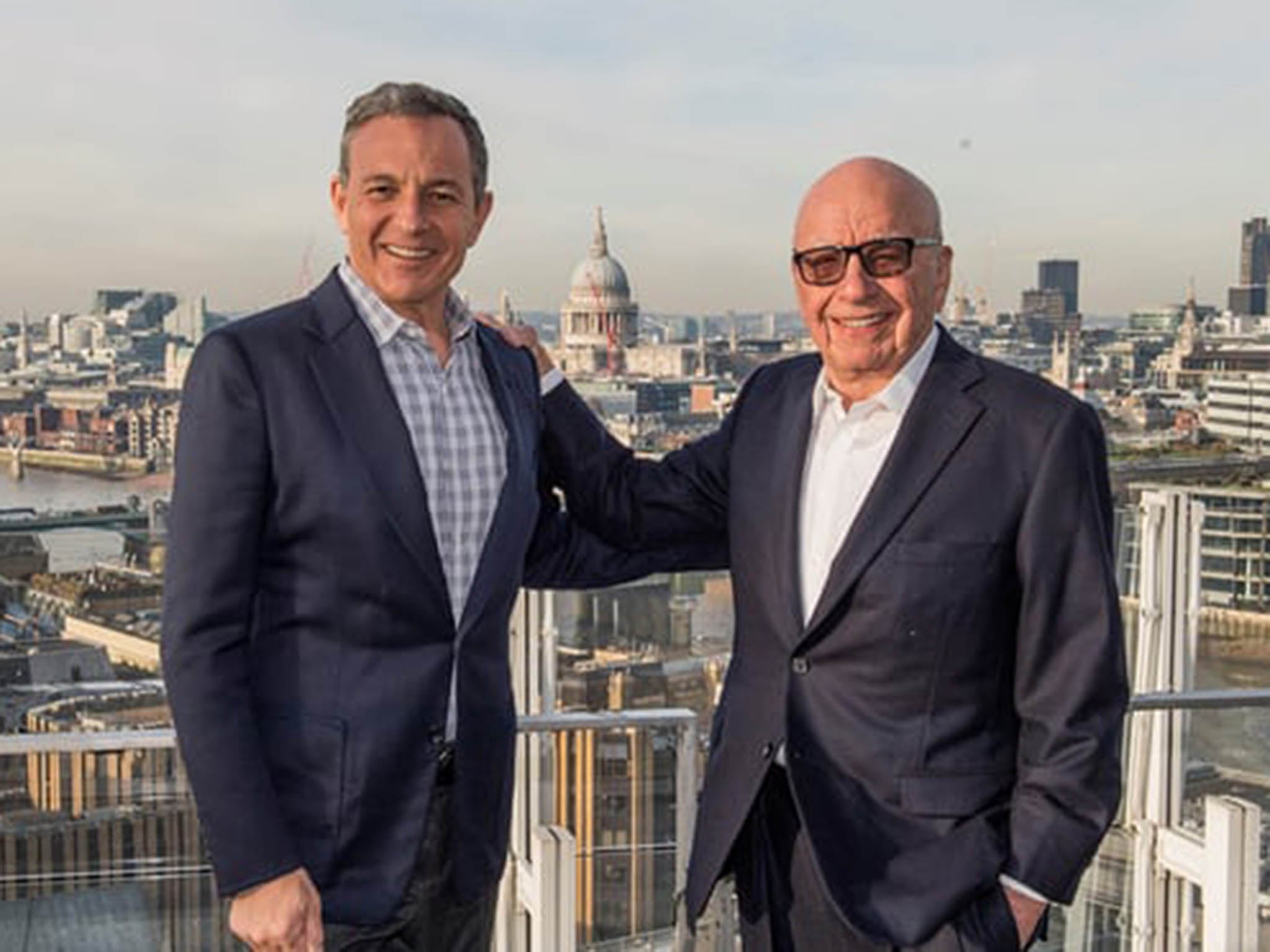 Walt Disney has agreed to snap up scores of assets from Rupert Murdoch's 21st Century Fox, including its stake in Sky, for $52.4bn (£39bn) – a massive deal that will dramatically reshape the media landscape worldwide.
The Fox assets that will be sold to Disney include the 20th Century Fox movie studio. Disney will also assume about $13.7bn of net debt belonging to 21st Century Fox. Disney chief executive Bob Iger will extend his tenure until the end of 2021, overseeing the integration of the Fox assets. He had already postponed his retirement from Disney three times. In March, he said he was committed to leaving the company in July 2019.
"We are extremely proud of all that we have built at 21st Century Fox, and I firmly believe that this combination with Disney will unlock even more value for shareholders as the new Disney continues to set the pace in what is an exciting and dynamic industry," said Rupert Murdoch, who is the executive chairman of 21st Century Fox.
"Furthermore, I'm convinced that this combination, under Bob Iger's leadership, will be one of the greatest companies in the world. I'm grateful and encouraged that Bob has agreed to stay on, and is committed to succeeding with a combined team that is second to none."
Under the terms of blockbuster deal, Disney will be the new owner of Fox's FX and National Geographic cable channels, India's main network Star, and its stake in Sky, listed here in the UK.
It will also buy Fox's stake in Hulu, a video streaming service. That will give Disney majority control of a key competitor to Netflix.
The new Fox that will be created through the transaction, will include the controversial Fox News Channel, Fox Business Network, Fox Broadcasting Company, Fox Sports, Fox Television Stations Group, and several sports cable networks. It will also include the Company's studio lot in Los Angeles and equity investment in Roku.
Disney will have access to an estimated 46 million subscribers in three major markets – the US, Western Europe and India – according to Barclays analysts.
Crucially, the deal will diversify Disney's revenue, which is particularly important considering that US cable television subscribers are declining.
The combined company will own or operate 272 TV stations globally, according to the latest SEC filings, cited by Reuters.
In the UK, Fox is embroiled in a closely scrutinised bidding process for the 61 per cent of Sky it doesn't already own, a transaction which is currently being examined by the Competition and Markets Authority.
The CMA is not expected to decide whether to approve the deal until March next year. But analysts have said that the Disney deal could have a bearing on the Sky takeover in that the UK government would be more likely to approve the deal if they know that Sky will eventually end up in the hands of Disney – rather than in the hands of a company that has a mixed and frequently controversial history here.
"Compared to Fox, it's a no-brainer" for Disney to take over Sky unimpeded, Steven Barnett, a professor of communications at the University of Westminster recently told Bloomberg. "Disney has a wholesome brand image, which is not exactly something you can say about the Murdochs," he added.
Disney also has a much smaller footprint than Fox in the UK, meaning that concerns around competition would not be as pressing if the government does indeed think that Disney will end up being the ultimate owner of Sky.
Regulatory approval of Fox's transaction with Disney will likely take many months – maybe even a year – which means that a CMA decision on Fox's takeover of Sky would come way ahead of that.
In the meantime, the CMA is expected to continue its investigation as planned, especially considering the questions around whether the Disney deal will indeed end up getting approved. It faces antitrust authorities in both the US and Europe.
News of the bumper deal came as somewhat of a surprise to many in the market, especially because Mr Murdoch has for years been focused on expanding his sprawling empire rather than selling assets.
Analysts have, however, said the transaction would give him the opportunity to concentrate on the news business, which is known to be his lifelong passion. He inherited the newspaper business from his father back in the 1950s and has built it up over decades, acquiring assets like the Wall Street Journal and The Times.
Some analysts have also speculated that the rationale for the deal might be centred around growing competition within the industry and Fox's struggle to keep up.
Technology and media companies are increasingly merging and consolidating. Verizon, for example, has bought AOL, the Huffington Post and Yahoo.
Disney has already demonstrated its ambition to try and keep up in the race against the likes of Amazon, Google and even Netflix. It owns Star Wars producer Lucasfilm and Marvel.
But Paolo Pescatore, vice president for multiplay and media and market analytics company CCS Insight, said that even Disney has "not been immune to changing behavioural patterns as consumers have embraced new ways of watching TV shows and movies".
"The move will firmly establish Disney as one of the leading media companies in the world and puts it in a great position to compete head on with the threat posed by the web providers such as Amazon and Facebook," he said.
"Further disruption lies ahead and we believe that this acquisition will force others to react."
Join our commenting forum
Join thought-provoking conversations, follow other Independent readers and see their replies