Donald Trump: What will he do to the dollar? Experts and investors weigh in
As of Friday afternoon the trade-weighted US Dollar Currency Index was up around 4.5 per cent since election day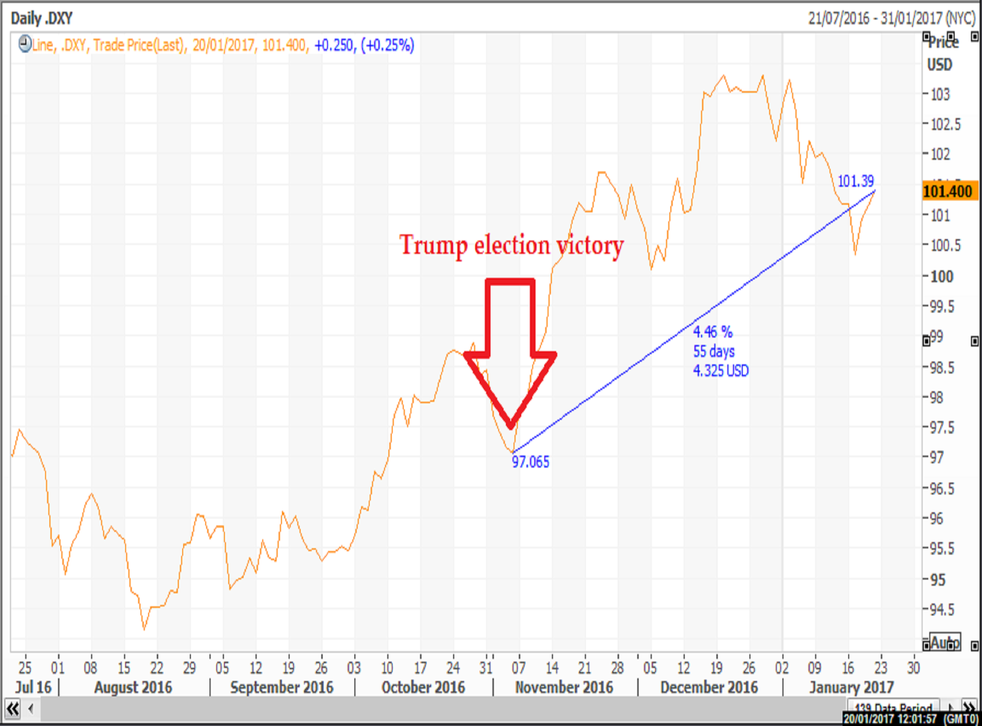 As Donald Trump prepares to move into the White House, dollar bulls seem to be rubbing their hands – albeit cautiously.
Mr Trump's US election victory in November sent scores of investors back to their drawing boards of economic forecasting as they grappled with the president-elect's punchy rhetoric and combative policy talk.
His tweets and comments since then have sent markets on a wild ride, shaving billions off shares in a matter of minutes, fuelling a severe rally in gold and keeping currency traders on their toes.
It sometimes seems that even within his own team, opinions and rhetoric diverge.
This week Mr Trump expressed concern about the dollar's recent appreciation, calling it "too strong" and sending it into a tailspin. Just days later, Treasury Secretary nominee Steven Mnuchin told lawmakers the long-term strength of the dollar is important and said the President-elect's comments weren't meant as a longer-run policy.
As of Friday afternoon, the trade-weighted US Dollar Currency Index, which measures the strength of the buck against a slew of other currencies, was up around 4.5 per cent since election day.
But as the former Apprentice host prepares to take his seat in the Oval Office, economists and investors appear to agree on at least one thing: the dollar's relentless trek higher may be about to slow down, but it's not about to stop.
Here's a look at some forecasts:
Deutsche Bank
"A Trump presidency changes everything," Deutsche Bank strategists George Saravelos and Alan Ruskin wrote in a note to clients earlier this month. "Our overall assessment is that Trump will be highly supportive of the dollar."
They said that whether the buck appreciates most against lower yielding currencies, like the euro and the yen, or higher yielding ones in the emerging markets, depends on the policy mix that he implements.
"Greater emphasis on growth and the euro and yen will suffer most; greater trade protectionism and EM, particularly Asia, will bear the burden. Either way, the broad trade-weighted dollar should strengthen."
This year they expect the dollar to break parity with the euro and to approach its all-time high against Japan's yen.
Bank of America Merrill Lynch
Currency strategists Myria Kyriacou and Claudio Piron at Bank of America Merrill Lynch say that "any imminent surrender of the [dollar] rally is unlikely."
"Trump's policies may well yet disappoint, whether in scope, speed or effectiveness.Indeed, a decisive turn towards protectionism could prove a downside risk for the [dollar] in the medium term, but for now, US data is strong and the Fed appears set to raise rates faster than priced by the markets. This keeps our positive [dollar] view intact," they say.
They don't quite anticipate dollar parity against the euro, but they do see the euro falling to $1.02 against the dollar by September this year and ending the year at $1.05. They also expect the pound to fall in the short term against the dollar – spurred in part by lingering Brexit fears – hitting$1.16 by September and then recovering slightly to $1.19 by the end of the year.
Heartwood Investment Management
Michael Stanes, investment director at Heartwood Investment Management, emphasises the state of uncertainty but also forecasts that the dollar will keep rising.
"Investors will have to get used to a 'new normal' for politics and attune themselves to distinguishing between bombastic headlines and what actually happens in practise," he says.
"We have not changed our view that the reshaping of the political environment in the US will boost confidence, at least in the near term, and support US growth and corporate profitability," he says. That, in turn, would support the dollar.
He also says that tax-cuts that Mr Trump has hinted at could encourage the repatriation of US corporate earnings in overseas operations which would also provide a boost to the dollar.
But there are some forecasters who are more cautious:
BlackRock
"We expect the US dollar to grind higher this year. But the pace of the greenback's rise is likely to moderate, with spates of volatility like last week's drop following Trump's first media conference since winning the election," says Richard Turnill, BlackRock's global chief investment strategist.
Allianz Global Investors
Mike Riddell, fixed income portfolio manager at Allianz Global Investors thinks we could even be heading for a reversal.
He explains that the perception of the US dollar is that it is a safe haven currency; when things go wrong in the world, you want to own it.
"This perception has been broadly accurate since 2004, where the US dollar has tended to be negatively correlated to risky assets. Since 2014, however, the correlation has weakened, and the US dollar has at times more closely resembled a risky currency than a safe haven," he says.
"It is, therefore, plausible that the US dollar stands to suffer when we get the next market wobble, not least because speculative positioning in both the US dollar and a number of linked asset classes has now reached extreme levels."
Join our new commenting forum
Join thought-provoking conversations, follow other Independent readers and see their replies