Elizabeth Holmes trial: How did her biotech start-up Theranos come crashing down to Earth?
Scandal-hit blood testing business dissolved after 'revolutionary' technology found faulty, leaving founders facing criminal charges and up to 20 years in jail
Joe Sommerlad
Thursday 09 September 2021 12:25 Comments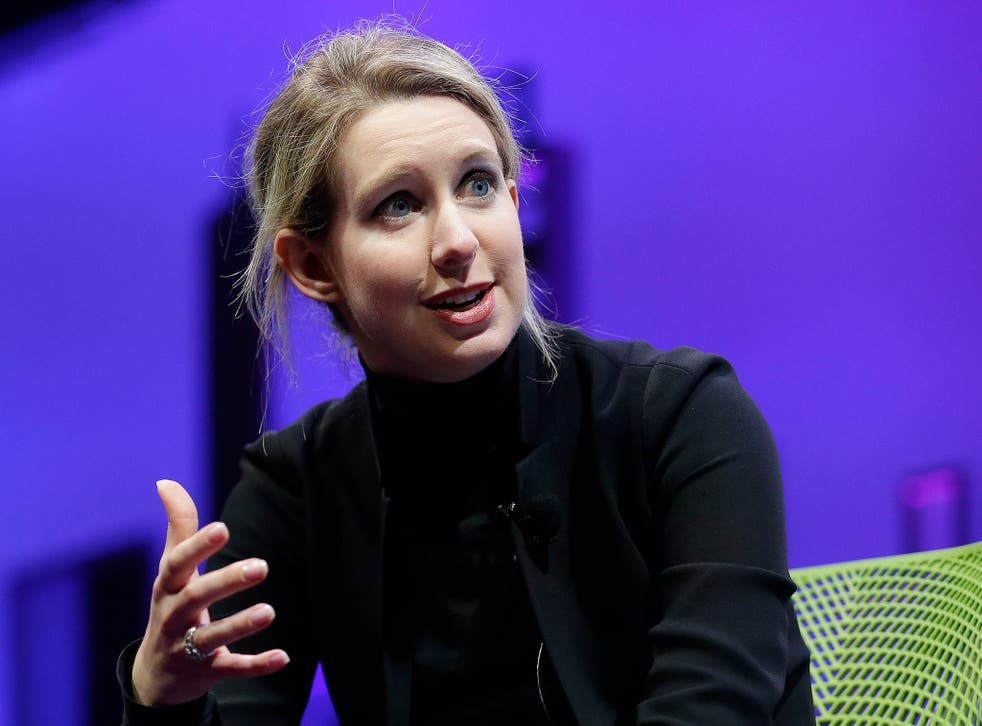 Elizabeth Holmes, the founder of failed US biotech start-up Theranos, is currently on trial in San Jose, California, facing fraud charges, with prosecutors accusing the executive of "lying and cheating" her way to fame.
"Failure is not a crime. Trying your hardest and coming up short is not a crime," her defence lawyer, Lance Wade, said in his opening statement. "In the end, Theranos failed and Ms Holmes walked away with nothing."
The business, centered around "revolutionary" fingerprick blood-testing technology that turned out not to be entirely sound, was once valued at $9bn (£7bn) before a spectacular fall from grace saw it dissolved in September 2018.
In an email to investors at the time, CEO David Taylor said the troubled company would fold as part of its agreement with Fortress Investment Group, which provided it with a last-minute loan in late 2017 to save it from bankruptcy on the condition that it had the legal right to foreclose and take ownership of its assets should Theranos's balance fall below an agreed amount.
That scenario duly came to pass and Theranos was forced to return all remaining cash to its creditors, completing the collapse of what had been one of Silicon Valley's brightest prospects.
The writing has been on the wall for the company since founder Holmes and chief operating officer Ramesh "Sunny" Balwani were charged by Department of Justice prosecutors in June 2018 for two counts of conspiracy to commit wire fraud and nine counts of wire fraud.
If Holmes and Balwani are now convicted, they face a maximum of 20 years in prison and a fine of $250,000 (£195,000) per count.
The pair were previously accused by the Securities and Exchange Commission (SEC) of deceiving investors as part of a "elaborate, years-long fraud" operation, following an investigation into claims Theranos had misrepresented the capabilities of its blood-testing equipment, which proposed to do away with the hypodermic needle. Holmes settled with the SEC at great personal cost.
She was just 19 and a student at Stanford University when she conceived the idea for what would become the firm's Edison "fingerprick" technology, a wearable patch that, she hoped, could analyse a patient's blood from just a few drops, removing the need for a painful piercing of the skin, a traumatic phobia for many.
Founded in 2004, the company quickly attracted high-profile investment from the likes of Rupert Murdoch, Carlos Slim, Larry Ellison, Robert Kraft, Henry Kissinger, George Schultz and future Donald Trump administration education and defence secretaries Betsy DeVos and Jim Mattis.
At its height, Theranos was valued at $9bn, according to The Financial Times, employing more than 800 people and convincing the pharmaceutical chain Walgreens to roll out "wellness centres", in-store clinics demonstrating its product, across the country.
Much of the hype surrounding the company was due to the star power of Holmes, who wore a black polar neck jumper like her tech idol, Steve Jobs, and was profiled by the country's major business journals.
As US vice president in 2015, Joe Biden visited one of its facilities in Newark, California, and hailed what he saw as "the laboratory of the future".
But the company's fortunes began to turn in October of that year, when John Carryrou of The Wall Street Journal wrote an article claiming Theranos had been forced to use conventional blood testing methods in its research because its own Edison technology was providing erratic and inconsistent results.
Carryrou, allowed to pursue the story despite his newspaper being owned by Murdoch, discovered that the company's apparently innovative tech was nowhere near ready for use and had been rushed into development to meet the expectations of its influential investors. The equipment Biden had been shown was not actually operational.
In August 2016, a Theranos request for emergency clearance on behalf of its product for use against the Zika virus was withdrawn after it failed to pass a federal inspection.
In November 2016, Carryrou conducted an interview with company whistleblower Tyler Schultz - grandson of George Schultz, board member and former US secretary of state – in which the employee alleged the company simply cast aside inconvenient Edison test results, giving the product an accuracy rating closer to 65 per cent when it had claimed 95 per cent.
Health news in pictures

Show all 40
Carryou's book about the scandal, Bad Blood: Secrets and Lies in a Silicon Valley Startup (2018), details other behind-the-scenes disasters, from samples being refrigerated at incorrect temperatures at Theranos plants in California and Arizona to patients being placed in "immediate jeopardy" as a result of false readings.
He outlines the company's obsessive culture of secrecy, in which anyone who questioned its veracity, quality control or ethics was dismissed, and the cultish manner in which Holmes operated as leader, threatening anyone investigating Theranos with lawsuits.
"Holmes and her company overpromised and then cut corners when they couldn't deliver," the journalist concludes.
Among the most tragic aspects of the affair was the case of Ian Gibbons, the company's chief scientist, who attempted to take his own life in May 2013 after receiving a subpoena requiring him to testify as to the technology's workability, a move Theranos lawyer's discouraged. He subsequently died in hospital, his widow contacted only to ask for the return of confidential documents.
The Theranos story has since been retold through Alex Gibney's HBO documentary The Inventor: Out For Blood in Silicon Valley (2019) and a biopic of Holmes starring Jennifer Lawrence from director Adam McKay is reportedly in development.
Register for free to continue reading
Registration is a free and easy way to support our truly independent journalism
By registering, you will also enjoy limited access to Premium articles, exclusive newsletters, commenting, and virtual events with our leading journalists
Already have an account? sign in
Join our new commenting forum
Join thought-provoking conversations, follow other Independent readers and see their replies