European stock rally extends after Emmanuel Macron's French election round win
On Monday, the euro hit a five-month high and some bank stocks in France surged by as much as 10 per cent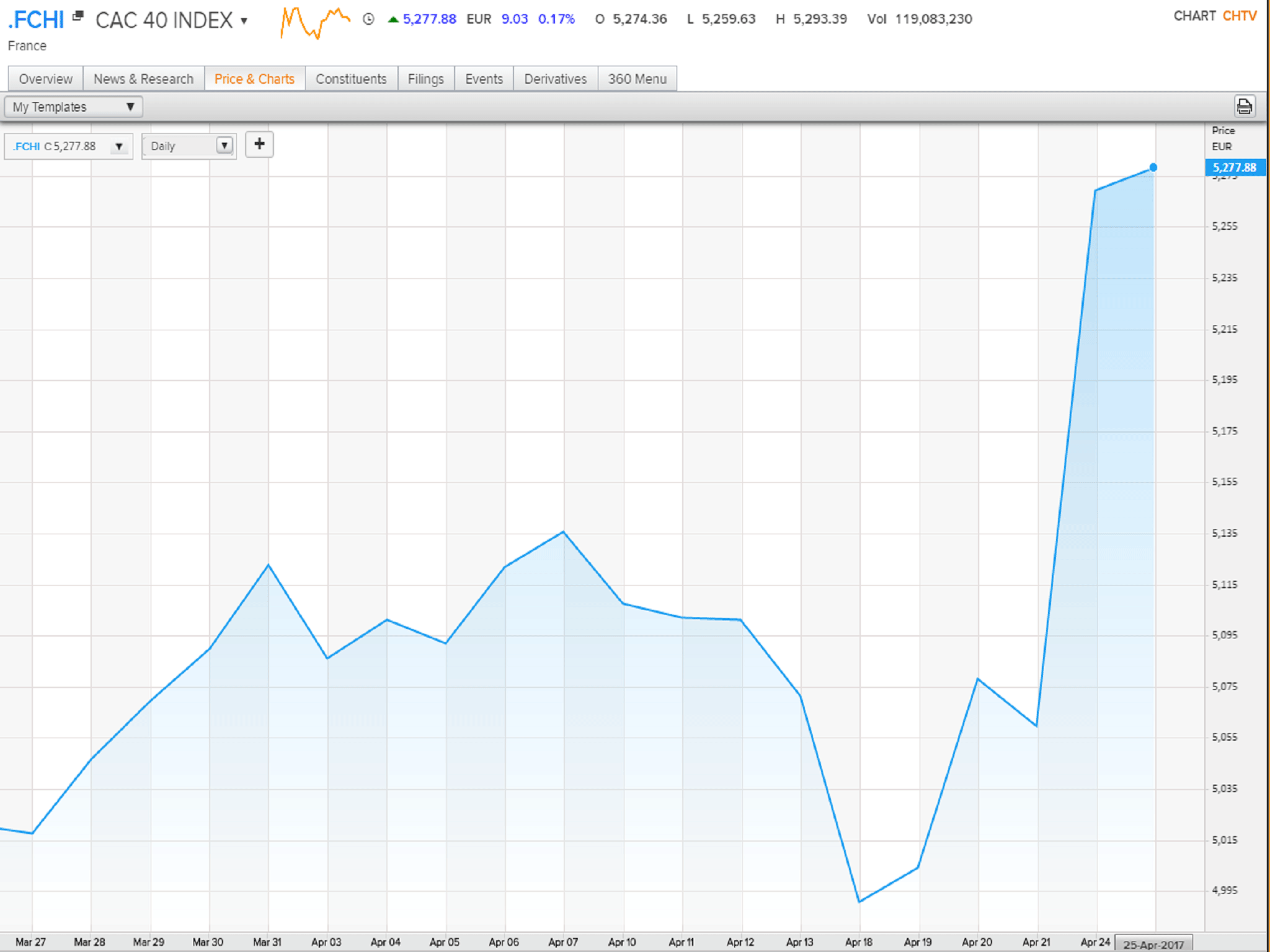 Global shares continued to charge higher on Tuesday, with stocks across Europe spurred for a second day by centrist candidate Emmanuel Macron on Sunday winning the first round of France's deeply divisive presidential election.
Paris' benchmark CAC index ended the session 0.2 per cent higher, helping the broader Stoxx Europe 600 index of companies across the whole region to a 0.3 per cent gain.
London's FTSE 100 added about 0.2 per cent and Germany's DAX finished up around 0.2 per cent.
"Investors have justifiably breathed a sigh of relief," said Supriya Menon, a multi-asset strategist at Pictet Asset Management. "Sunday's first-round vote helps remove the immediate risks to Europe's political and financial stability," she added.
In the near to medium term, she said that the French vote should "strengthen the case to buy European stocks," especially in the light of fundamentals improving "markedly" over the last few months.
On Monday, the euro hit a five-month high and some bank stocks in France surged by as much as 10 per cent. Shares in Asia rallied too.
Late Tuesday in London the euro was up an additional 0.6 per cent against the dollar at around $1.093.
Richard Turnill, global chief investment strategist at BlackRock said that the outcome "materially reduces perceived European political risk" while Invesco Perpetual's Head of European Equities, Jeff Taylor, said that markets could "forget a major assault on the Euro project".
"The narrowness of the result in Sunday's election result is not what matters from here," Mr Taylor said.
"The French start over again with the second round vote and there is every reason to believe that margin of victory for Macron will be far larger than a cursory glance at the first round results might lead one to assume."
In the US on Tuesday, stocks also rose, fuelled by expectations of President Donald Trump announcing corporate tax cuts as early as Wednesday.
The Nasdaq Composite index cracked the 6,000 mark for the first time ever.
Since coming into office Mr Trump has repeatedly vowed to oversee the biggest "tax reform" since President Ronald Reagan's in 1986.
But so far he has failed to introduce a major bill to the Congress on any subject, or win passage of someone else's that he supports.
According to Reuters, some analysts have said that an announcement expected on Wednesday may consist of a proposal to cut the corporate rate to 15 per cent from 35 per cent, cap the individual tax rate at 33 per cent, repeal the estate and alternative minimum taxes and cut taxes for the middle class.
Join our new commenting forum
Join thought-provoking conversations, follow other Independent readers and see their replies