German constitutional judges rule European Central Bank sovereign bond buying programme partially illegal
The Bundesbank must stop buying government bonds under the European Central Bank's stimulus scheme within the next three months, unless the ECB can prove those purchases are needed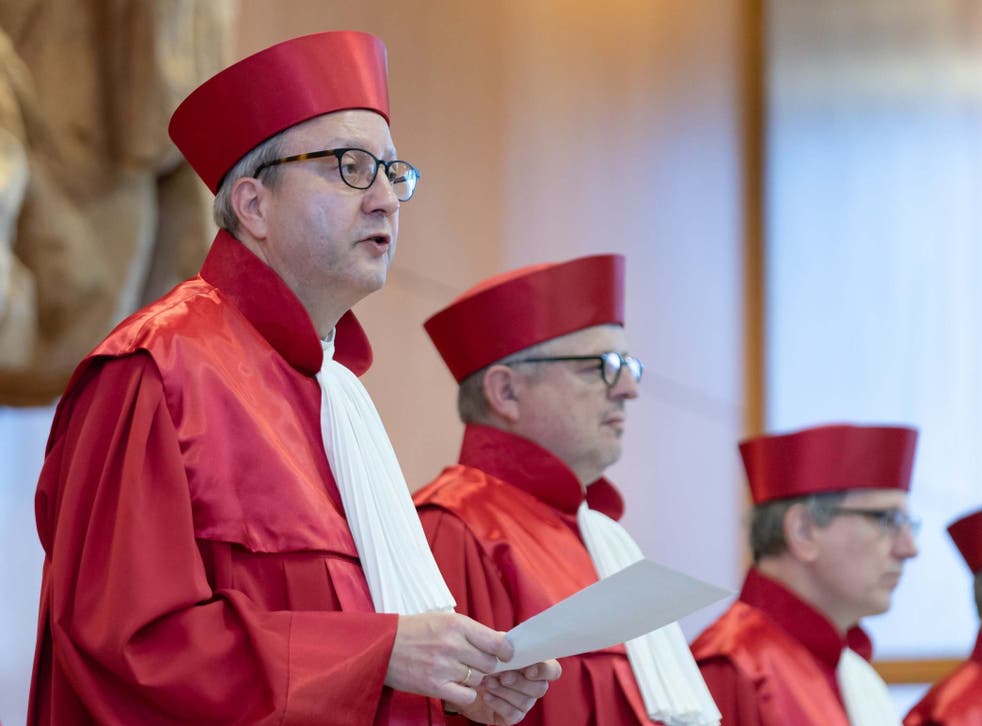 Germany's constitutional court has partially upheld a complaint that the European Central Bank's long-running sovereign bond purchasing programme, which has stabilised the eurozone in recent years, is illegal.
A group of plaintiffs had argued that the ECB's Public Sector Purchase Programme (PSPP) constituted direct financing of governments by the monetary authority, something the ECB is legally prohibited from doing.
The judges at Germany's constitutional court in Karlsruhe said on Tuesday that they did not find proof of direct sovereign financing by the ECB.
Yet they did rule – against expectations – that the German government had failed to adequately scrutinise the objectives and mechanisms of the ECB's scheme.
"The Federal Government and the German Bundestag violated the complainants' rights... by failing to take steps challenging that the ECB in its decisions on the adoption and implementation of the PSPP. Neither assessed nor substantiated that the measures provided for in these decisions satisfy the principle of proportionality," the court said.
In response, they judges said that Germany's own central bank, which constitutes part of the ECB network, must stop buying government bonds under the programme within the next three months, unless the ECB can prove those purchases are needed.
"The Bundesbank may thus no longer participate in the implementation and execution of the ECB decisions at issue, unless the ECB Governing Council adopts a new decision that demonstrates...the [measures] are not disproportionate to the economic and fiscal policy effects," the judges said.
It added that, unless this happens, the German central bank must sell back the bonds already acquired, though based on a long-term strategy co-ordinated with the rest of the eurozone.
However, the German judges also stressed that their decision did not apply to the ECB's latest €750bn bond buying scheme designed to combat the economic impact of the Covid-19 crisis.
The central decision was a surprise to analysts and direcrtly conflicts with a ruling by the EU's own Court of Justice in December 2018 that the PSPP was fully justified in law as a mechanism for delivering stable inflation in the currency bloc.
Some €2.2 trillion of eurozone sovereign debt has been acquired under the programme, also known as Quantitative Easing, since it was launched in 2015.
The programme has helped to keep down the market borrowing costs of vulnerable member states such as Italy and Greece.
It was also designed to prevent the eurozone falling into deflation.
In the wake of the ruling on Tuesday the euro dipped against the US dollar, trading down 0.56 per cent at $1.0845.
"These are fighting words from the German court, and it ends with an ultimatum and a threat to the ECB, not to mention German politicians," said Claus Vistesen of the consultancy Pantheon.
"What a big bang!" said Carsten Brzeski of the Dutch bank ING.
"An optimistic interpretation could be this is lots of barking without biting and that everything is fine as long as the ECB demonstrates that it has thought through the economic consequences of its decisions. But a pessimistic interpretation could be no amount of additional ECB analysis will convince German judges and could therefore spell the end of [bond purchases]. Today's decision could become a real problem for the ECB in the next phase of the crisis when the recovery starts."
Join our new commenting forum
Join thought-provoking conversations, follow other Independent readers and see their replies