Eurozone: EU economies grew at fastest rate in a decade in 2017, latest figures show
GDP of currency area expanded by 2.5 per cent in calendar year, signalling most rapid rate of growth since a 3.4 per cent expansion in 2007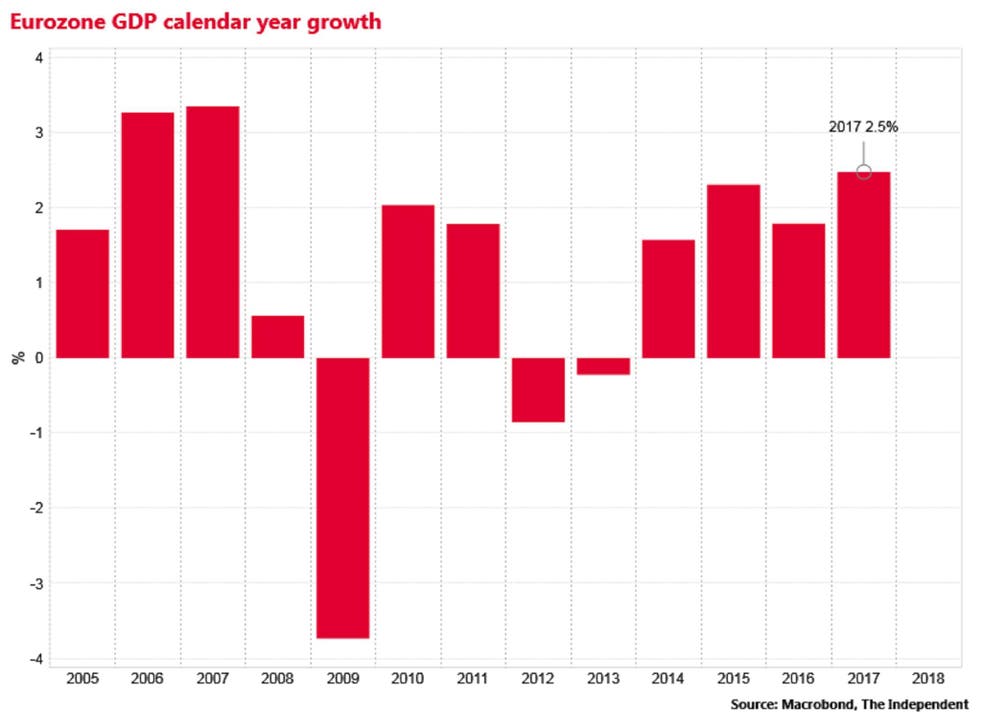 The eurozone grew at its fastest rate in a decade in 2017, according to the latest official estimate.
Eurostat said on Tuesday that the GDP of the single currency area expanded by 2.5 per cent in the calendar year, the most rapid rate of growth since a 3.4 per cent expansion in 2007, the year before the global financial crisis broke.
The eurozone is in the midst of a broad cyclical expansion, after years of economic stagnation and rolling crises, fuelled by recovering confidence and monetary stimulus from the European Central Bank.
It has also been buoyed by a resurgent global economy.
"The eurozone over the last decade has seen a lot of uncertainty with the recession hitting the bloc and the Greek debt crisis. However, with strong GDP...and other economic indicator figures the eurozone has put all that behind them and is looking stronger and more stable than ever, despite Brexit and the ongoing uncertainty surrounding it," said Balraj Sroya of Foenix Partners.
Fastest since 2007
The UK, by contrast, is estimated to have grown by 1.8 per cent in 2017, down from 2016's 1.9 per cent rate and the weakest expansion since 2012, mainly reflecting the impact of higher inflation in the wake of the 2016 Brexit vote and weaker investment from companies due to uncertainty about future trade arrangements.
Eurostat estimated the quarterly growth rate for the 19 member currency bloc was 0.6 per cent in the final quarter of 2017, slightly down from the 0.7 per cent rate in the second and third quarters.
The Office for National Statistics last week put the UK's quarterly growth rate for the final three months of the year at 0.5 per cent, ahead of City analysts' expectations of 0.4 per cent growth.
However, the divergence in the year-on-year growth rates is stark, with the eurozone GDP up by 2.7 per cent in the fourth quarter and the UK showing growth of just 1.5 per cent by this measure.
Last week, the International Monetary Fund downgraded its outlook for UK growth for 2019, the year of Brexit, from 1.6 per cent to 1.5 per cent.
Meanwhile, the fund raised the eurozone's outlook in 2018 from 1.9 per cent to 2.2 per cent.
And for 2019 it upgraded the bloc's outlook from 1.7 per cent to 2 per cent.
Register for free to continue reading
Registration is a free and easy way to support our truly independent journalism
By registering, you will also enjoy limited access to Premium articles, exclusive newsletters, commenting, and virtual events with our leading journalists
Already have an account? sign in
Register for free to continue reading
Registration is a free and easy way to support our truly independent journalism
By registering, you will also enjoy limited access to Premium articles, exclusive newsletters, commenting, and virtual events with our leading journalists
Already have an account? sign in
Join our new commenting forum
Join thought-provoking conversations, follow other Independent readers and see their replies