Fast-track sackings? Network Rail under Coalition scrutiny
Exclusive: Move comes after its chief executive made a high-profile speech last month which was at times scathing of his own organisation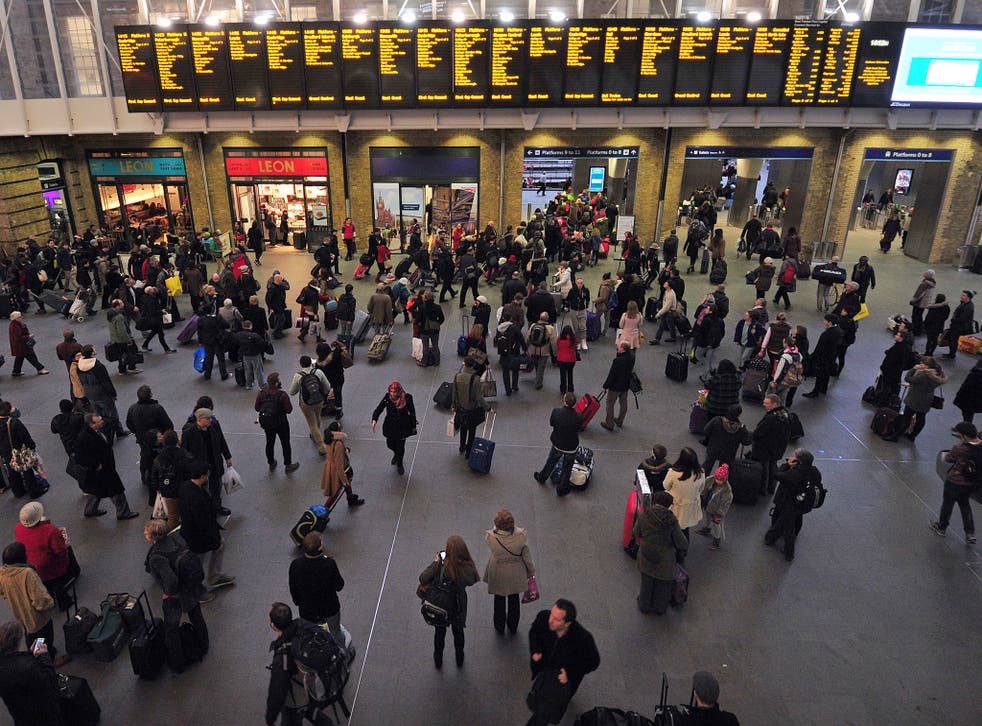 Richard Parry-Jones' position as chairman of Network Rail is believed to be under government scrutiny following a disastrous Christmas for the state-backed operator of Britain's most important track and stations.
The board's latest minutes, from January, show that the powerful Shareholder Executive, which oversees the Government's interests in businesses backed by the state, was undertaking a "high-level board effectiveness review". Engineering overruns at King's Cross and Paddington stations in London saw 115,000 passengers caught up in "widespread confusion, frustration, disruption, discomfort and anxiety" on the weekend after Christmas, according to regulators.
The board review is understood to have intensified when Mark Carne, the former Royal Dutch Shell vice-president who is chief executive at Network Rail, made a high-profile speech last month which was at times scathing of his own organisation.
Among the many critical comments made by Mr Carne in the George Bradshaw Address, he conceded that Network Rail was a company "people love to hate", that "sometimes we let passengers down", and that it needed to "regain the trust of passengers".
Lord Adonis, the former Labour transport secretary, described the speech as a "systematic hatchet job" on Network Rail while a senior rail industry insider said Department for Transport (DfT) officials were "miffed" at the opprobrium Mr Carne had levelled at his own company.
It is understood that they are pinning the blame on Mr Parry-Jones, a former Ford executive who became Network Rail's chairman three years ago. They believe he should be reining in Mr Carne, who himself is being given what the insider described as "the benefit of the doubt", as he is only a year into the job and has worked hard to improve the organisation's safety culture.
"They're looking at the composition of the Network Rail board," the source added. "There might be some changes taking place. They don't think the chairman has got the chief executive under control."
Disturbingly for Network Rail, which maintains and looks after 20,000 miles of track, 32,000 bridges and tunnels, and 18 major stations, the head of the Shareholder Executive, Mark Russell, is looking at forcing a "special director" on to the board. The Transport Secretary – currently the Conservative MP Patrick McLoughlin – has the right to appoint a special director who can, according to official documents, "communicate" his or her views and the DfT's "wider strategic interests".
"This implies the Government is not very happy with corporate governance at Network Rail," a senior rail source said. "They've always had that right, but they've never had to use it."
The Network Rail board has acknowledged "the heightened political sensitivity" surrounding it, according to the minutes, and agreed that "additional oversight" was needed in three areas.
Network Rail has set up sub-committees: one for major projects delivery, which the Shareholder Executive has been invited to attend; one for the business plan, which will look at strategic and operational challenges and be chaired by Mr Parry-Jones; and one for critical infrastructure schemes, which will review plans for major engineering work on weekends and Bank Holidays.
The company revealed this week that 14,000 people will be employed on more than £100m worth of work over the Easter weekend, including improvements at Liverpool Lime Street station and the construction of freight lines in Reading. Mr Carne issued a pre-emptive apology to passengers whose journeys will be disrupted, but insisted that Easter was a good time to do the work.
A DfT spokesman said Mr McLoughlin remained "confident" in Mr Parry-Jones and Mr Carne.
He added: "A review of Network Rail's board, including the option of appointing a special director, has been conducted by the Shareholder Executive. It is for the Secretary of State to consider whether any steps should be taken in light of its findings."
Register for free to continue reading
Registration is a free and easy way to support our truly independent journalism
By registering, you will also enjoy limited access to Premium articles, exclusive newsletters, commenting, and virtual events with our leading journalists
Already have an account? sign in
Register for free to continue reading
Registration is a free and easy way to support our truly independent journalism
By registering, you will also enjoy limited access to Premium articles, exclusive newsletters, commenting, and virtual events with our leading journalists
Already have an account? sign in
Join our new commenting forum
Join thought-provoking conversations, follow other Independent readers and see their replies