Floods, economic growth, Google: Business news in brief, Tuesday 6 December
UK insurance body launches flood insurance for businesses; slow growth could be new normal for US; Google deal puts Africa on cusp of first smartphone plant
Ben Chapman
Tuesday 06 December 2016 13:30 Comments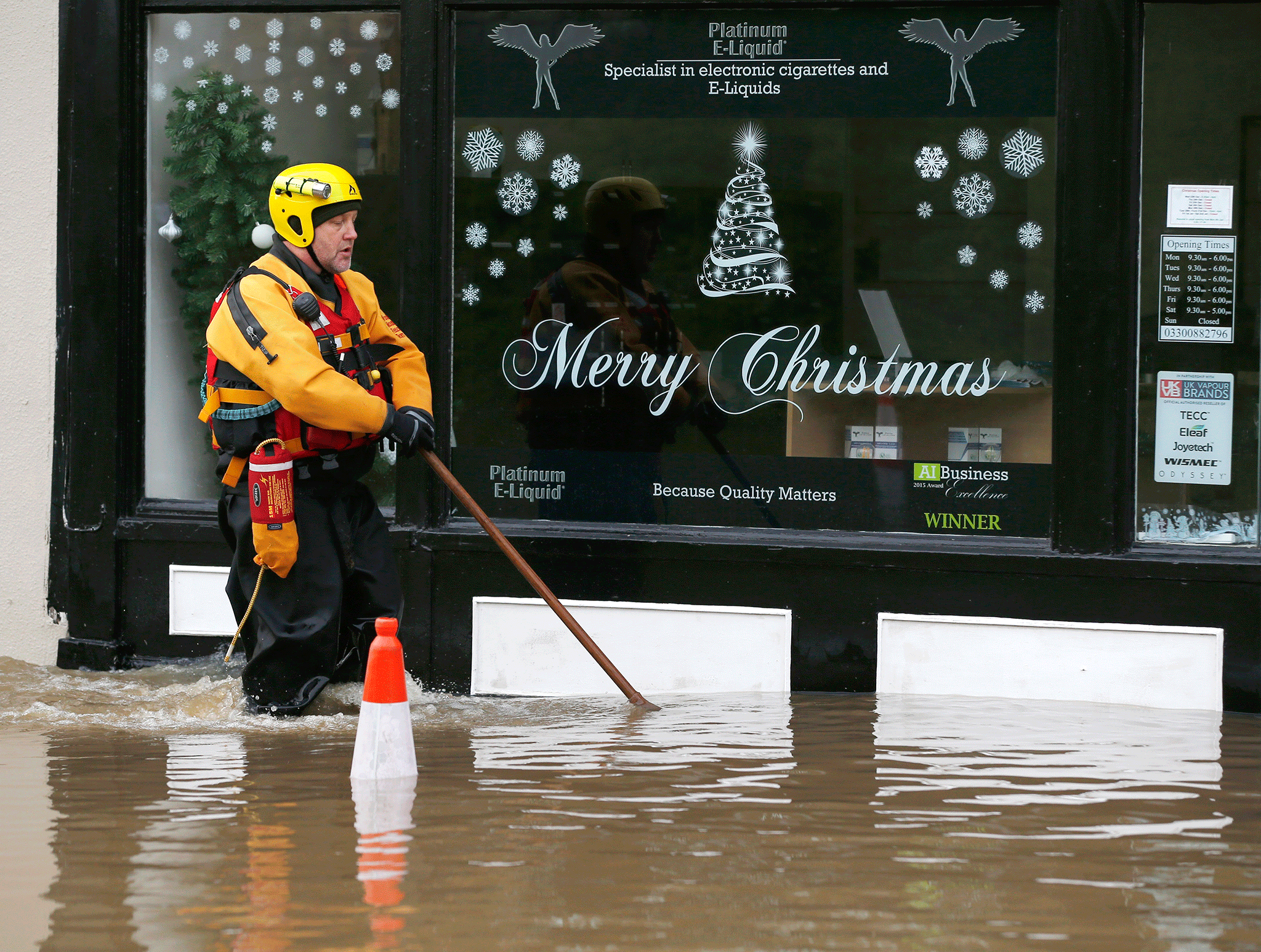 UK insurance body launches flood insurance for businesses
The British Insurance Brokers' Association (BIBA) said it had launched an insurance scheme that provided flood cover for businesses, after the Government backed a similar scheme for homeowners earlier this year.
BIBA said the scheme, available only to its members and backed by Lloyd's underwriting, will provide insurance for commercial sites and rental properties in areas at risk from flooding. The scheme was developed with risk information provider Landmark, broker Guy Carpenter and Randall & Quilter Investment Holdings.
BIBA started working on the insurance cover following criticism that the Government-backed Flood Re reinsurance scheme focussed only on household insurance.
Flood damage in Britain from winter storms last year resulted in claims from more than 15,000 homes and businesses and could lead to pay-outs of £1.3bn, the Association of British Insurers estimated in May.
PA
Get used to it: US Economists see 'new normal' of slow growth
Americans should get used to a "new normal" of slow economic growth, business economists say. The median estimate from economists surveyed by the National Association for Business Economics calls for the American economy to grow 2.2 per cent in 2017, up from a forecast 1.6 per cent this year and unchanged from the previous survey in September.
The improved number is still lacklustre by historical standards. US economic growth averaged 3.1 per cent a year from 1948 to 2015, according to the Congressional Research Service. But the business economists say Americans need to get used to slow growth: 80 per cent of those surveyed believe the potential growth rate of the American economy will remain at 2.5 per cent or lower over the next five years.
The economy has been hobbled by an aging work force and weak gains in productivity. Still, the economists see the risk of a recession as remote; 90 per cent expect the current economic expansion to continue until at least 2018. They expect employers to add an average 168,000 jobs a month in 2017, down from 180,000 a month so far this year.
AP
Google deal puts Africa on cusp of first smartphone plant
A Johannesburg startup is set to become the first company ever to manufacture smartphones in Africa, taking advantage of low costs and growing local demand to build handsets, tablets and other devices based on Google's Android system.
Onyx Connect, a privately backed company that's raised 150m rand (£8.5m), will begin production in the first quarter, according to Andre Van der Merwe, its sales director. The company is licensed to load Google software like Android and Chrome onto devices sold under its own brand or products it makes for others.
"We are talking to companies to manufacture handsets, laptops and possibly Android TV boxes," Van der Merwe said in an interview. Those talks include Google itself and Johannesburg-based Vodacom, the South African unit of Vodafone, he said.
Vodacom would "welcome the opportunity" to offer high-quality devices made in South Africa, Jorge Mendes, a Vodacom consumer sales and distribution executive, said in an email, declining to comment on Onyx specifically.
Bloomberg
German business calls on Italy to modernise after referendum result
A German business group says it's worried about the potential risks to the economy and Europe's currency union posed by the outcome of Italy's constitutional referendum. The head of the Federation of German Industries, or BDI, says that "Italy must not put off resolving its pressing problems." Ulrich Grillo said that the Italian state and economy need to be modernised to create jobs.
Grillo said that German industry is worried about the consequences of the referendum, which prompted Premier Matteo Renzi to announce his resignation. He said that "the risks of a new political instability for economic development, the financial markets and the currency union are increasing further."
PA
UK new car sales rose in November, on course for record year
British new car registrations rose by 2.9 per cent year-on-year in November, an industry body said on Monday, putting the sector on course for record sales in 2016, although demand from retail customers fell for the eighth month in a row.
Strong demand from businesses for fleet vehicles compensated for a fall from individual buyers, lifting overall sales to 184,101 vehicles last month, according to the Society of Motor Manufacturers and Traders. It is the first time the industry has sold more than 2.5m vehicles in the first eleven months of the year, putting it on course to beat the 2.63m sold last year, despite uncertainty created by Brexit.
Reuters
Cambian offloads adult services in £377m deal with Cygnet
Mental healthcare operator Cambian is to offload its adult services business for £377m to help pay down its debt. The deal, which will see the division snapped up by rival Cygnet, will see Cambian's shareholders snaffle £40m with the remainder going towards paying off its £293m debt pile. It will leave a slimmed down Cambian with a focus on children's services.
Boss Saleem Asaria said: "We recently took the strategic decision to develop our Children's Services Business around a differentiated integrated recovery model incorporating care, education and therapy for children with the highest needs. "The proposed disposal will enable us to focus fully on the development of the business and realise its potential as one of the UK's leading specialist providers."
Cambian believes there is significant opportunity for organic growth and bolt-on acquisitions in its children's arm. The group added that current trading is in line with expectations. Shares were up 7.37 per cent to 140.3 per cent in morning trading.
PA
Monsanto says next breakthrough for farmers is a friendly fungus
Monsanto, a lightning rod for critics of modern agricultural techniques, is introducing a new feature next year for its genetically modified corn seeds that it says will not only boost yields but cut down on fertilizer use and carbon-dioxide emissions.The seed giant, together with Danish company Novozymes, has developed a coating for seeds made from a friendly fungus that helps corn plants in their earliest growth stages.
St. Louis-based Monsanto, which earlier this year agreed to be acquired by Germany's Bayer, is hailing the product as a breakthrough for microbial technology, in which scientists look to fungi and other organisms such as bacteria to help farmers. Corn crops treated with the new Monsanto-Novozymes microbial – officially known as Acceleron B-300 SAT – had better yields than those without the treatment, the companies said in a statement Monday. The product stays on seeds longer and is compatible with other chemical treatments, unlike previous versions. It could be applied to more than 90m acres (36m hectares) by 2025.
Bloomberg
Register for free to continue reading
Registration is a free and easy way to support our truly independent journalism
By registering, you will also enjoy limited access to Premium articles, exclusive newsletters, commenting, and virtual events with our leading journalists
Already have an account? sign in
Join our new commenting forum
Join thought-provoking conversations, follow other Independent readers and see their replies