Fox News loses more advertisers on sexual harassment claims against Bill O'Reilly
Mr O'Reilly is Fox News' top revenue producer, according to research firm Kantar Media, bringing in over $178m in ad dollars in 2015 and $118.6m in the first nine months of 2016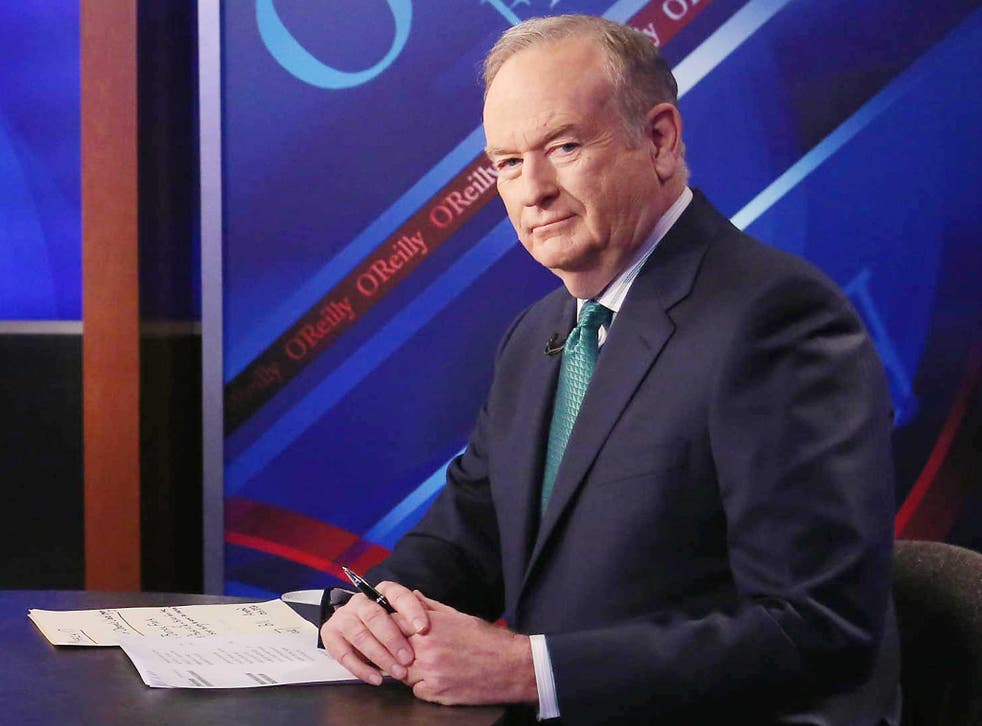 Bill O'Reilly's top-rated Fox News show may be starting to feel a financial sting after allegations that he sexually harassed several women.
A dozen major advertisers, ranging from automakers Hyundai and BMW, to financial firm T Rowe Price, insurer Allstate and drugmaker GlaxoSmithKline, have pulled their ads from "The O'Reilly Factor."
The moves come after a weekend report in The New York Times that Mr O'Reilly and his employer paid five women $13m to settle harassment or other allegations of inappropriate conduct by Fox's star.
Mr O'Reilly is Fox News' top revenue producer, according to research firm Kantar Media, bringing in over $178m in ad dollars in 2015 and $118.6m in the first nine months of 2016.
Fox News itself makes up one-fifth of parent company 21st Century Fox's profit, according to estimates from Anthony DiClemete, a media analyst with the Nomura investment bank.
The advertiser boycotts, however, are likely manageable for Fox, said Pivotal Research Group analyst Brian Wieser in a note Tuesday.
Mr Wieser noted some advertisers had already decided to stay away following the sexual harassment scandals of the network's departed head, Roger Ailes, and newly concerned companies will wind up on other Fox News programs. Even if Mr O'Reilly were forced to leave the network if the scandal broadened, the channel's brand is bigger than its hosts, he said.
The other companies pulling ads Tuesday were automaker Mitsubishi, personal finance site Credit Karma, drugmaker Sanofi, pet food company Ainsworth, men's shirt seller Untuckit, and online marketing firm Constant Contact. They joined Mercedes Benz, which said Monday it was backing away from Mr O'Reilly's show.
Hyundai said it currently has no ads on "The O'Reilly Factor," but it pulled spots on future episodes. The automaker said it wants to partner with companies and programming that share its values of inclusion and diversity.
BMW said it suspended advertising on the show due to the recent allegations, as did T. Rowe Price, Sanofi, Ainsworth and Constant Contact. Allstate said support for women is a company value and it had also suspended advertising on the show.
Fox News signalled that it was attempting to contain the controversy and working to restore relations with the network's advertisers, noting that companies had reallocated their spending from Mr O'Reilly's program to other network shows.
"We value our partners and are working with them to address their current concerns about The O'Reilly Factor," Paul Rittenberg, the executive vice president for advertising sales at Fox News, said in a statement. "At this time, the ad buys of those clients have been re-expressed into other FNC programs."
If more advertisers leave the program, Fox News and Twenty-First Century Fox may have to respond. Mr O'Reilly, 67, is the network's most visible star, leading a prime time programming slate that draws industry-leading ratings with its conservative commentary.
"The O'Reilly Factor," which draws almost 4 million viewers a night, generated more than $446m in advertising revenue from 2014 through 2016, according to the research firm Kantar Media.
A spokesman for Mr O'Reilly, Mark Fabiani, declined to comment Tuesday. Mr O'Reilly has said that the accusations against him are without merit and that his fame has made him a target "for those who would harm me and my employer, the Fox News Channel." He did not address the issue on either his Monday night or Tuesday night broadcasts.
Twenty-first Century Fox has extended O'Reilly's contract, which had been set to expire this year, according to people familiar with the deal. When the company agreed to the extension, it was aware of multiple settlements that had been reached with women who had complained about his behaviour, and it structured the deal to include more leverage over his behaviour, according to people familiar with the matter. Mr O'Reilly earns about $18m a year.
On Tuesday, multiple advocacy groups started campaigns targeting advertisers of "The O'Reilly Factor." The Women's March group posted a message on Twitter, encouraging people to use the term "#DropOReilly" to tell advertisers to pull their ads from the program and also encouraged people to share their own experiences with sexual harassment.
Biggest business scandals in pictures

Show all 20
GlaxoSmithKline said it had "temporarily put a hold" on ads on Mr O'Reilly's show while it reviews the situation.
A Mercedes-Benz spokesman said Monday night that the company had pulled ads from Mr O'Reilly's show and reassigned them to other Fox News shows. Sanofi and Untuckit have the same plan. BMW said it wasn't sure where it would place its ads instead.
In a statement, Fox News said that advertisers who pulled their ads would be directed to the network's other programs.
AP
Join our new commenting forum
Join thought-provoking conversations, follow other Independent readers and see their replies