Gik blue wine comes to the UK from Spain
The producers suggest pairing the wine with sushi, nachos with guacamole or pasta carbonara with music from James Blake or Alt J in the background
Zlata Rodionova
Wednesday 22 June 2016 16:16 Comments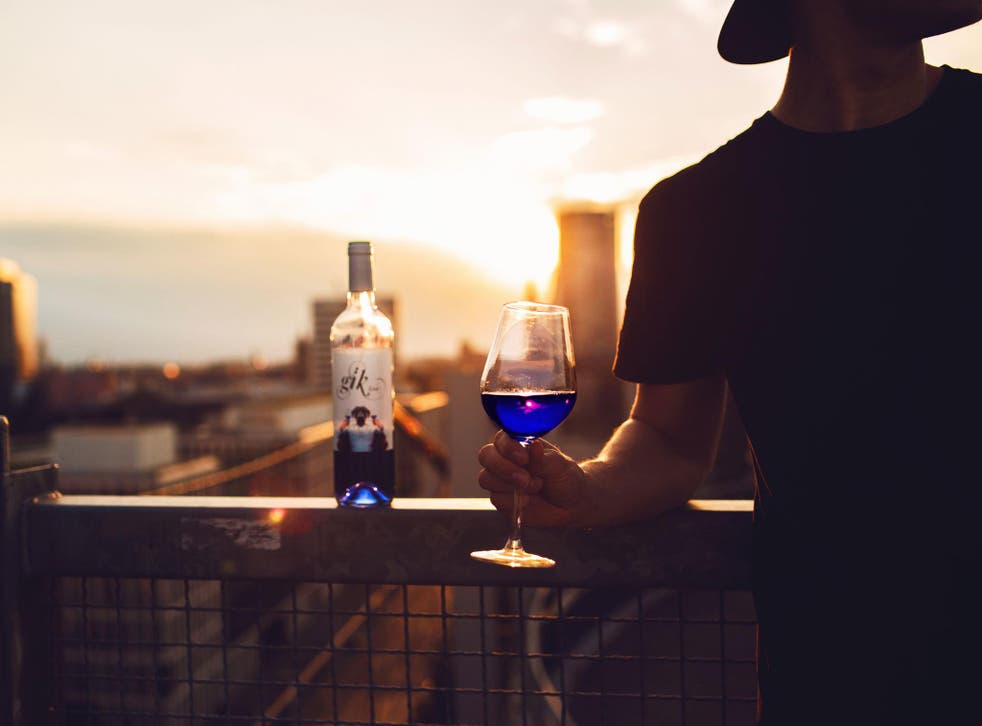 Forget about red, white and rose – a new variety of wine is about to land in UK shops and it's blue.
Six young entrepreneurs set up Spanish firm Gik to revolutionise Spanish wine industry, where wine is deeply attached to tradition.
The drink is made using different varieties of red and white grapes from around Spain, including the wine regions of Castilla la Mancha and Rioja.
Anthocyanin, a pigment from the red grapes' skin, and indigotine, which is derived from plants, give the wine its bluish colouring.
Non-caloric sweeteners are then used to modify the flavour and create a sweet drink with 11.5 per cent alcohol per volume.
Not convinced? The entrepreneurs claim to have already sold around 70,000 bottles in Spain within a year and their blue wine will be available online for UK consumers in the coming months, with each bottle costing £8.
Early clients are equally split between men and women and aged between 25 and 34 years old, according to Gik's online data.
The producers suggest pairing the wine with sushi, nachos with guacamole or pasta carbonara with music from James Blake or Alt J in the background.
Aritz Lopez, co-founder of Gik, said that in Spain new generations are not used to traditional wine, they prefer beers, liquors or cocktails.
"None of us liked traditional wine, so we decided to start a little revolution by creating a sweet, easy to drink and blue wine," Lopez told the Independent.
"We are no winemakers and we don't even have family links in the industry," Lopez said.
Lopez said Gik spent two years working with the University of the Basque Country, which provided them with a laboratory and a team of chemical engineers.
The blue colour has its own meaning and comes from a book called the Blue Ocean Strategy.
"The book says there are two kind of oceans: the red ones, full of sharks (competitors) fighting against each other for a few fishes (clients) and turning the ocean red because of the blood. And it talked about creating blue oceans; oceans where, thanks to creativity and innovation, everyone could be free," Lopez said.
"It sounded like poetry to us, so it could not be any other colour," he added.
Register for free to continue reading
Registration is a free and easy way to support our truly independent journalism
By registering, you will also enjoy limited access to Premium articles, exclusive newsletters, commenting, and virtual events with our leading journalists
Already have an account? sign in
Join our new commenting forum
Join thought-provoking conversations, follow other Independent readers and see their replies