Thanksgiving: As America celebrates with turkey and pumpkin pie, Walmart employees donate food to colleagues who cannot afford a Thanksgiving dinner
The firm's owners are among the richest people alive, an unpalatable fact for its disgruntled staff
Tim Walker
Wednesday 20 November 2013 20:34 Comments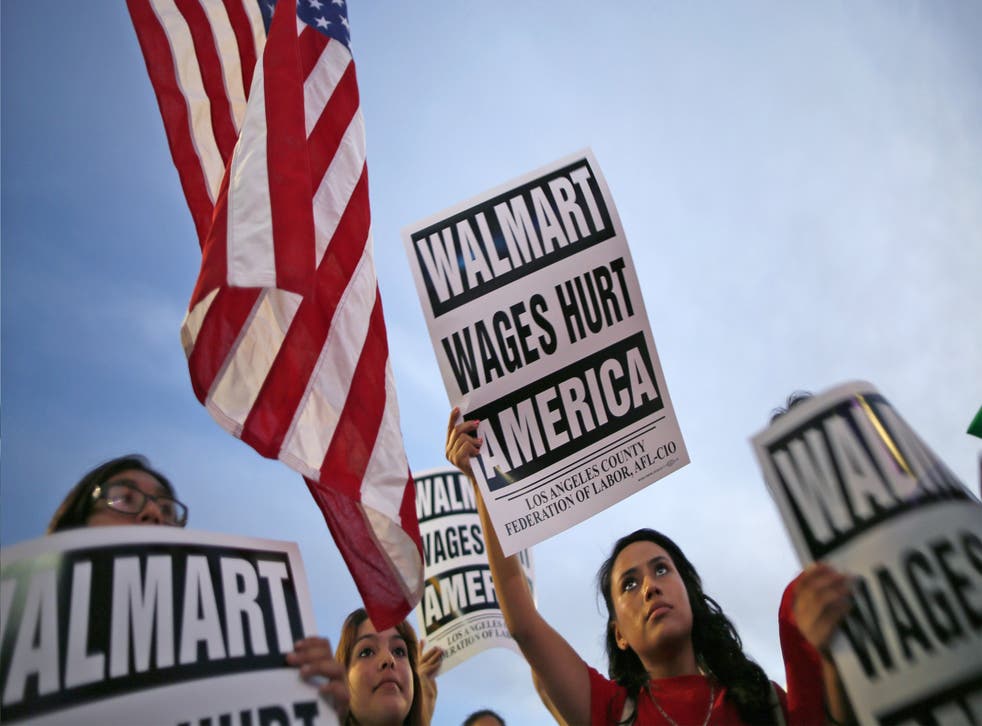 At the new Walmart superstore in the Chinatown district of Los Angeles, a Thanksgiving turkey costs a little over $30 (£19). The shop is kind enough to distribute ready-made holiday shopping lists to its customers, reminding them to buy cornbread mix and cranberry sauce, ground ginger and pumpkin pie. Yet not everyone can afford to stock their cupboards with each provision on the list – least of all Walmart's own employees.
This week a photograph was widely shared online, of an informal appeal by Walmart associates in Canton, Ohio, asking their co-workers to donate food to colleagues without the funds to cook their families a Thanksgiving dinner. Those who do contribute will doubtless buy the supplies at Walmart, thus dropping their meagre wages straight back into the company's coffers. The Arkansas-based retail giant is the world's biggest private sector employer and no other firm so starkly epitomises the staggering income disparity that defines the US economy. With more than $145bn between them, the four members of the Walton family who control the Walmart fortune are each among the 12 richest people on Earth. Their combined wealth is greater than that of the entire bottom 40 per cent of Americans.
The latter group includes 31-year-old Anthony Goytia, who has been stocking shelves on the night shift at a Walmart branch in a Los Angeles suburb for just over a year. Despite working up to 40 hours per week – including 12 on Thanksgiving next Thursday – he claims to make little more than $12,000 a year. He and his wife have a newborn daughter. "I don't have anything planned for Thanksgiving," Goytia said. "I don't have money to buy Christmas presents. I don't know how I'm going to pay next month's rent."
Though the food drive in Ohio was organised by store workers, in an interview with the Cleveland Plain-Dealer Walmart spokesman Kory Lundberg claimed it was "part of the company's culture to rally around associates and take care of them when they face extreme hardships".
Bill Simon, the company's US chief, recently boasted that 475,000 Walmart employees are paid more than $25,000 a year, yet his company employs 1.3 million Americans, which means a further 825,000 are earning less than that.
In Washington DC, Congressional Democrats have called for an increase in the US minimum wage, from $7.25 to $10.10 per hour, and singled out Walmart for its pitifully low pay. The company purports to offer an average hourly wage of $12.78, but that estimate includes managers and excludes part-time employees. Activists say the true figure is around $9 per hour. Walmart has also faced accusations of unsafe working conditions and understaffing.
When the Chinatown branch opened in September it met with fierce opposition from campaigners. Earlier this month, it was the site of a demonstration against the retailer's "poverty wages", which organisers called the largest single act of non-violent civil disobedience in Walmart's history. Goytia spoke at the event, which was attended by around 500 protestors. More than 50 were arrested.
Glenn Arnodo of the Los Angeles County Federation of Labour, was among the organisers. "We intend to keep up the pressure on Walmart and use them as an example of what is profoundly wrong with our economy," he said. "We have the greatest income inequality in the US since the 1920s and the greatest income inequality of any country in the developed world – and Walmart is one of the major causes of that."
Denzel Johnson is one of many Walmart employees who plans to strike in Dallas, Texas this week. Johnson, 49, said that when he joined Walmart two years ago from Albertsons, another US supermarket chain, his hourly wage dropped from more than $12 per hour to just $9. Last year he earned less than $15,000. Like Goytia, the company classifies him as a part-time employee. And like Goytia, he plans to work through Thanksgiving.
"It's a struggle," Johnson said. "The majority of [Walmart] workers have times when we need to borrow money, so if any of us have a little to spare, we pitch in a few dollars to help others buy some food during the course of the week – and then they pay you back the next week."
The strike in Dallas is one of a series of industrial actions planned for the holiday season by OUR Walmart, or "Organisation United for Respect at Walmart", a labour campaign group established two years ago with a view to unionising Walmart workers. Last year it coordinated strikes at 1,000 branches in 46 US states during the Thanksgiving period.
On Monday, the US National Labour Relations Board (NLRB) found that Walmart had unlawfully threatened its employees with reprisals if they chose to strike on "Black Friday" in 2012: the day after Thanksgiving, traditionally one of the busiest shopping days of the year.
Some of those who did strike were unlawfully disciplined, the NLRB said. OUR Walmart claims the company has disciplined more than 80 workers since June and fired 20 who had acted as labour leaders.
And yet, according to a new report by the liberal think-tank Demos, Walmart has the wherewithal to pay its workers significantly better. Last year the company spent $7.6bn buying back its own stock, thus boosting its share price and the Walton fortune. But if a portion of its profits were instead redirected to a 50 per cent pay-rise for employees, then all those working full-time, year-round would earn at least $25,000, just as campaigners have demanded.
The report suggests that if other large retailers followed suit, more than 1.5 million US workers would be lifted out of poverty and their contribution to the economy would create at least 100,000 new jobs.
Walmart regularly responds to such controversy by pointing to the career opportunities it provides. Some 25,000 workers will be promoted within the company in the fourth quarter of 2013 alone. It offers employee discounts, not to mention retirement and healthcare benefits. Yet Goytia and others like him say their pay packets are too small to afford the necessary deductions, so instead he relies on state-funded healthcare.
Los Angeles has more low-wage workers than any other metropolitan area in the US, Arnodo said. "Taxpayers subsidise those jobs: those employees who can't afford healthcare end up going to the public hospital. Walmart makes plenty of money. They could afford decent wages, decent healthcare and benefits for their employees. They just choose not to."
'The Independent' contacted Walmart for comment but received no response
Register for free to continue reading
Registration is a free and easy way to support our truly independent journalism
By registering, you will also enjoy limited access to Premium articles, exclusive newsletters, commenting, and virtual events with our leading journalists
Already have an account? sign in
Join our new commenting forum
Join thought-provoking conversations, follow other Independent readers and see their replies