Google deal: HMRC accepts internet giant's UK tax arrangements are legal
Britain's tax authorities concede Google need not pay tax on UK advertising profits, saving firm tens of millions of pounds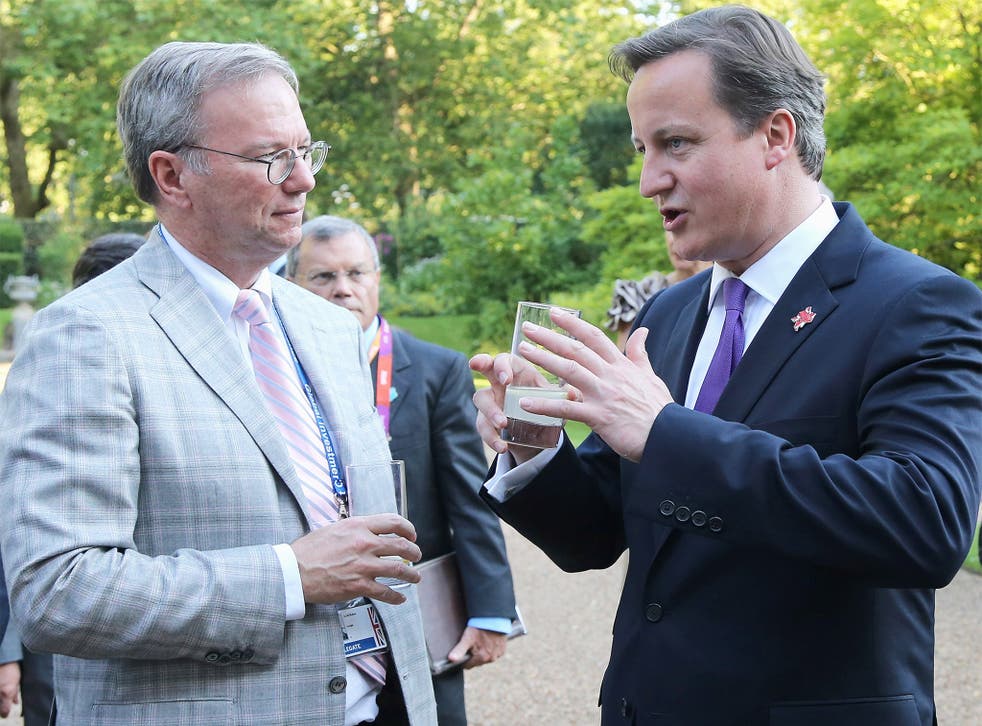 Britain's tax authorities have conceded that Google need not pay tax on profits from advertising sold in this country, The Independent has learnt. As a result the firm will escape paying tens of millions of pounds to the Treasury.
HM Revenue and Customs is understood to accept that Google's complex arrangements to minimise its UK tax bill are legal. That means the firm is liable to hand over only a fraction of the tax it would have to pay had HMRC ruled that it was permanently based in Britain.
The ruling, which has never been publicly disclosed, explains why the American multinational is paying only £130m of additional tax covering the past decade.
The agreement has been widely condemned, with critics claiming that, in effect, Google was paying a 3 per cent rate of tax. Anna Soubry, the business minister, conceded: "It doesn't sound like an awful lot of money; of course it doesn't. It would be silly to say otherwise."
The HMRC decision could also have ramifications for the tax affairs of other multinationals, such as Amazon and Apple, that use similar arrangements to minimise their UK tax bill.
The decision comes after a six-year investigation into Google's tax affairs by HMRC and will pile more pressure on politicians to close legal loopholes that have allowed US tech companies to base themselves in low-tax jurisdictions – even when the majority of their sales are carried out elsewhere.
Leaders clash over Google
In the case of Google, the company limits its reported profits by booking revenues made from advertising sold to UK clients through its international headquarters in Ireland.
All the UK operations are carried out by a separate company that works exclusively for Google in Dublin and is paid a fee. This fee is minimised to ensure that the UK company makes as small a profit as possible. It is only this profit that would be liable for UK corporation tax.
Company sources told The Independent that HMRC had accepted their case that the arrangement was legal and could not be successfully challenged in the courts.
Steve Hilton, formerly David Cameron's director of strategy, said he understood public anger that big companies increasingly appeared to be "above the law".
The Prime Minister also came under fire last night for the close links between Google and his administration. The media mogul Rupert Murdoch tweeted: "Google has cleverly planted dozens of their people in White House, Downing St, other governments. Most brilliant new lobbying effort yet."
In angry clashes in the Commons the Labour leader, Jeremy Corbyn, seized on the regularity of meetings between Google executives and ministers.
He said people filling in their tax returns would wonder: "Why is there one rule for big multinational companies and another for ordinary, small businesses and self-employed workers?"
Mr Cameron retorted: "We're talking about tax that should have been collected under a Labour government, raised by a Conservative government. It's quite right this is done independently by HMRC, but I'm absolutely clear that no government has done more than this one to crack down on tax evasion and aggressive tax avoidance."
The French MEP, Eva Joly, vice-chairwoman of the Special European Parliamentary Committee on Tax Rulings, said the committee would ask the Chancellor, George Osborne, to give evidence.
She described the Google deal as "very bad news for everybody" as it showed Britain was preparing to become "a kind of a tax haven to attract the multinationals".
The frequency of meetings between Google executives and ministers, as well as other links between the company and the Government, has prompted accusations that Mr Cameron is presiding over a cosy relationship with the tech giant.
Asked why ministers, including Mr Cameron, had met Google chiefs so often, his spokeswoman replied: "There are a number of important policy issues where the Prime Minister might be engaging with companies such as Google."
The Government and Google: The connections
Google has had 24 meetings with 18 ministers in the past two years
George Osborne (Chancellor) – January 2014
Francis Maude (Paymaster General) – February 2014
Nick Hurd (Minister for Civil Society) – February 2014
Oliver Letwin (Minister for Government Policy) – April 2014
Francis Maude (Paymaster General) – April 2014
Jo Johnson (Cabinet Office minister) – June 2014
Matt Hancock (Business minister) – July 2014
Nick Boles (Skills minister) – September 2014
Sajid Javid (Culture Secretary) – October 2014
Baroness Neville-Rolfe (Business minister) – October 2014
Matt Hancock (Business Minister) – November 2014
Grant Shapps (Tory chairman) – November 2014
Nick Boles (Skills minister) – December 2014
George Freeman (Business minister) – January 2015
Nick Boles (Skills minister) – January 2015
Penny Mordaunt (Communities minister) – February 2014
Baroness Anelay (Foreign Office) – March 2015
Baroness Shields (Culture minister) – June 2015
Theresa May (Home Secretary) – July 2015
Francis Maude (Trade minister) – July 2015
Grant Shapps (International Development minister) – July 2015
Justin Tomlinson (Work and Pensions minister) – July 2015
Baroness Neville-Rolfe (Business minister) – July 2015
Jeremy Hunt (Health Secretary) – September 2015
Google boss Eric Schmidt is a member of the Prime Minister's Business Advisory Group.
Tim Chatwin was Mr Cameron's head of strategic communications. He joined Google in 2012.
CCHQ press officer Amy Fisher used to work for Google.
In 2013 David and Samantha Cameron went to the wedding of a Naomi Gummer, a senior Google executive.
Register for free to continue reading
Registration is a free and easy way to support our truly independent journalism
By registering, you will also enjoy limited access to Premium articles, exclusive newsletters, commenting, and virtual events with our leading journalists
Already have an account? sign in
Register for free to continue reading
Registration is a free and easy way to support our truly independent journalism
By registering, you will also enjoy limited access to Premium articles, exclusive newsletters, commenting, and virtual events with our leading journalists
Already have an account? sign in
Join our new commenting forum
Join thought-provoking conversations, follow other Independent readers and see their replies